This giveaway is now closed.  Thanks for stopping by.  The winner is Ann.  Congrats!

One in four Americans suffer from allergies or asthma and 50 million Americans suffer from indoor allergies (source Aller-Ease).  Spring is here.  I know this because so are my allergies!  The sneezing…the stuffy nose…the post nasal drip…it's annoyingly constant. There isn't much I can do about the weather, but I'm hoping all this cleaning I've been doing will help reduce the dust, dirt, and allergens inside my home.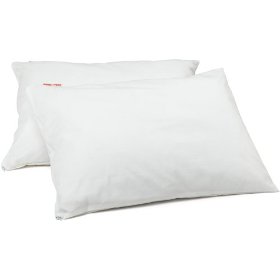 You may not know this, but the five most common allergens (dust mites, pollen, pet dander, mold spores, and microscopic particles) are living inside your mattress, pillows, and box springs.  Did you know that after 2 years, 10 percent of a pillow's weight is comprised of allergen particles?  I have to admit that I get a little queasy thinking about this.  According to Aller-Ease, "the average bed can contain up to 10 million dust mites and a mattress can double in weight every 10 years due to microscopic allergens that accumulate inside."  Some of the allergen's you'd find if you had a microscope (although I'm thankful I don't) include dust mite droppings, pollen, fungal and mold spores, and pet dander.  I feel like I'm sleeping with the enemy!
While all of this sounds a bit unnerving, Aller-Ease has a simple and effective solution. "The Aller-Ease protective bedding systems use innovative fabric engineering techniques to provide a range of allergen-filtration bedding products, including a breathable, cotton product that filters up to 95% of all particles at the one-micron size, so you can breathe easy while sleeping allergen-free."  Sleep is supposed to be a time where your body rejuvenates itself.  If you're breathing in allergens, you may not be getting the sleep your body deserves.  By reducing the total amount of allergens you're exposed to, you reduce your chances of severe symptom exacerbation.

I recently got a first look at Aller-Ease's Cotton Zippered Pillow Protector.  It's soft, light weight, and breathable (perfect for spring and summer).  The company offers an entire line of pillows and mattress/pillow protectors to provide a comfortable layer of protection against allergens.  I really like the varied fabric line, designed to meet your personal comfort needs.  The products are surprisingly very affordable and can be purchased at retailers nationwide.
Since you most likely spend a significant amount of time in your bedroom, here are some tips to help you keep allergens in check, courtesy of Aller-Ease:
Encase your mattress, box spring and pillows in highly effective allergen barrier covers, such as Aller-Ease protective bedding products
Wash bed linens weekly in 130-degree Fahrenheit water
Consider traveling with your pillow protector to help minimize symptoms in hotels or while on the road
Remove dust collecting clutter from the bedroom and other areas of your home
Place non-washable plush toys in a zip-lock bag and put them in the freezer for 3-5 hours every week to kill off any dust mites
Air conditioner filters should be changed frequently during the allergy season
Use a low cost home hygrometer to help keep humidity below 50 percent as dust mites thrive in higher humid environments
Use easy to clean hardwood, tile, or linoleum flooring instead of carpeting
If you have carpeting, use a vacuum equipped with a HEPA filter to reduce airborne dust
Shampoo hair nightly and change clothes before entering the bedroom to avoid transferring outdoor pollens into your bedroom
Win It! One of you will win a Cotton Zippered Pillow Protector.  Simply head on over to the site and take a look around. Come back here and leave me a comment with something you like or something you learned on the site that wasn't mentioned in my review.  Comments will close on April 23, 2009 at 10 PM PST.  One comment per person, please (unless you do the extra credit). US residents only. Duplicates and comments not including the above information will be disqualified. Comments are moderated. If you don't see your comment in a reasonable amount of time, send me an email. Bloggers and non-bloggers may enter. If you don't want to leave your email address, please be sure to check back for my announcement on the winner. Please note that winners must respond within 48 hours of being announced/contacted or another winner will be drawn.
Want an extra entry? Do any or all of the following and receive an extra entry for each one.
Be sure to leave me a separate comment for each additional entry.
Follow me on Twitter AND tweet about the contest.
Subscribe to my feed via email or reader.
Blog about this giveaway. It doesn't have to be a separate post. Just include a blurb about it when you blog about other giveaways.
Place my button on your site. If you have difficulty, please let me know.
Click on one of the very cute buttons below and digg, stumble, fav, etc. Just let me know what you did in the comments!
Latest posts by Caryn Bailey
(see all)