One of my favorite ways to celebrate a holiday (even if it's a minor one) is to bake.  I love experimenting with recipes and exercising my creative side. This year, I thought I'd combine my love for baking with my somewhat crafty side and experiment with some DIY Cookie Mixes neatly packed inside a jar.
This isn't an entirely original idea, but I thought I'd put a Valentine's Day spin on the traditional "cookie mix in a jar" gift idea. I headed over to Walmart and picked up the following ingredients and supplies to put together this simple, affordable gift.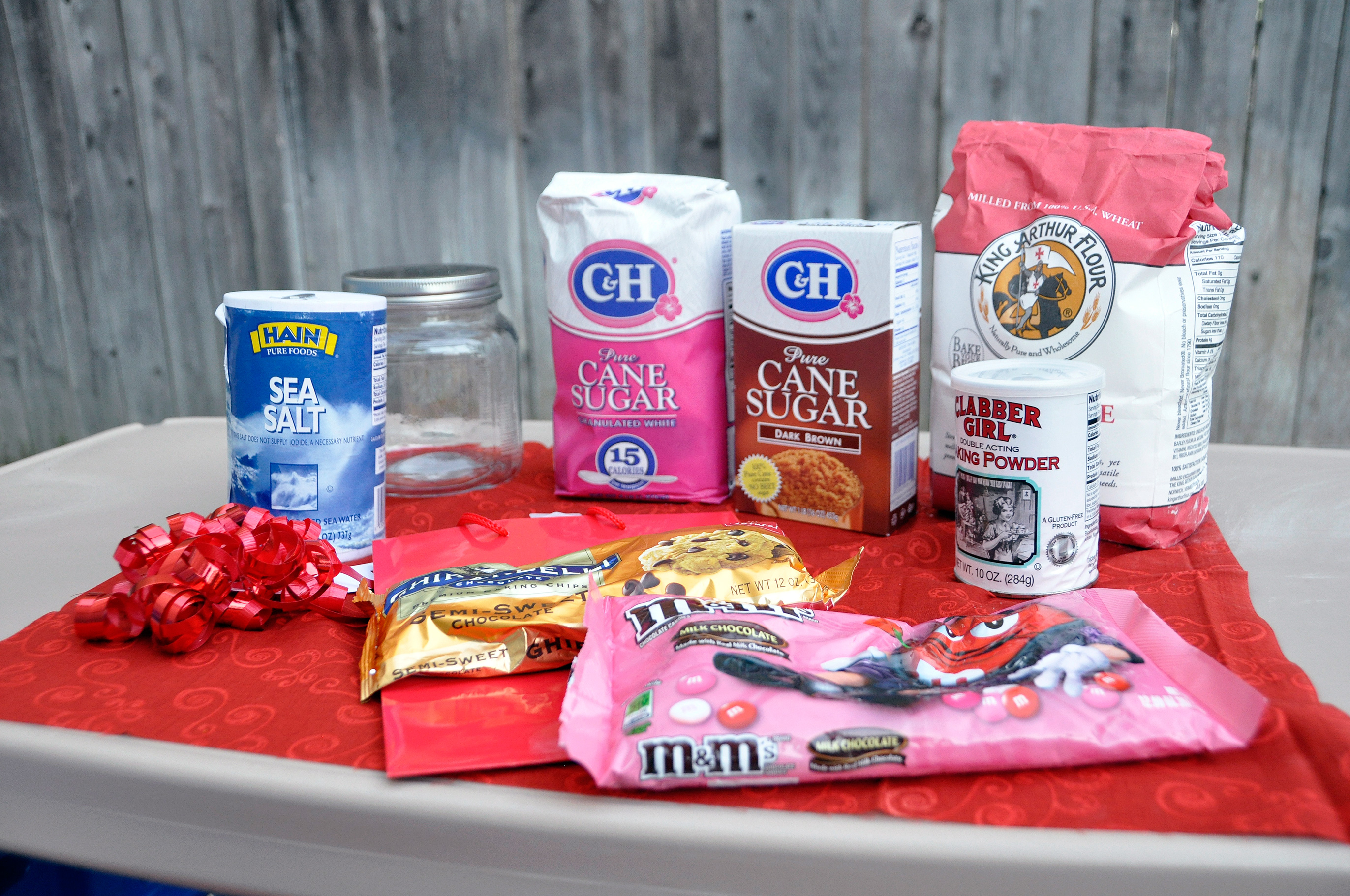 Two One Quart Glass Jars ($2.97 each)
A set of two heart-shaped cookie cutters ($1.88)
Red Ribbon ($.97)
Valentine's Day Themed M&Ms ($2.68)
Ghiradelli Semi-Sweet Chocolate Chips ($2.78)
Red Bag for Gifting ($.97)
Stickers for decorating ($.97-$1.00)
White and brown sugar ($.98-$2.82)
The total cost for the above items was just $22.93 plus tax. With these supplies I can make at least 2 gifts and still have plenty of product left over.
You can create these jars for gifting with your personal cookie recipe, but I thought I'd share my two favorites. Chocolate Chip and Sugar.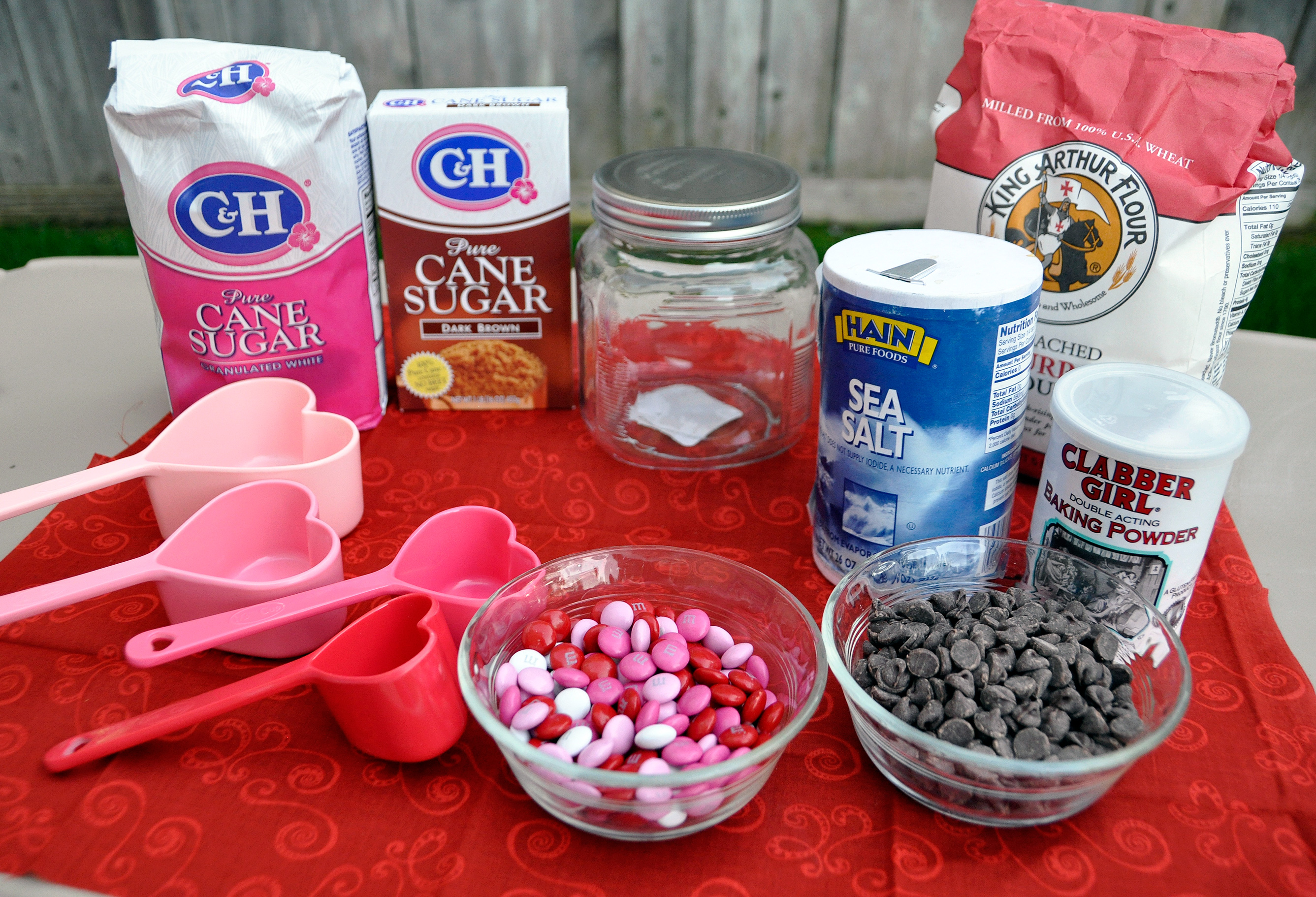 M&M Chocolate Chip Cookies
Ingredients:
2-1/4 cups all-purpose flour
1 teaspoon baking soda
1/2 teaspoon salt
3/4 cup sugar
3/4 cup dark brown sugar
1/2 cup chocolate chips
1/2 cup M&Ms
Start by washing and drying the jar you're planning on using for the gift. Add the ingredients in layers, starting with the white sugar, brown sugar, and then the flour, reserving the chocolate chips and M&Ms for last. Make sure to pack each layer down and keep them separate and distinct.  I decided to attach a cookie cutter to the jar along with the recipe tied with some red ribbon I picked up at Walmart.  You can also take a piece of colorful fabric and adorn the top of the jar with it.
Instructions:
Preheat oven to 375°F.
Cream together 1 cup of softened butter, 1/2 teaspoon vanilla extract, and 2 egg in a large bowl.
Add the contents of the jar and stir until well blended.
Drop by rounded teaspoonfuls onto an ungreased cookie sheet.
Bake at 375° for 10 minutes or until golden.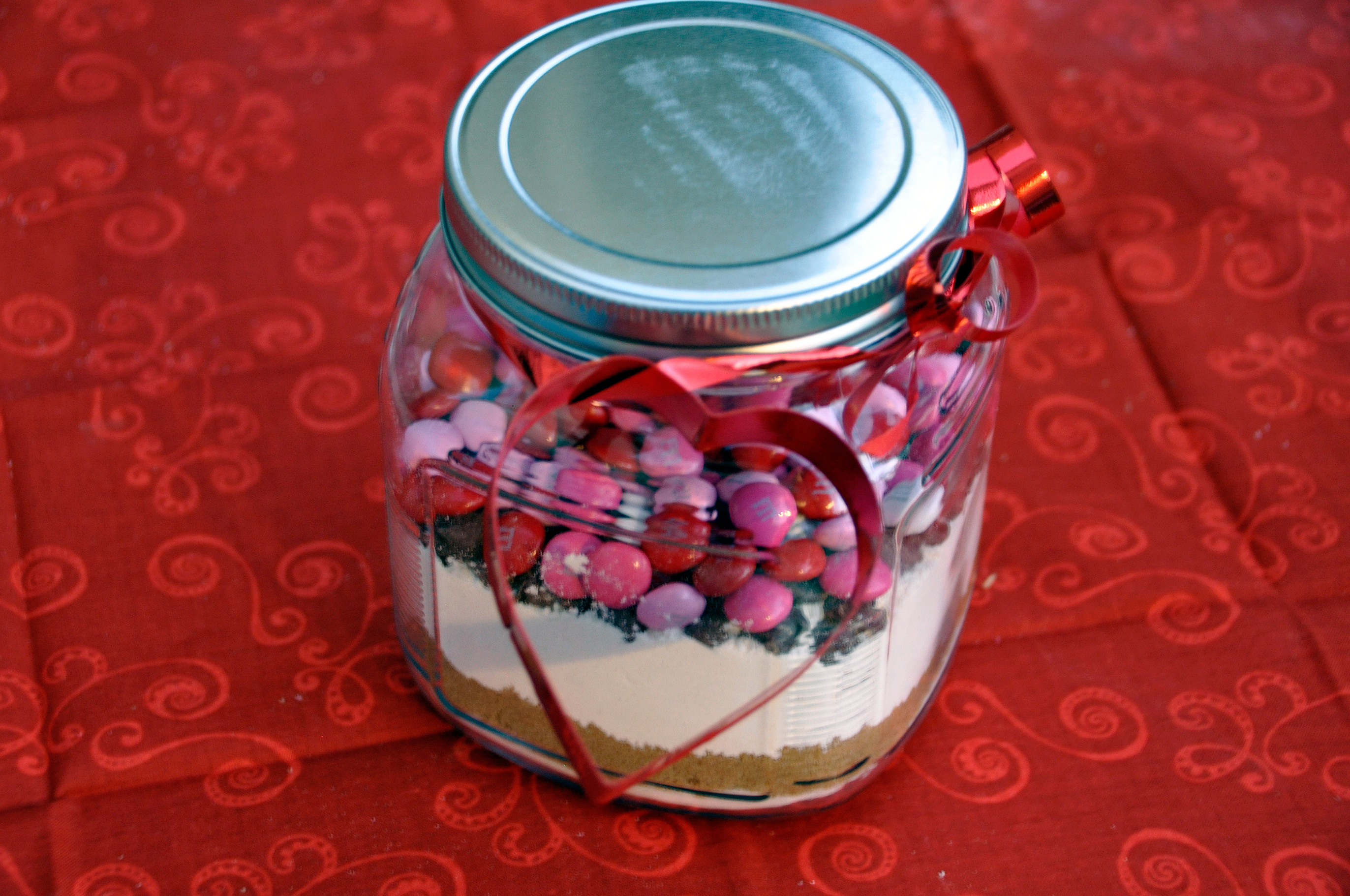 You could also put together a Valentine's Sugar Cookie Mix. You'll want to use a smaller jar for this recipe. Be sure to omit the Peppermint Extract and candy canes and replace them with Vanilla extract and M&Ms.
Latest posts by Caryn Bailey
(see all)