This is a sponsored post for Ethel M Chocolates.
How in the world did it get to be the middle of February already? It feels like we only just put away our Christmas decorations. Valentine's Day is just 1 week away and I'll admit that I haven't thought much about how I want to make that day special for my husband and my children.  Traditionally, I've put together little bags with some of my kids' favorite things (red and heart-shaped, of course) and chocolate is always involved.
One of the things my husband would say about me is that I'm not pretentious or high maintenance when it comes to gifts. I would be content with a card and a single red rose or a small box of dark chocolate because I know that one single day doesn't prove (or disprove) our love for each other.  That's not to say that I don't enjoy Valentine's Day or that I would forego a romantic dinner at our favorite restaurant or a day at the spa. Holidays like Valentine's Day are a great reminder for us as a family of the importance of showing our love for each other through our words and actions.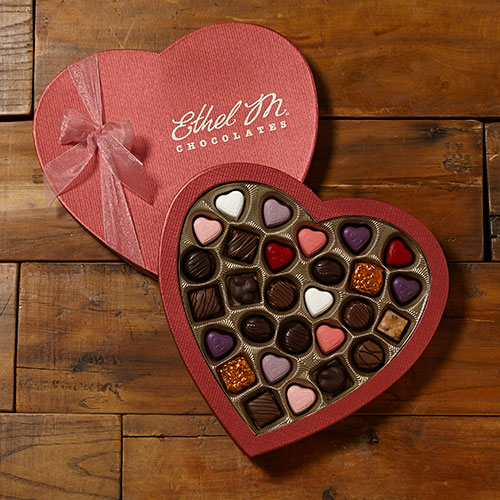 Earlier this week, a lovely (and delicious) box of chocolate arrived on my doorstep from Ethel M Chocolates. As I was perusing the flavors and taking photos, all I could think about was how I was going to maintain enough self control not to eat the entire box. After 4 pieces of Lemon and Dark Chocolate Satin Creme-filled Dark Chocolates, I had to step away from the box.  They were absolutely divine…rich, creamy, and just the right combination of sweet and dark chocolate flavors. Here is a peek at what is inside:
This is my first time experiencing Ethel M Chocolates and just from the heart-shaped box of beautiful and intricately crafted chocolates displayed, I was impressed. For a limited time, you can purchase one of 4 Valentine Heart Boxes (8, 14, 28, or 46 pieces) filled with gourmet chocolates which include solid and center-filled harts, a collection of crunchy pecan toffee crisps,  creamy and chewy caramels, and Vanilla, Lemon, and Raspberry Satin Cremes.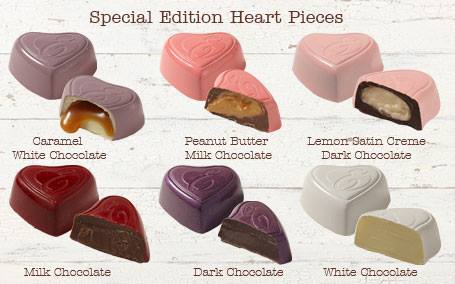 Also included in these boxes are an assortment of limited edition heart pieces sprayed with cocoa butter in pinks, purples, reds, and white.
As a company, Ethel M Chocolates is committed to craft each piece using preservative-free chocolate and quality ingredients.
Since I'm a dark chocolate gal, I actually found their Design Your Own Collection to be particularly appealing. Admittedly, it is a bit more expensive but you can pick and choose the chocolates you do or don't want in your box.
Right now, you can receive FREE SHIPPING on all orders over $55 when you use the code CUPID14 upon checkout.  For more information or to shower your sweetie with some delightful chocolates, visit EthelM.com.
Win It!  One of you will win your very own Valentine Heart Box of Ethel M Chocolates! Simply visit the site, then come back and leave a comment with your favorite flavor. Comments will close on February 14th, 2014 at 11:59 PM PST.
US Residents only. Duplicates and comments not including the above information will be disqualified. Comments are moderated. If you don't see your comment in a reasonable amount of time, send me an email. Bloggers and non-bloggers may enter. If you don't want to leave your email address, please be sure to check back for my announcement on the winner. Please note that winners must respond within 48 hours of being announced/contacted or another winner will be drawn.
Latest posts by Caryn Bailey
(see all)