This giveaway is now closed. Thanks for stopping by.  The winner is Karen Pochodowicz.  Congrats!
Before I had children, I spent time and resources on products designed to help make me look and feel good.  Becoming a mom, as wonderful as it is, results in sacrifices.  These days I take 5 minute (or less) showers, wear my hair up in a clip more often than not, and rarely put on makeup.  The amount of time I get to spend on my beauty regimen has diminished significantly.  I don't get to go to my stylist or makeup artist as often.  If I want to pamper myself, it has to be with beauty products I can use at home.
To celebrate a special woman or mom this Valentine's Day, I'm hosting a very special beauty-themed giveaway.  One of you will win all seven of the following products.
1. Le Baby Inc., Hair Gel (RV $9.95)
Le Baby Hair Gel is a styling gel free of harsh chemicals meant to define wispy curls and tackle unruly after-nap hair. From taming those wild fly-aways to smoothing frizzies, Le Baby hair gel works on all hair types and is hypoallergenic for sensitive skin.  Le Baby Hair Gel is hypoallergenic, free from parabens, harsh chemicals, sulfates, and fragrance.  It will thicken baby-fine hair, tame frizzies & fly-aways, softly hold curls, moisturize, and keep hairstyles in place without leaving hair stiff or sticky.
2. PowerHouse Hit the Deck (RV $19.99)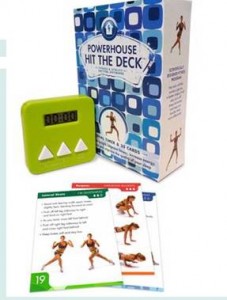 Simple, easy, effective: a cardiovascular and strength training workout at the same time, as well as an effective tool to combat stress and the Cortisol Crisis™.  The PowerHouse Hit the Deck can help you to lose weight, burn fat, and add muscle tone, provide cardio and weight training exercise at the same time, expand your ability to handle and recover from stress, improve your overall levels of fitness and wellness, allow for flexibility, offer variety by providing wide range of effective exercises, deliver an excellent workout with no fitness equipment, provide a great way to cross-train, and improve the quality of your sleep.
3.  SOTHYS Aroma-Sothys Energizing Bath Essences Tablets (RV $26)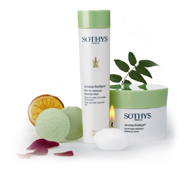 Effervescent, playful and revitalizing bath pebbles which enrich the bath with their tonic and energizing fragrance. 
4.  Gone in Sixty Seconds (RV $19.95)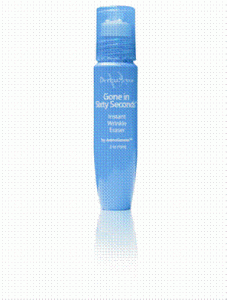 Gone in Sixty Seconds is a powerful formula that activates on contact to visibly erase fine lines and deep wrinkles – in just seconds!  A scientific blend of oxygenating peptides, micro-collagen and firming proteins tightens, firms and reduces puffiness all day long. Features the following:
InstaFirm Protein:  An exclusive protein technology that instantly starts to firm skin and plump up wrinkles, creating younger looking skin – within seconds
OxyPeptide: Naturally derived peptide that is clinically proven to increases skin respiration and oxygenation by as much as 754%
GABA: Naturally produced in the body to relax muscles, eliminating the need or desire for painful injections
Micro-Collagen: Delivers a boost of collagen to the help firm the skin
Patented Delivery System: Advanced patented technology time releases key ingredients all day long
Gone in Sixty Seconds visibly firms fine lines and deep wrinkles, rebuilds skin firmness, and is free from Propylene Glycol, Parabens, Synthetic Colorants and Synthetic Fragrances.
5.  LashFood (RV $129.00)
LashFood is a new natural conditioning stimulant for thicker, stronger and more beautiful lashes in just 2 to 4 weeks.  LashFood's breakthrough natural ingredients, including Biotin an essential vitamin, Arginine a natural amino acid, and herbal extracts, helps promote the natural growth and strength of eyelashes and eyebrows. The result: your lashes become thicker, darker, and longer with this revolutionary conditioner.
6.  Phyto-C Skin Care: Eye Return Gel (RV $48.00)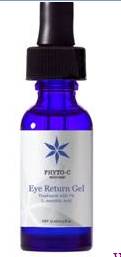 This nourishing and hydrating eye gel is superb for softening the delicate areas surrounding the eyes.  With zinc sulfate and citrus bioflavonoid as a few of the active ingredients, this eye treatment boosts collagen production and reduces the appearance of lines.  Eye Return Gel prevents the premature signs of aging around the eyes and provides ultimate antioxidant protection. 
7.  nuNAAT (RV $27.46)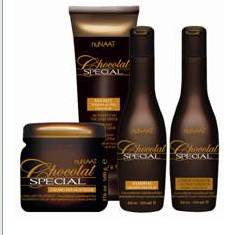 NuNAAT's Chocolat Special line is designed to restore chemically treated hair's natural velvety shine and splendor as the unique formula contains Cocoa Butter and Brazil Nut oils to revitalize and restore moisture. The alluring chocolate fragrance is also a special treat for those looking for a little extra self-indulgence.  Products include Chocolat Creamy Shampoo, Chocolat Shake Conditioner, Chocolat Cream Mask, and Chocolat Anti-Frizz Therma Active.
Win It! One of you will win a prize pack of all 7 items (RV $280 ).  Simply visit 4 of the 7 sites.  Then come back here and leave me a comment with 1 thing you liked or learned from each of the 4 sites you visited (so your comment should include 4 short statements, 1 from each site you visited).  Comments will close on February 25, 2010 at 11:59 PM PST.  One comment per person, please (unless you do the extra credit). US residents only. Duplicates and comments not including the above information will be disqualified. Comments are moderated. If you don't see your comment in a reasonable amount of time, send me an email. Bloggers and non-bloggers may enter. If you don't want to leave your email address, please be sure to check back for my announcement on the winner. Please note that winners must respond within 48 hours of being announced/contacted or another winner will be drawn.
Want an extra entry? Do any or all of the following and receive an extra entry for each one.
Be sure to leave me a separate comment for each additional entry.
Follow me on Twitter AND tweet about the contest.
Subscribe to my feed via email or reader.
Blog about this giveaway. It doesn't have to be a separate post. Just include a blurb about it when you blog about other giveaways.
Click on one of the very cute buttons below and digg, stumble, fav, etc. Just let me know what you did in the comments!
I did not receive compensation for this post.  This giveaway was sponsored by the company.
Latest posts by Caryn Bailey
(see all)