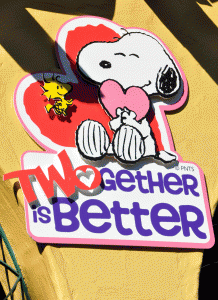 Love is in the air!  February is the month devoted to showing those closest to you how much you care for them.  Red, white, and pink decor abound, and very soon, flower and chocolate shops will see an influx of last minute shoppers, in search of the perfect expression of their affection.  I'm all about tradition but I also enjoy unique, out-of-the box ways to celebrate.
It's the season of love, and all month long, Knott's Berry Farm is celebrating! Twogether is Better is the perfect description for this celebration where doing things together is simply just better!  And to show you (as if you needed convincing 🙂 ) Knott's is offering incredible savings this month when you bring someone with you to the park.  Just invite a friend, your significant other, your child or anyone else you'd like to spend the day with at Knott's and they'll receive admission to the park for $34.99 during the month of February (if you are a Season Pass holder you can bring a friend for $24.99).  If you visit on the 29th (which is Leap Day), you'll receive admission to the park for just $29!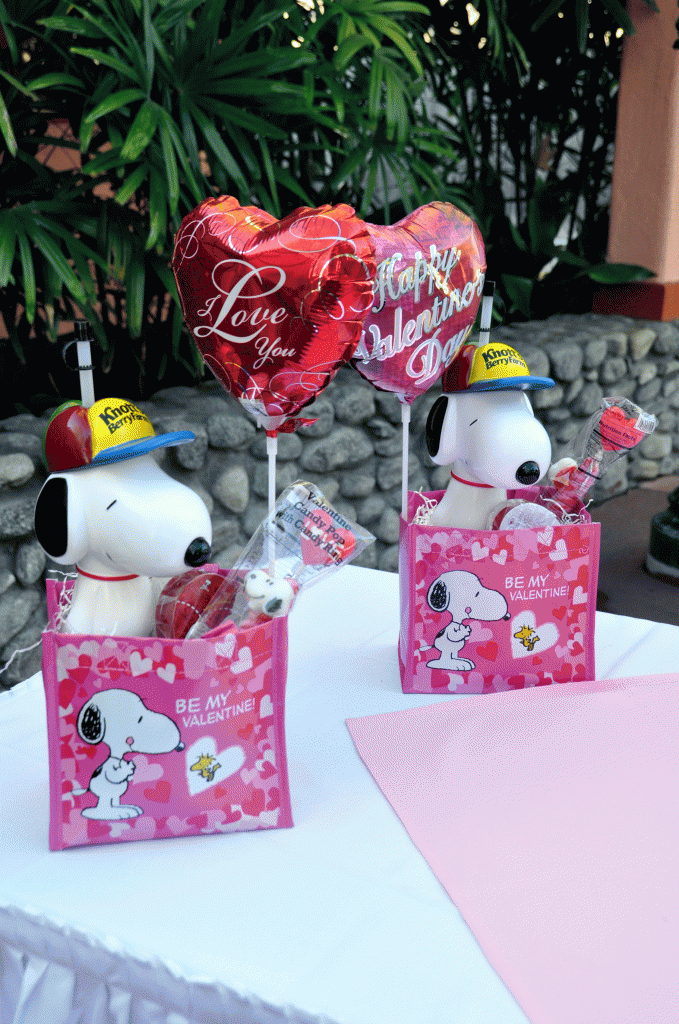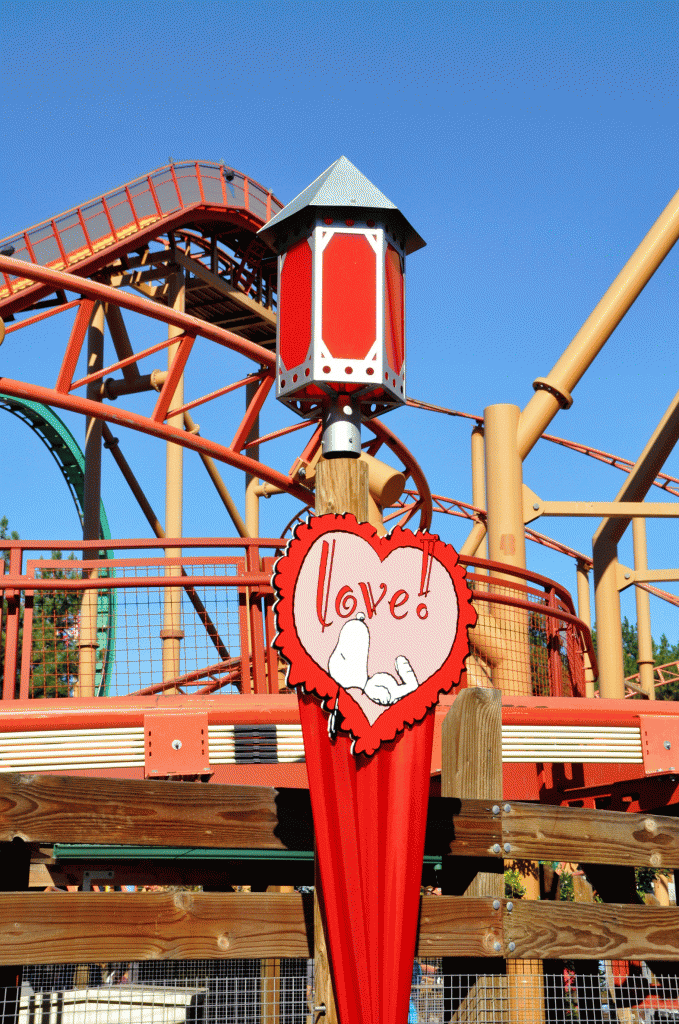 Last weekend, my son and I had a "date" together at the park and enjoyed all of the love-themed festivities.  We had a "lovely" breakfast that warmed our "hearts" before watching a special performance of their brand new show called Love Is In the Air, Charlie Brown.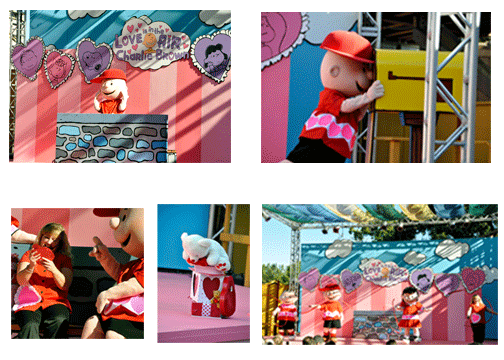 The show, which performs at the Camp Snoopy Theatre, starts Linus, Lucy, and Charlie Brown in this fun-filled musical story about which takes place on Valentine's Day.  Who will be invited to the Valentine's Day Dance? Who will receive a Valentine?  Find out in this adorable, entertaining and engaging show (see map for showtimes).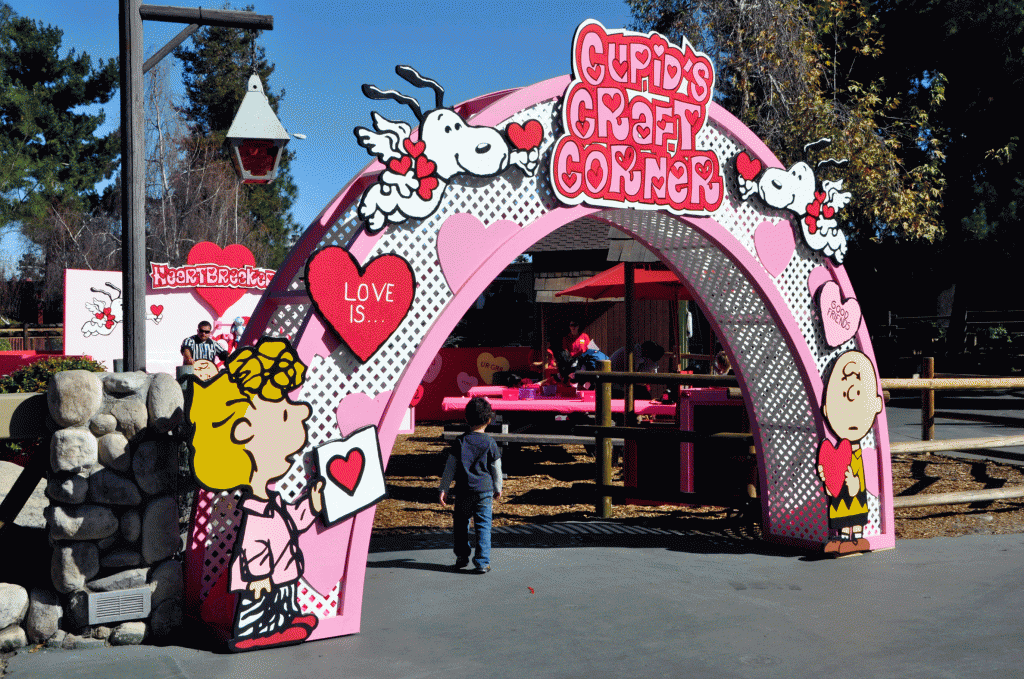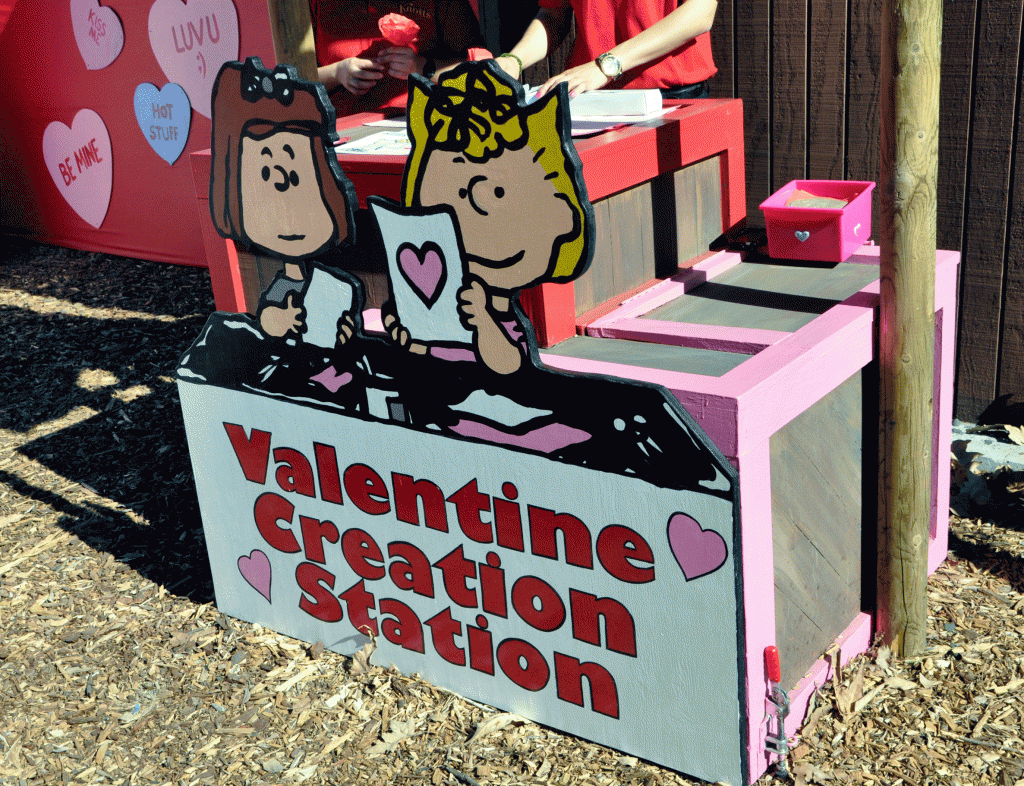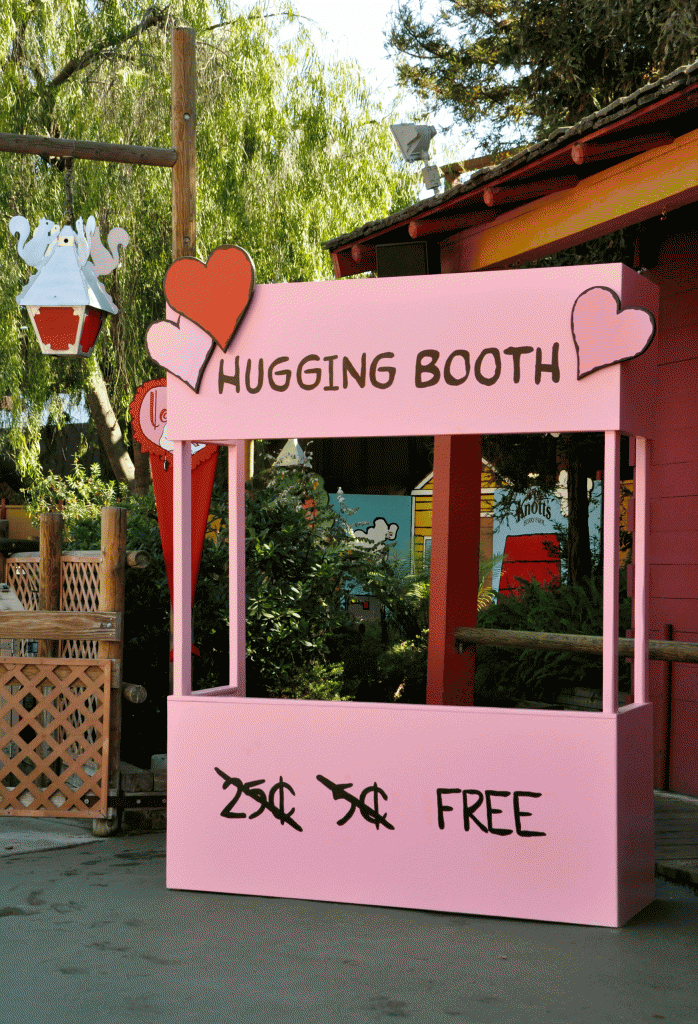 Next stop?  Cupid's Craft Corner, located in Camp Snoopy where my son made a very special Valentine for Charlie Brown. During the month, children under the age of 11 can create tissue paper bouquets, paper Valentines and Peanut's coloring pages (only on weekends).  The temporary station also houses Target of Love where kids can test out their skills tossing bean bags (for a nominal fee).
After we had experienced a few rides, including our very first ride on the Butterfield Stagecoach, it was time for a snack!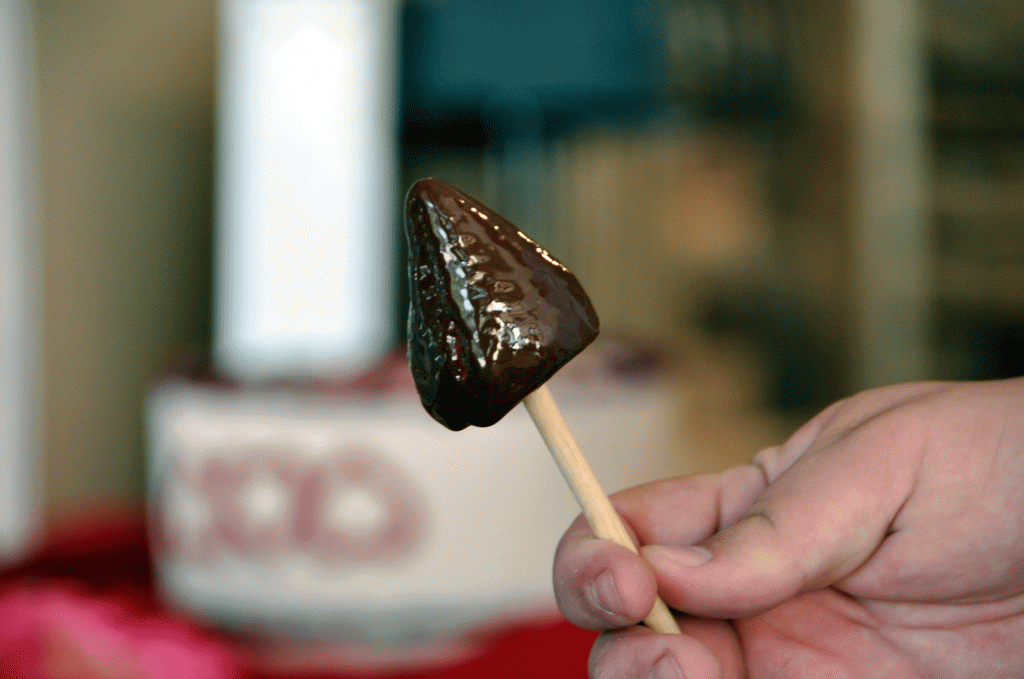 My son and I headed over to the Ghost Town Bakery for some chocolate covered marshmallows and strawberries.  The Chocolate Dipping Station is only open on weekends during the month of February so be sure you don't miss this special treat.
And speaking of food, the park will offer several "Twogether is Better" deals including two fresh pies for just $14 and a heart healthy menu featuring Char Grilled Mahi Mahi Fish Tacos, Thai Barbecue Salmon Salad, and a Mediterranean Chicken Wrap. For details on the park's food specials, just visit the website.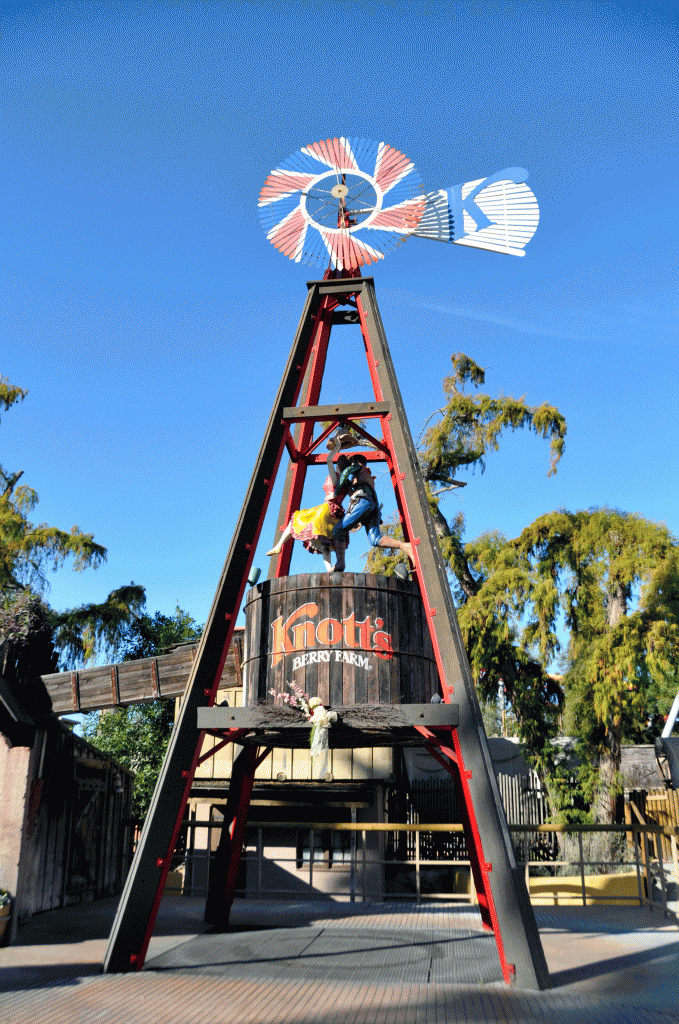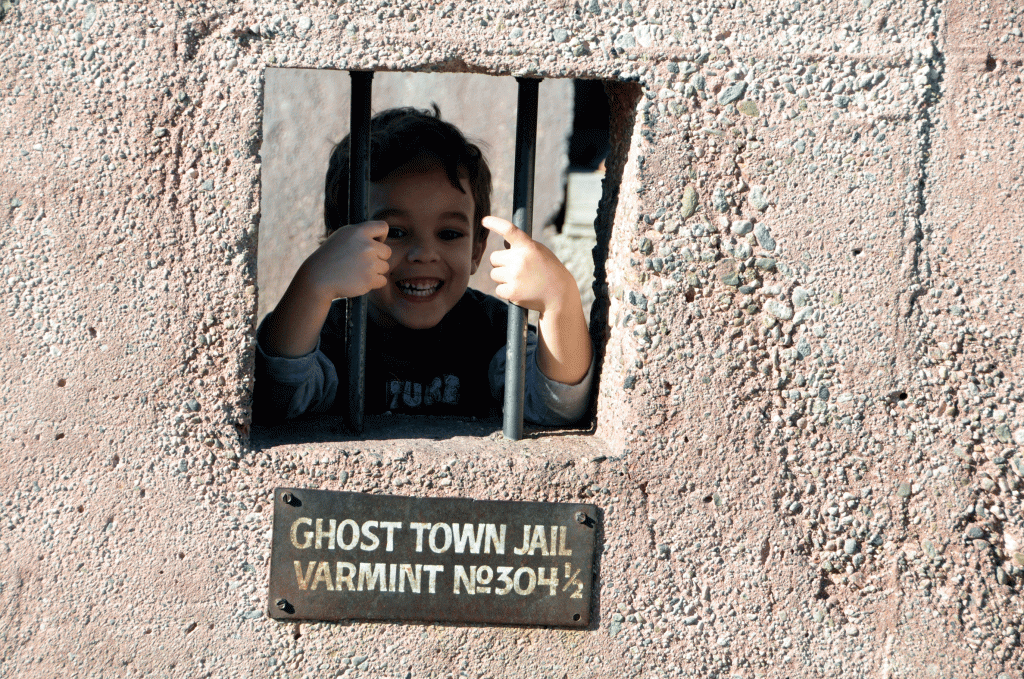 February is the month where we celebrate the ones we love. It's an important month for another reason…it's Heart Awareness Month. Knott's Berry Farm has teamed up with the American Heart Association for "Knott's Has Heart."  Guests can donate $1, $5, or $10 at the ticket booth and send a special Valentine to Charlie Brown. Proceeds will go to the Orange County American Heart Association to assist with ongoing medical research and education efforts.
For more information about Twogether is Better, a very special month-long celebration at Knott's Berry Farm, visit their website.
No compensation was received for this post. Admission to the park was provided which helped facilitate this review.
Latest posts by Caryn Bailey
(see all)