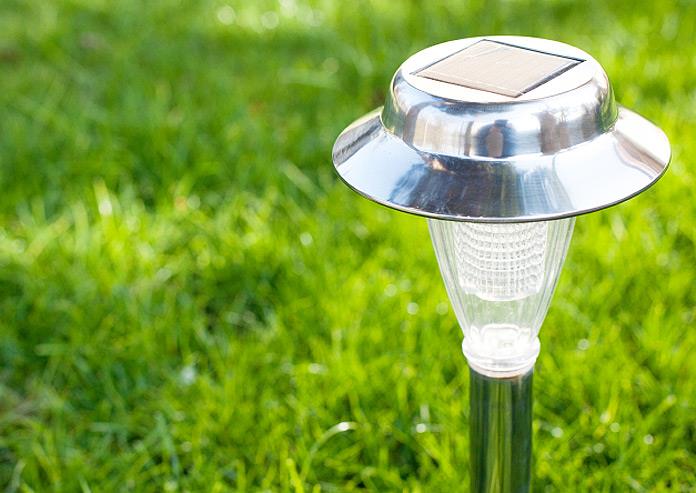 The commitment to "go green" is one that requires thoughtful reflection on the conventional products we purchase and the lifestyle habits we've formed.  Very often it requires the expenditure of increased  resources to offset the cost of eliminating chemicals and substances that may be harmful to us or the environment.  The reality is that organic, all-natural foods and products tend to cost more (upwards of 50 percent according to Consumer Reports).  With the uncertainty of the economy looming overhead, you may be struggling to decide if "going green" makes financial sense.  This week I'll share with you some ways to go green within your budget.
One of the things my husband and I did when we moved into our house was replace all of the conventional light bulbs with compact fluorescent light bulbs.  According to Energy Star, you'll save $40 or more in electricity costs over each bulb's lifetime.  CFL's use 75% less energy and last 6 times longer. You can purchase a 4-pack for around $10.
If you have (and use) a programmable thermostat, you could save up to $150 on your energy bill (over a 1-year period).  You'll also be making a positive step towards fighting global warming.  Be sure to visit the Energy.Gov for tips on how to set your thermostat (it will vary depending on the time of day and whether or not you will be at home).
While inconvenient and often forgotten, unplugging electronic devices and turning off lights can save you a significant amount of money every year.  According to Energy.Gov, you'll save at least $100 per year by simply putting your computer to sleep or powering down as opposed to leaving it idle.
It makes eco-nomic sense to run your dishwasher and washing machine when they're completely full with cold water.  The good news is that you'll actually save more time, energy, money, and water by using you dishwasher rather than washing the dishes by hand. Be sure to remember to turn off the dry cycle since you don't need it and you'll save 1% off of your energy bill by doing so. And speaking of drying, forego your dryer and use a clothesline (particularly during the hot summer months) and you'll save at least $85 each year (Consumer Energy Center, The Daily Green).
Replacing old appliances with energy-efficient models that use 10-15% less energy and will save you up to $900 over the life of the appliance (Energy.Gov).
I love taking long showers.  Unfortunately, we live in the desert-like climate of Southern California where rain falls inconsistently and often immeasurably. The result is a water shortage.  Water – Use It Wisely is a fabulous resource for tips on conserving water.  Some of the things my husband and I are doing include decreasing the length of our showers and turning off the water while brushing our teeth/shaving.  Did you know you could save 1000 gallons a month by limiting your shower to a 5 minute time frame?
Purchasing "green" foods and products often costs more than conventional equivalents.  Be sure to peruse through my article on Organic Living for savvy saving ideas.  Visit your local consignment store (or go online to thredUP) to save on gently used clothing, toys, etc.
If you can't afford to purchase "green cleaners," which are generally priced much higher than their conventional counterparts, why not use all-natural products that you already have at home like lemon and baking soda.
Be sure to check out Energy Star, Energy.Gov, and the Consumer Energy Center for more eco-savvy, money-saving tips.
Image: U.S. Department of Energy
Latest posts by Caryn Bailey
(see all)