When a package of Omaha Steaks arrived on our doorstep a few days ago, my daughter was practically drooling. She is my little meat-eater, so I knew that they would not last long in my freezer. The question begged…how should I cook "the best steaks in the world?"  I admittedly do not have a lot of experience cooking steak (we prefer to leave that up to the culinary professionals), however, Omaha Steaks offers some easy steak recipes and tips for cooking the perfect steak. I decided to make an easy Garlic Compound Butter to put on the steaks, then use my cast iron skillet to cook them. These Skillet Steaks were easy to prepare and my kids absolutely loved them.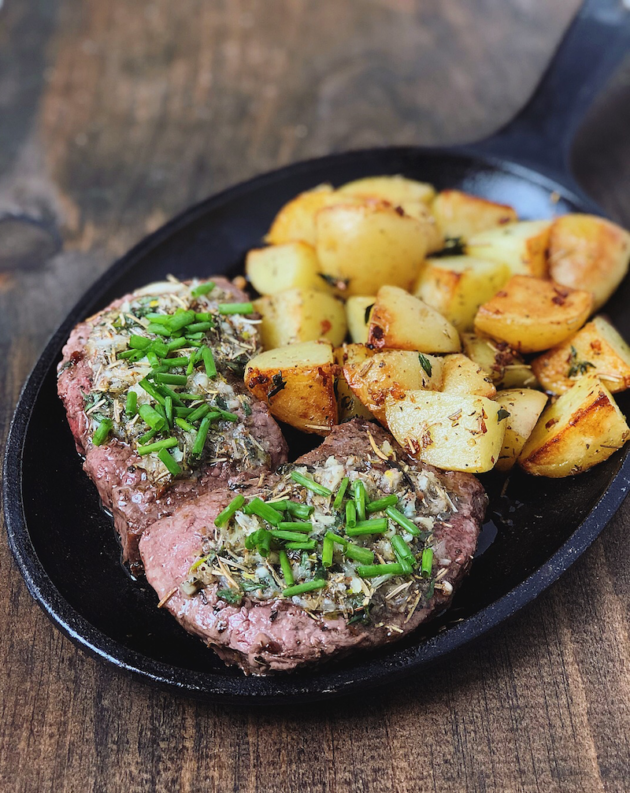 Skillet Steak
Omaha Steaks
Over one hundred years ago, Omaha Steaks was founded as a small butcher shop in downtown Omaha. As the company grew, Omaha Steaks were placed on the menus of railroad dining cars and troop transport trains, thus gaining the company widespread exposure. Today, Omaha Steaks is the world's most esteemed purveyors of meat and markets/distributes the finest quality, USDA-approved, grain-fed beef and gourmet foods including seafood, pork, poultry, side dishes, appetizers, desserts, and skillet/slow-cooker meals.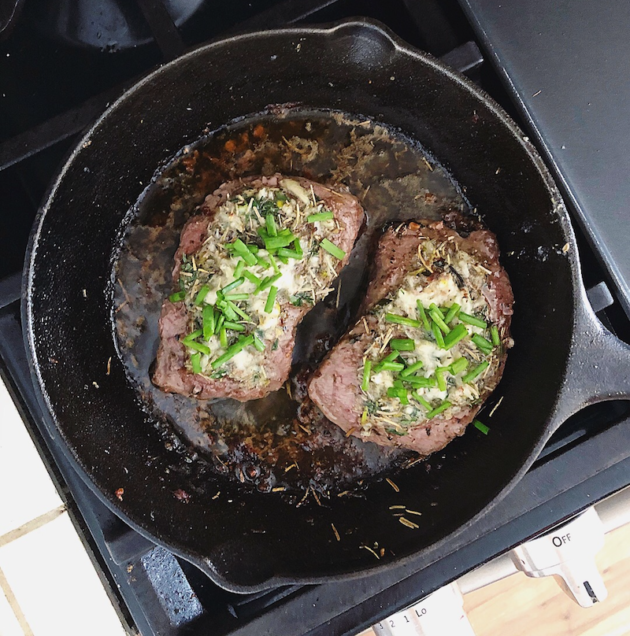 How to Cook the Perfect Steak
How to Cook the Perfect Steak
While I am no expert when it comes to cooking steak, I do know that most of my friends and family members prefer to cook their steak on the grill. We are just beginning the summer season, so now is the perfect time to clean off that grill for the perfect grilled steak.
But what if you do not have a grill? You can easily cook your steak on the stove, in the oven, or using your broiler. According to Omaha Steaks, there are two things you must do for the perfect steak.
Achieve a proper internal temperature (I recommend investing in a meat thermometer)
A good sear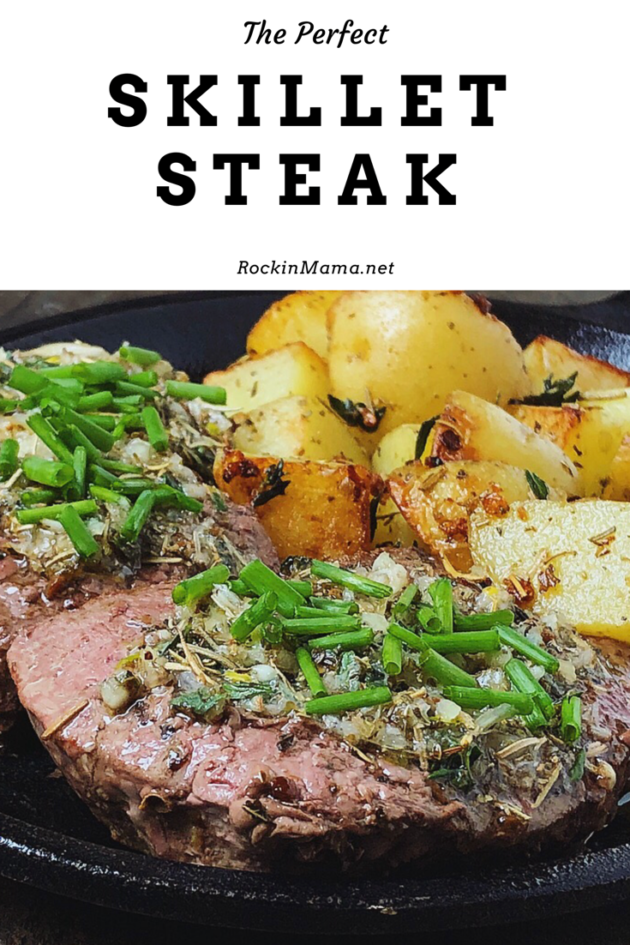 I decided to prepare an easy Cast Iron Skillet Steak Recipe using Omaha Steak's Garlic Compound Butter Recipe and Recipe Critic's Skillet Steak Recipe. To cook steaks on the stove, you will need quality steaks, a cast iron skillet, oil, and seasoning. Here are Omaha Steaks' tips for cooking the perfect steak on a stove.
Season steaks: Steaks can be seasoned with salt and pepper or a complete steak seasoning blend like Omaha Steaks Private Reserve Rub.
Preheat the pan: Omaha Steaks recommends preheating the pan to medium high before adding the steak in order to achieve a good sear.
Cook the steaks with oil: There should be enough oil to coat the pan and prevent the steak from sticking. Do not add too much oil or you will end up frying the steak.
Add steaks to the skillet: Cook steaks on each side. You may need to reduce the heat to medium or medium-low if the steaks are thick (greater than one inch).
Flip your steak: 

Turn the heat back up to medium-high and flip the steak when it is about 60% done.

Remove the steak and let it rest: After your steak has achieved the ideal temperature according to the meat thermometer, take the steak out of the pan and place it on a plate to rest. Do not touch it for 5 minutes.
Butter-baste the steak: Take your steaks to the next level by adding a couple of tablespoons of butter, fresh garlic, and herbs to the pan. Heat the pan to medium during the last couple of minutes of cooking. As the butter melts and browns, spoon it over the stake to add moisture and flavor.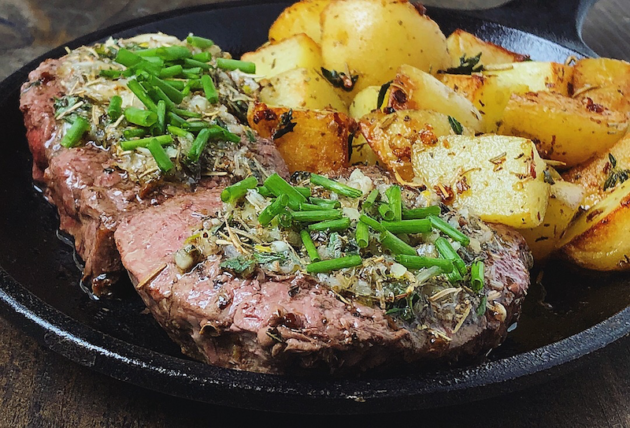 Skillet Steak
The Perfect Skillet Steak
According to my kids, steak should be juicy. I decided to make a Garlic Compound Butter to put over the steak as it was finished cooking. To prepare the steaks, I simply used Omaha Steaks Private Reserve Rub and some herbs and cooked the steaks in my cast iron skillet with a small amount of olive oil. Here is the recipe, adapted from The Recipe Critic. The Garlic Compound Butter Recipe was adapted from Omaha Steaks.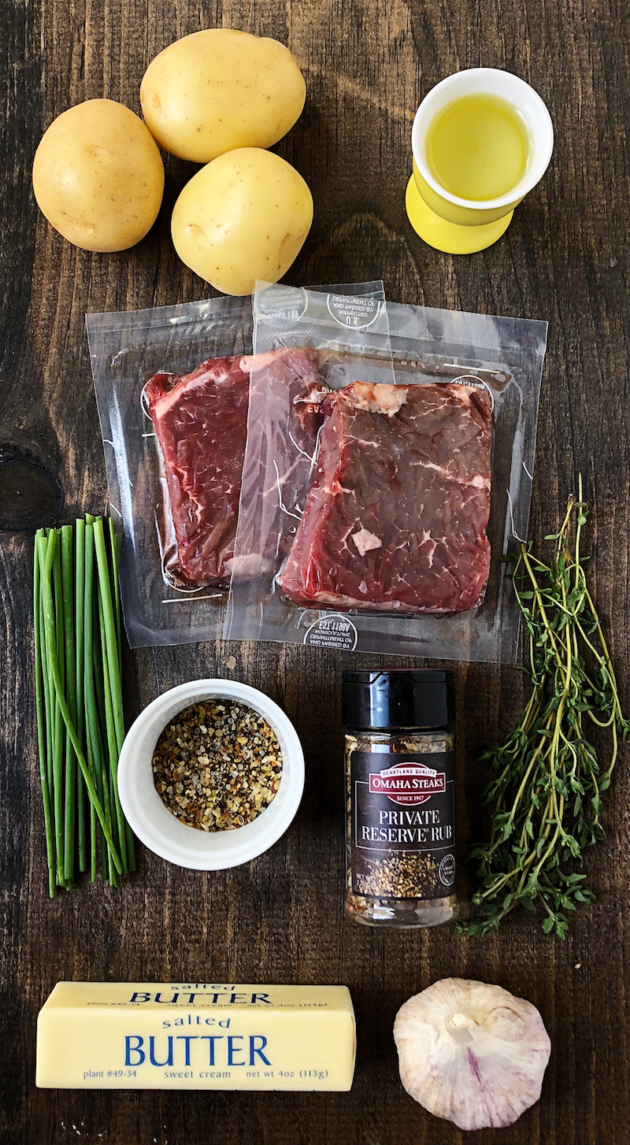 Skillet Steak Ingredients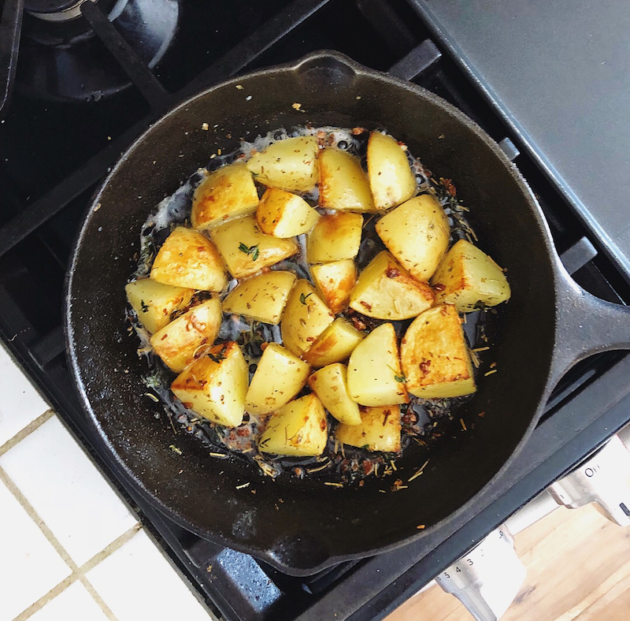 Cooking Potatoes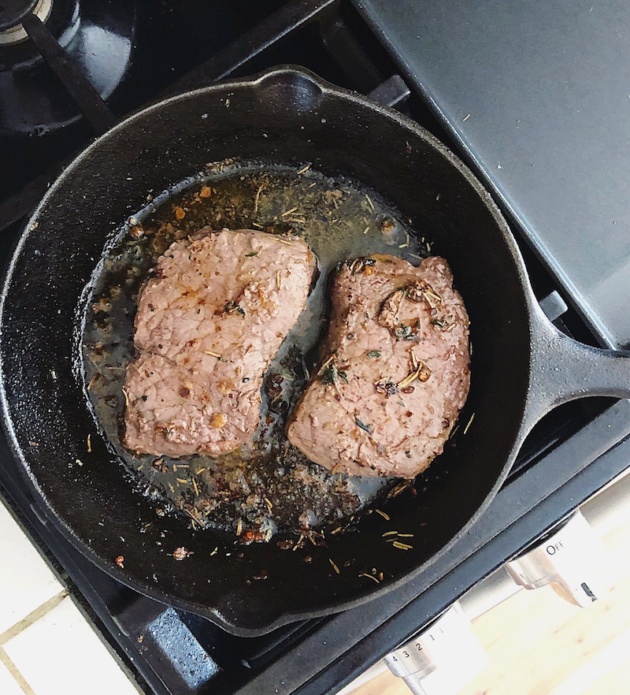 Cooking Steaks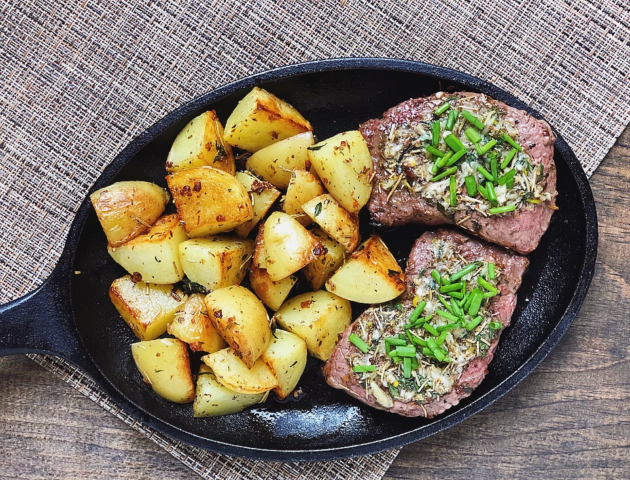 Skillet Steak With Garlic Compound Butter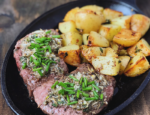 Skillet Steak
Ingredients
1

tbsp

olive oil

1

tbsp

butter

3

garlic cloves

minced

1

tsp

fresh thyme

chopped

1/2

tsp

dried rosemary

1/2

tsp

oregano

2

Filet Mignon Steaks

6

Yukon Gold Potatoes

sliced

2

tbsp

softened butter

3

garlic cloves

minced

1

tsp

fresh thyme

1/2

tsp

dried rosemary

1/2

tsp

dried oregano

salt and pepper

to taste

Omaha Steaks Private Reserve Rub

to taste
Instructions
Season steaks with Omaha Steaks Private Reserve Rub to taste.

To cook potatoes, heat olive oil and butter over medium-high heat.

Add potatoes, garlic, thyme, rosemary, and oregano and cook for 3 minutes. Stir and cook and additional 3 minutes until tender. Set aside.

To make the Garlic Compound Butter, mix the softened butter with herbs and set aside.

Raise heat to high and add the steaks into the same skillet.

Cook steaks 3 minutes on each side, or until the outside is browned.

Reduce heat to medium-high and cook steaks until your preferred doneness.

Before steaks have completed cooking, spread Garlic Compound Butter over steaks and allow to melt.
Steak Gifts
Omaha Steaks offers a variety of gift for every occasion, including gifts under $50. We received their Gift for Dads which included the following:
Filet Mignons – 5 oz.  |  2 count
Boneless New York Strips – 8 oz.  |  2 count
Top Sirloins – 5 oz.  |  2 count
Omaha Steaks Burgers – 4 oz.  |  4 count
Caramel Apple Tartlets – 4 oz.  |  4 count
Private Reserve Rub – 2.35 oz.  |  1 count
When priced separately, these items cost $197.94, but as a gift, the price is just $49.99.
Omaha Steaks is confident that you will be satisfied with their products. If you are not happy, the brand will replace or refund your money. For additional information visit OmahaSteaks.com.