Earlier this week, I was chatting with a friend about some parenting challenges I've been facing.  I was frustrated with myself, for not always knowing the right way to respond when my children don't listen, get in trouble at school, or simply just misbehave. Her gentle, comforting response was that just because I became a mother 5 years ago, does not mean that I instinctively had all of the answers necessary to raise my children to be responsible, empathetic, likeable people.  It takes guidance and a ton of study on my part.
One particular challenge we've had is helping both of our children express emotion appropriately, particularly when it comes to anger and frustration.  Two years ago, when I picked up a screener of Ruby's Studio: The Feelings Show, I had no idea how resourceful it would be for our entire family. This particular show helps young children learn to recognize, understand, and appropriately express their feelings in engaging, imaginative ways.  Ruby is the beautiful, red-haired, magical host who uses animation, art, music, puppets, and interviews with real children to help teach children these important social and emotional lessons.
This Sunday, The Mother Company will premiere Ruby's Studio: The Friendship Show here in Los Angeles. This second show will teach children how to strengthen friendships through empathy, provide tools to resolve conflict and confront bullying, and explore the importance of "The Golden Rule."
We absolutely loved the first show and I personally find the books and DVDs to be a valuable resource.  The Mother Company's aim is to help parents raise kind, communicative, compassionate children and I'm excited to share in this next show with my children. If you'll be in LA this weekend, here is the invite with all of the details: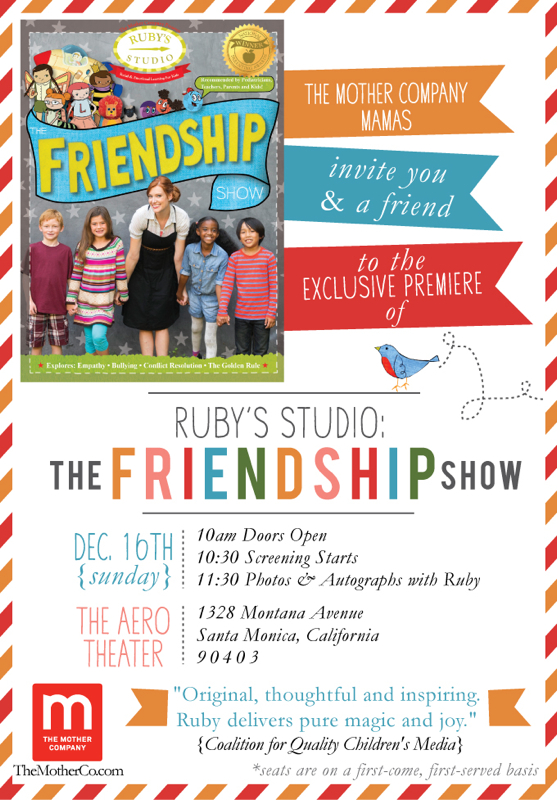 To celebrate the debut of the new show, Totsy and The Mother Company will host a Facebook chat discussing friendship and parenting expert Dr. Robyn Silverman will be on hand to offer guidance and answer questions. If you have a specific question, be sure to leave it on The Mother Company's Facebook page prior to tomorrow's chat. And don't forget to enter for a chance to win a Kindle Fire, a $50 Gift Card to Totsy and one of three $25 gift cards to Snapfish here.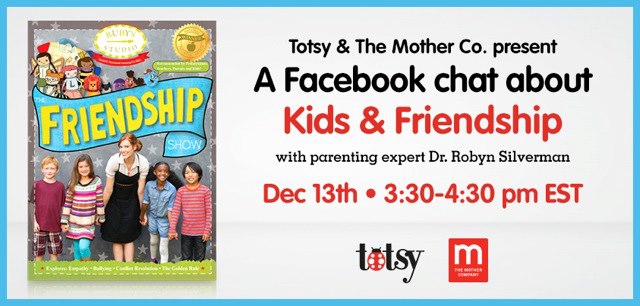 Disclosure: I am a member of Totsy's Mom Committee and receive site credit to help facilitate reviews and provide honest feedback.
Latest posts by Caryn Bailey
(see all)