The struggle to come up with creative new recipes for breakfast, lunch, and inner is real. I love to cook and bake, but this mama is in serious need of a break. And with many restaurants now converting to a take-out only model, I thought I'd share the best takeout deals and delivery apps.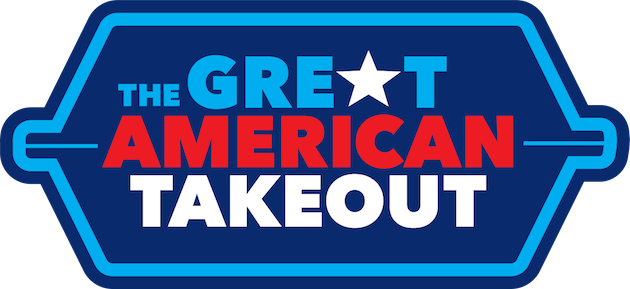 The Great American Takeout
The best way to support your favorite restaurants is to order takeout! Join The Great American Takeout Tuesday, March 31, 2020 and order at least one delivery or pick-up meal. This will help support an industry that employs more than 15 million Americans. Plus, you'll help your local community by supporting the small businesses your family enjoys.
How You Can Be Involved
For every social post tagged with #TheGreatAmericanTakeout, Smithfield Foods will make a $5 donation (up to $50,000) to CORE™: Children Of Restaurant Employees, a national nonprofit dedicated to assisting food and beverage service employees with children facing a health crisis or natural disaster and in need of financial support.
For every social post tagged with #TheGreatAmericanTakeout, Ventura Foods will donate $5 (up to $25,000) to the Restaurant Employee Relief Fund (RERF), created to support U.S. restaurant workers financially impacted by the COVID-19 crisis and to provide aid to restaurant employees nationwide.
Go to the Shift4 Websiteto order a gift card from your favorite restaurant. Shift4 will add 5% (up to $10 million) as a contribution to support the restaurant you choose during this difficult time.
The Best Food Delivery Apps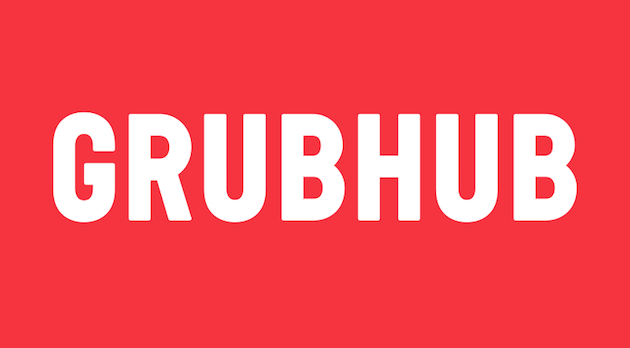 Grubhub: Save $5 off a $15 purchase here.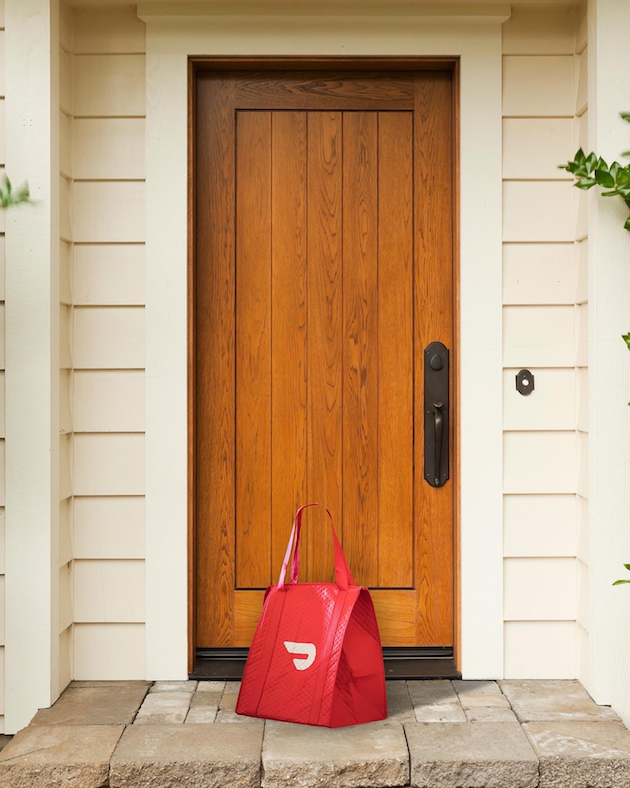 Doordash: Save $5 on your first 3 orders when you order here.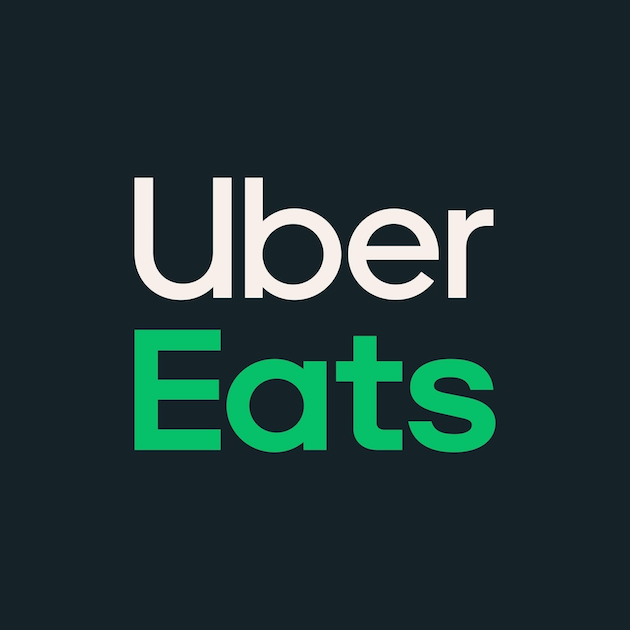 UberEats: Save $5 on your first order when you use the code eats-carynb8.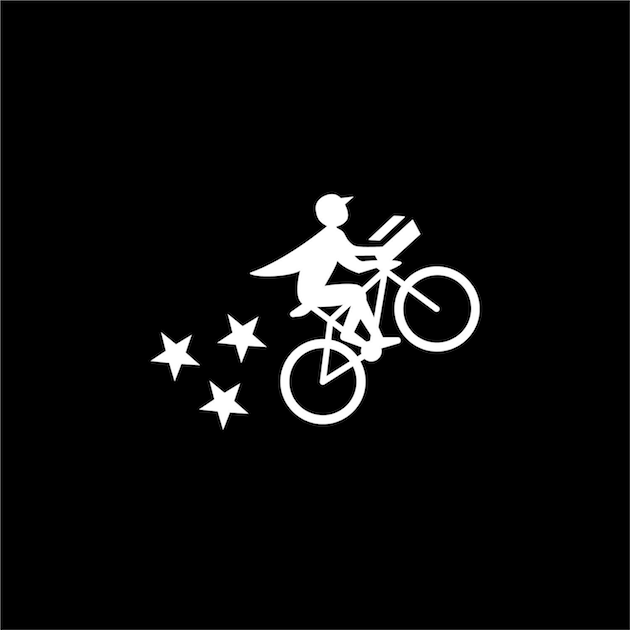 Postmates: Receive up to $100 in delivery fee credit when you use the code CDR3UP.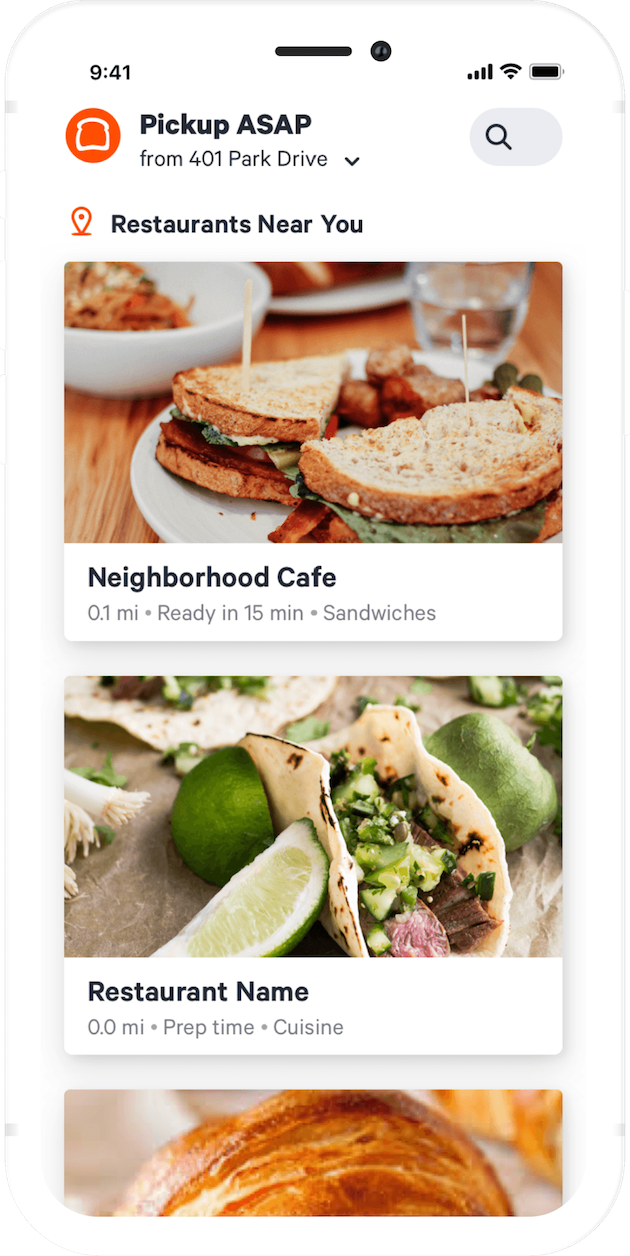 Toast TakeOut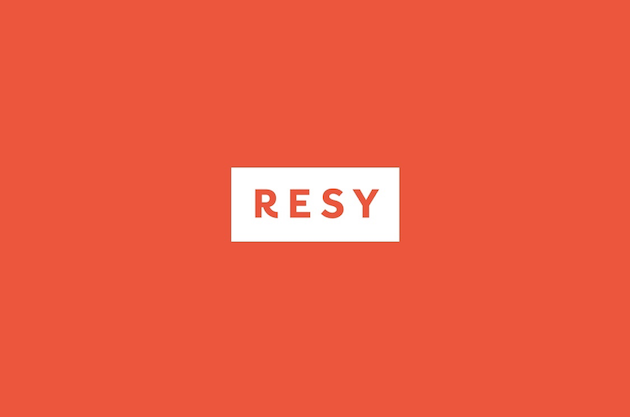 Resy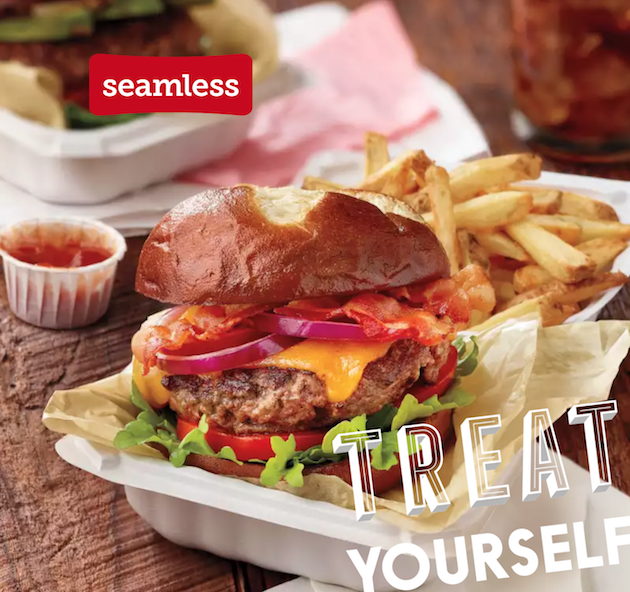 Seamless: Save $5 on your first order here.
Allset: Save $10 on your first order with the code EYCS89.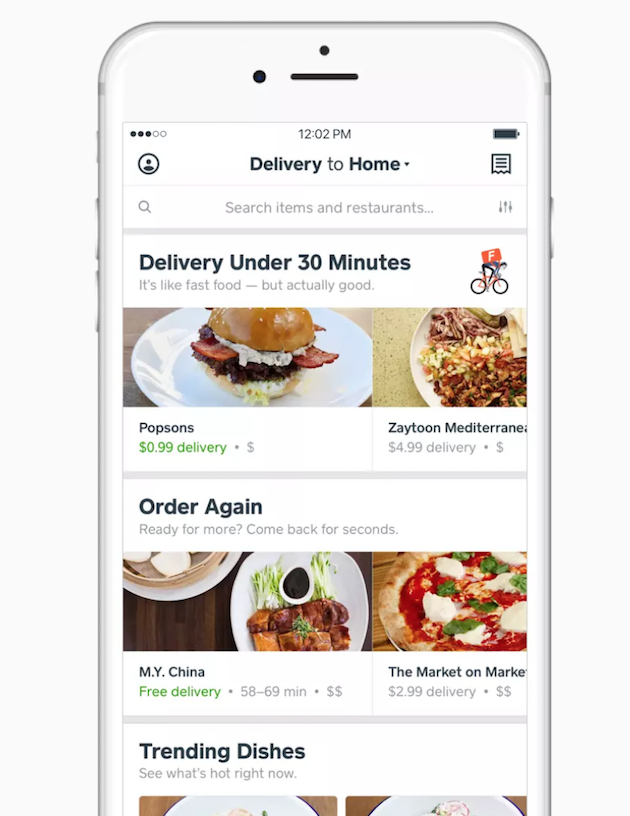 Caviar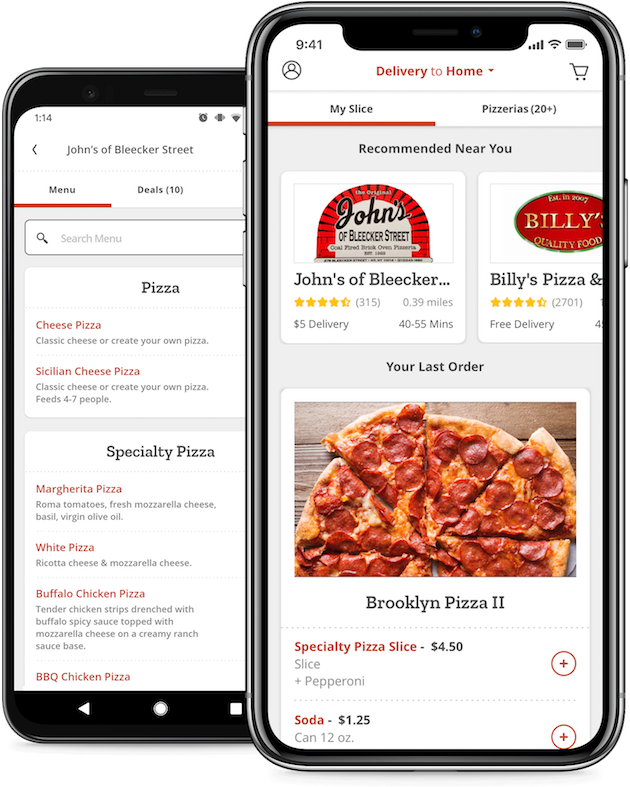 Slice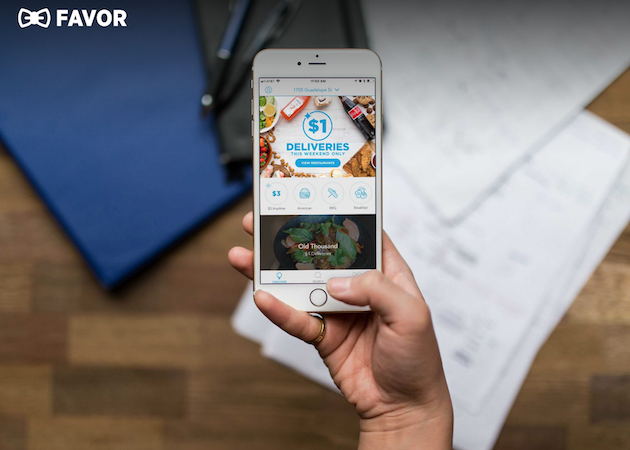 Favor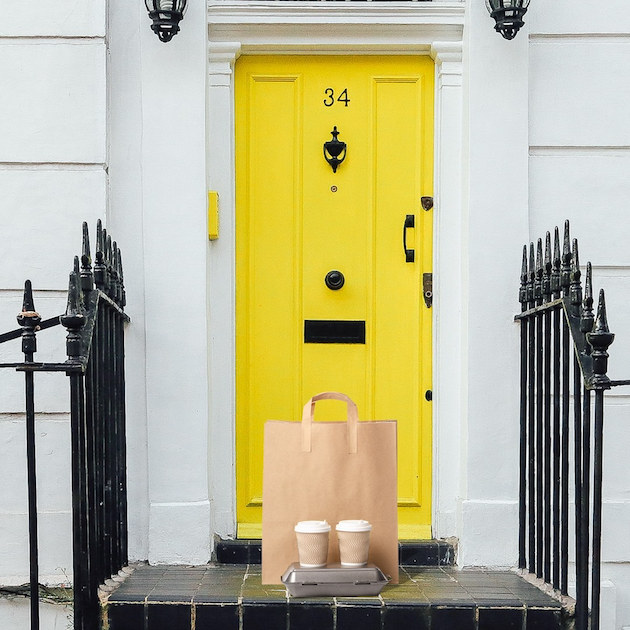 FoodBoss: Use the app to search multiple food delivery apps simultaneously to find the best price. Apps include Uber Eats, Delivery.com, Caviar, Postmates and EatStreet.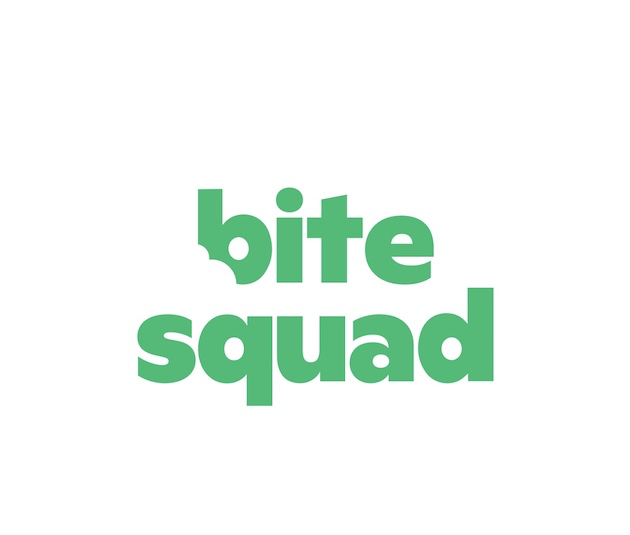 Bite Squad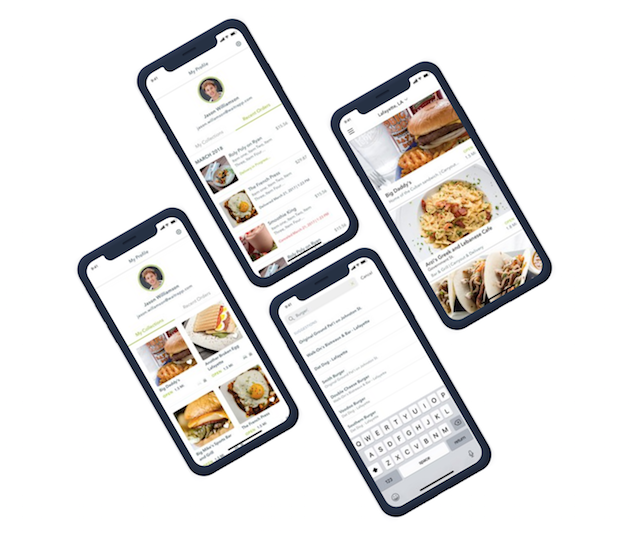 Waitr
EatStreet
Deliveroo
BeyondMenu
Glovo
foodpanda
Delivery Dudes
Curbit
goPuff 
ChowNow 
The Best Grocery Delivery Apps
Instacart 
Amazon Fresh
Walmart Grocery Delivery
Google Express
Fresh Direct
Delivery.com 
Shipt
Peapod
The Best Meal Kit Delivery Services
Home Chef
Hello Fresh
Blue Apron
Freshly
Every Plate
Purple Carrot
Green Chef
Fresh Direct
Southern California Takeout Deals
Visit TimeForTakeout.com for the latest takeout deals from your favorite local restaurants and chains.
Lazy Dog
In addition to offering a limited menu, available for pick-up and delivery, the restaurant chain introduced the Lazy Dog Pantry. Select from three kits including the following: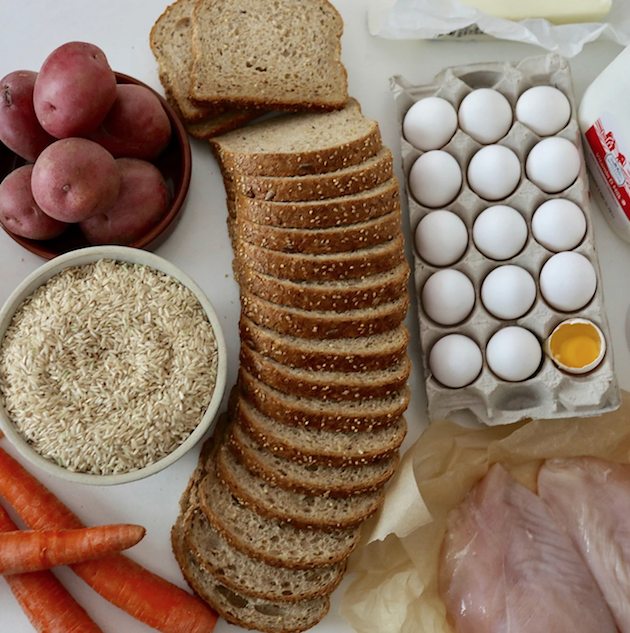 Home Essentials ($40): 3 lbs boneless skinless chicken breast (raw), 15 eggs, 1 gallon whole milk, 1 loaf bread, 1 lb unsalted butter, 2 lbs rice (uncooked), 2 lb onions, 2 lbs red potatoes, 2 lb carrots, 3 rolls toilet paper. This is perfect for families who are struggling to find essential items at the grocery store.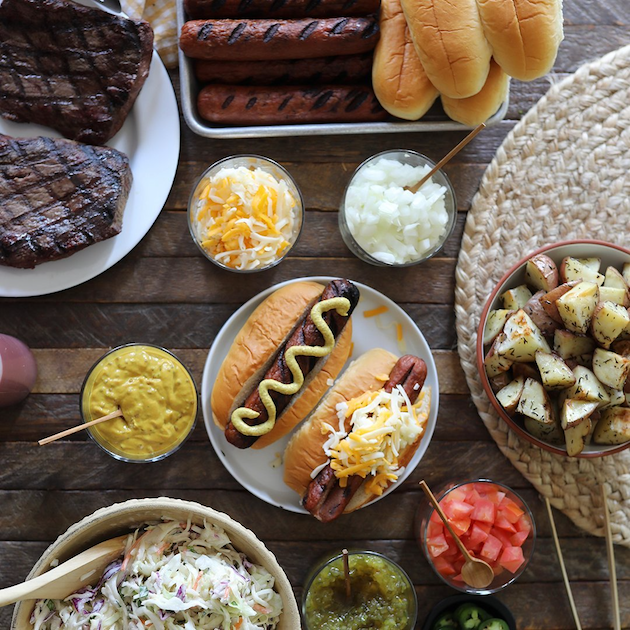 Backyard BBQ Kit ($60): 2 10oz certified angus beef flat iron steaks, 8 Nathan's famous all-beef hot dogs, 8 king's Hawaiian hot dog buns, shredded jack + cheddar cheeses, classic relish, housemade liquid blanket IPA mustard, ketchup, red potatoes, DIY coleslaw mix (shredded cabbage, parsley, green onion, carrots), housemade coleslaw dressing, whole jalapeños, fresh tomatoes, large yellow onion.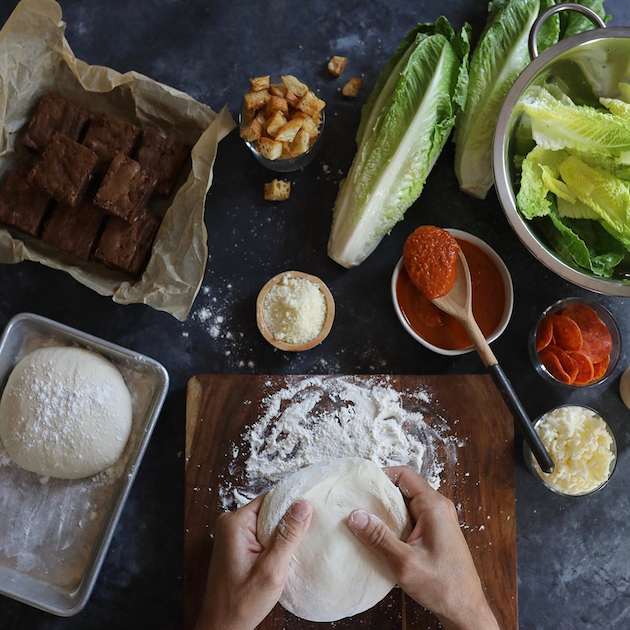 Pizza Night Kit ($35): 2 balls of housemade pizza dough, marinara sauce, shredded mozzarella cheese, cup & char pepperonis, flour, 3 heads romaine lettuce, grated romano cheese, housemade caesar dressing, housemade croutons, fresh baked white chocolate chip brownies.
CPK
In addition to their menu items, CPK launched CPK Market, offering meal kits and pantry items. Here is a brief look at the items available: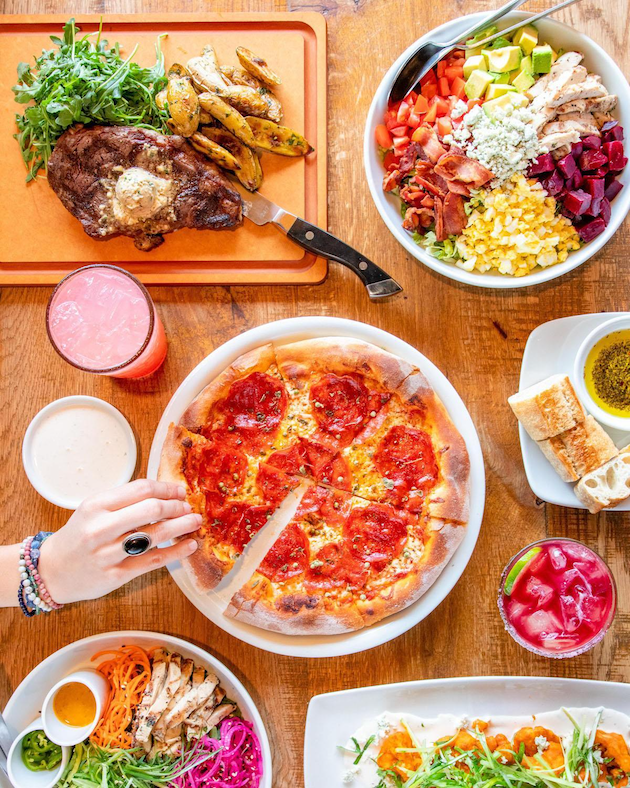 Chef's Board – featuring a Baguette, Two Cured Meats, Two Premium Cheeses, Dried Fruit, and Mixed Nuts; $25.
Raw Fruit & Veggie Box: featuring various quantities of Apples, Broccolini, Carrots, Cauliflower, Cucumbers, Fingerling Potatoes, Grapes, Onion, Oranges, Pineapple, and Tomatoes; $34 for 20 lbs.
Lettuce Wrap Kit: featuring Lettuce Cups, Asian-Inspired Lettuce Wrap Sauce, Green Onions, Shiitake Mushrooms, Water Chestnuts, and Chicken; $12 for 4 servings.
Taco Kit: featuring Cilantro, Limes, Roma Tomatoes, Serrano Peppers, Yellow Onion, Vegetarian Black Beans, Shredded Cheese, Tortillas, and a choice of Flap Steak, Mahi, or Chicken; $15 – $24 depending on meat selection for 4 servings.
Kids Build-Your-Own Cheese Pizza: featuring Par-Baked Dough, Pizza Sauce, and Shredded Mozzarella Cheese; $5 each.
Kids Build-Your-Own Pepperoni Pizza: featuring Par-Baked Dough, Pizza Sauce, Shredded Mozzarella Cheese, and Pepperoni; $5 each.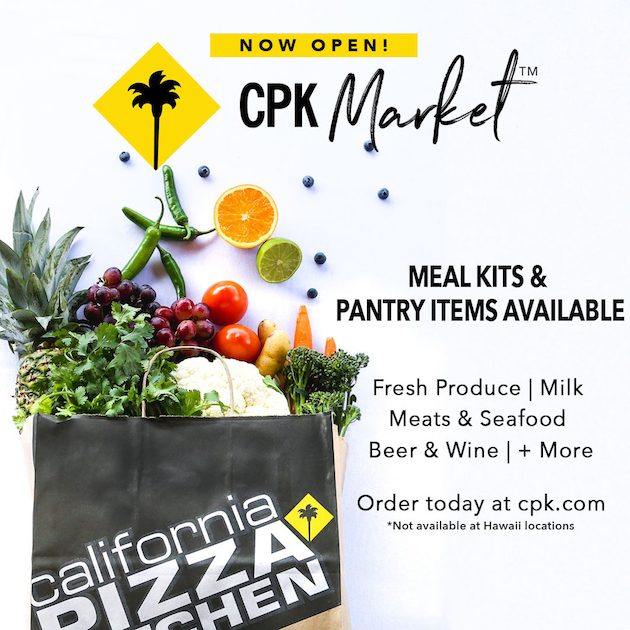 Dairy & Pantry Staples: Eggs, Rice Flour, Sugar, and Whole Milk; $3 – $5 each.
Raw Produce: Avocados, Blueberries, English Hothouse Cucumbers, Granny Smith Apples, Limes, Oranges, Pineapples, Red Seedless Grapes, Roma Tomatoes, Spinach, and Strawberries; $2 – $6 per item/bundle.
Uncooked Meat & Seafood***: Flap Beef, Ribeye, Italian Chicken Sausage, Mahi/Ono, Salmon, and Shrimp; $10 – $34 each.
Dry Pasta: Fettuccini, Linguini Fini, Rotini, and Spaghetti; $15 for 10 lbs.  

Sauce: Bolognese, Tomato, and Jambalaya; $4 – $9 each.

Bread, Chips & Crackers: Bolillo Bread, Sourdough Baguette, Potato Chips, and Goldfish Crackers; $1 – $2 each.
Desserts: Key Lime Pie, Red Velvet Cake, and Sweets Tray (Brownies, Chocolate Chunk, Rocky Road, Snickerdoodle, and White Chocolate Cookies); $14 – $35 each.
Juice: Apple and Cranberry; $3 each.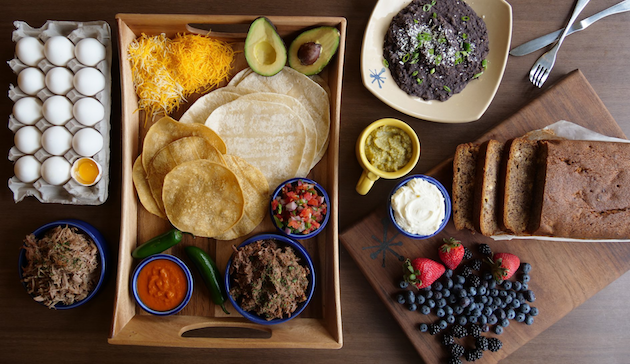 Snooze
In addition to Snooze's menu items, available for pick-up or delivery, the restaurant chain is offering 3 meal kits including the following:
Taco Party Pack ($45): 1 LB Pulled Pork, 1 LB Beef Barbacoa, 15 Cage-free Eggs, 1 Dozen 6" Flour Tortillas, 1 Dozen 6" Flour Tortillas, 4oz Cheddar Jack Cheese, 4oz Mild Cheddar Cheese, 1 Cup Green Chili Sauce, 1 Cup Ranchero Sauce, 2 Cups Pico De Gallo, 2 Whole Avocados, 1 Jalapeno Pepper, 1 Loaf of our House-made Banana Bread with Whipped Mascarpone & Assorted Berries.
BLT-Riffic Party Pack ($45): 1 Loaf Locally Made Artisan Sourdough Bread, 10 Slices of Snooze Signature Tender Belly Bacon, 10 Slices of Snooze Signature Bacon But Different, ¼ LB Baby Spinach, ¼ LB Baby Arugula, 3 Vine Ripe Tomatoes, 2 Avocados, 3 OZ Pickled Red Onions, 1 Cup Parmesan Chive Mayo, 2 LBS Hash Browns, 4 OZ Shredded Jack Cheese, 15 Cage-free Eggs.
BRAVOcado + Pancake Party Pack ($45): 12 Slices Snooze Signature Tender Belly Bacon, 6 Patties Snooze Signature Chicken Sausage, 32 OZ Snooze Signature Pancake Mix (Enough for 16 Pancakes), 4 OZ Whipped Butter, 15 Cage-free Eggs, 6.5 OZ Chocolate Chips, 1 Cup Slopeside Pure Maple Syrup, 8 OZ Diced Pineapple, 1 TBS Brown Sugar, 1 TSP Cinnamon, 4 OZ Candied Pecans, 6 OZ Blueberries, 8 Slices Rustic Filone Bread, 2 Avocados, 4 OZ Roasted Tomatoes, 8 OZ Smashed Avocado, 4 OZ Red Onion Honey Jam.
Kids Eat Free: In addition to the above meal kits and specials, Snooze is offering a fantastic deal where your kids eat free! For $35, you can choose two entrées and a stack of pancakes from a variety of options, and get two kids' meals free! Details available on their website.

Tangata Restaurant
Tangata Restaurant is offering essential grocery items through Patina Provisions.
Chicken 5 lbs $10
Ground Beef 5 lbs $10
Pasta 10 lbs $8
Rice 10 lbs $10
Potatoes 10 lbs $8
Milk 1 Gallon $5
Bread 1 loaf $4
Eggs Dozen $5
Toilet Paper 4 Rolls $8
Easter Feast Serves 4 guests $120 | Serves 8 guests $190
Hors d'oeuvres: Classic Deviled Eggs, Farmers Market Crudite, green goddess dressing.
The Centerpiece (choose one): Maple Glazed Spiral Sliced Ham, honey mustard sauce OR Herb-Roasted Leg of Lamb, mint chimichurri, flowering lavender.
Fresh from the Oven: Parker House Rolls, Vermont butter, house preserves
Accompaniments: Yukon Potato Gratin, white cheddar, cream, butter, Honey & Thyme Roasted Baby Carrots, Spring Asparagus, brown butter breadcrumbs, aioli, Market Salad, baby greens, shaved baby vegetables, Meyer lemon vinaigrette.
Dessert: Carrot Cake (Weiser Family Farms Carrots, Cream Cheese, Icing).
DIY Easter Cookie Decorating Kits
One dozen vanilla sugar cookies in the shape of eggs, chicks, rabbits and flowers. Assorted vanilla icings to include white, yellow, green, pink, blue. Assorted sprinkles, edible glitter ($25).
PATINA Easter Basket
Each basket is beautifully arranged with Chef Frania's handmade confections and candies. Includes: Hazelnut chocolate Rocher, Coconut rocher, Mini chocolate chips, Pastel confetti cookies, Carrot cake pops, Double fudge brownie bites – Sea salt caramel popcorn, Passion fruit marshmallows, Easter candies, Chocolate Robin Eggs, Chocolate bunny ($40).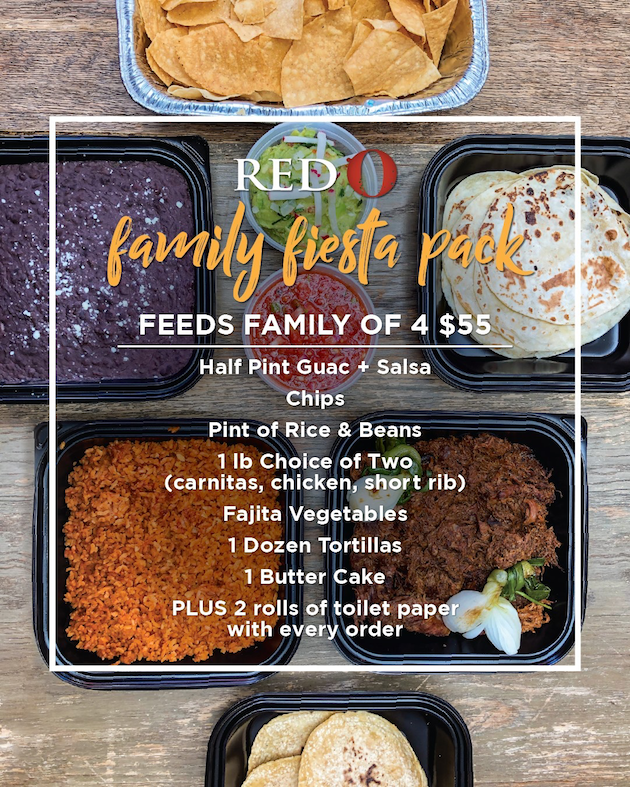 Red O
Red O has added a market to their services, which includes kitchen essentials such as dairy, eggs, fruits, vegetables, and meats. You can also pick up their Family Fiesta Pack which feeds 4 for $55 and includes the following:
Half pint of Guacamole and Salsa
Chips
1 qt rice and beans
1 lb choice of two (carnitas, chicken, short rib)
Fajita vegetables
1 dozen tortillas
Sweet dessert treat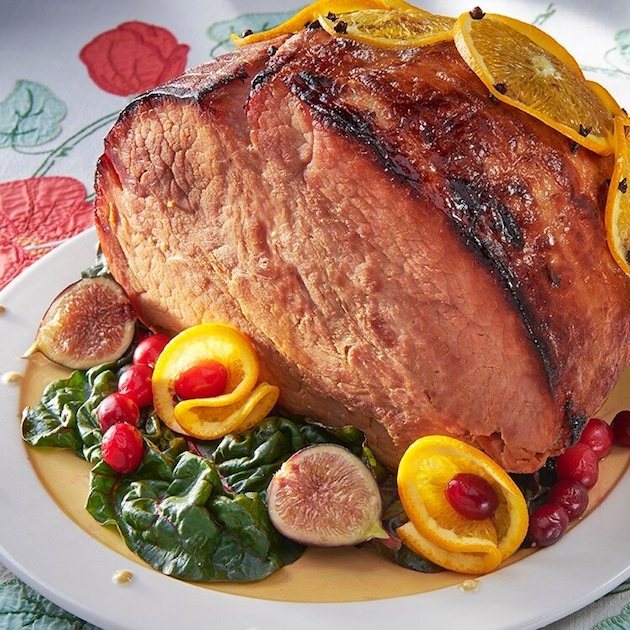 Bru Grill and Market
Bru is offering a special Easter Dinner that you can enjoy at home. Items can be purchased a la carte or as a pack.
The Easter at Home Dinner includes the following: Applewood Smoked Honey Ham, your choice of 2 sides all scratch made (Mac & Cheese, Sweet Potato Casserole, Mashed Potatoes, Haricot Verts), a Spinach Salad with green apples, roasted pine nuts, feta and raspberry walnut dressing… and for dessert 8 amazing house made Carrot Cake Cupcakes! ($99.95).
Bru is also offering a handful of specials and family packs that can be ordered online.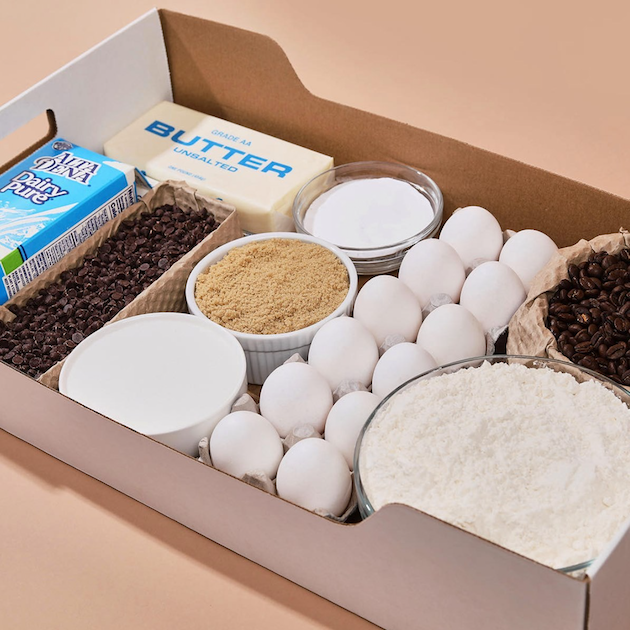 Tender Greens
Tender Greens is offering takeout, delivery, and groceries. Choose from a variety of pantry boxes including fruit, vegetables, and kitchen staples. You can also purchase a limited selection of a la carte items.