One of my father's favorite candies was the infamous Nestlé Crunch Bar, and while we never had a lot of sweets in our household, I specifically remember sharing the crisp rice-filled milk chocolate bar with him during movies and other special occasions.  If you can believe it, Nestlé Crunch is celebrating it's 75th birthday, and the brand has kicked off an incredible month-long celebration!  Inspired by the iconic bar, fifteen of the nation's top bakeries created their best Nestlé Crunch-inspired treats which will be featured on the brand's Facebook Page for fans to decide their favorite.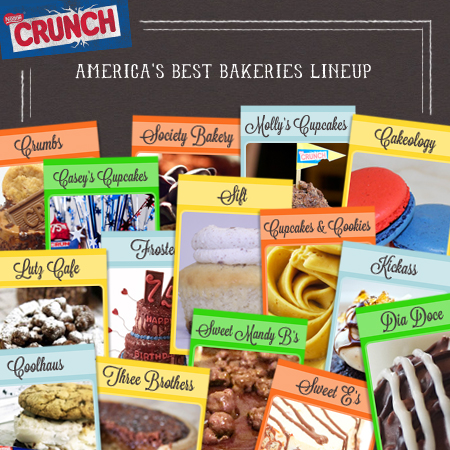 Last week, four of LA's top bakeries convened at Sweet E's Bake Shop to display their creations including Casey Reinhardt of Casey's Cupcakes, Nastassia Johnson of Coolhaus, Lisa Hess-Marks of Crumbs Bake Shop, and owner/celebrity pastry chef Erica Tucker of Sweet  E's Bake Shop.  Here are their spectacular and incredibly delectable Crunch-Inspired confections:
Crumb Crunch Cupcake by Crumbs: Lisa Hess-Marks began with a blondie base and added  Nestlé Crunch chunk. This was baked inside a moist chocolate cake and topped with chocolate buttercream, a mini cookie, a mini Nestlé Crunch Bar, and a chocolate ganache drizzle.


Nestlé Crunch Peanut Butter Brownie: Erica Tucker combined a rich chocolate chip brownie with peanut butter fudge and crispy Nestlé Crunch.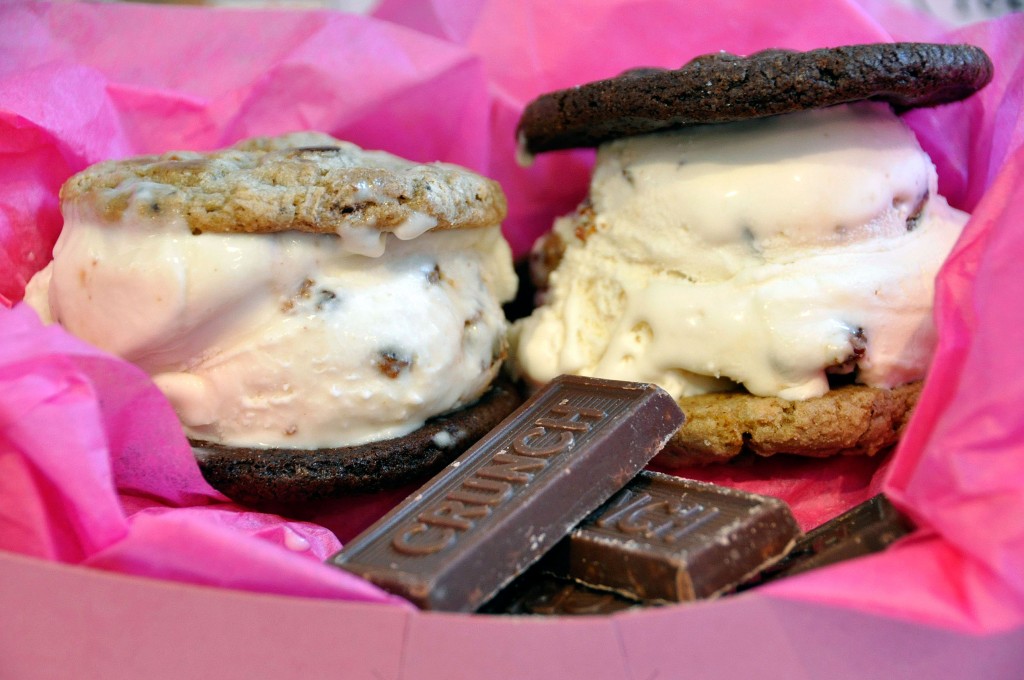 Candied Bacon Ice Cream Cookie:  Natasha Case created a Nestlé Crunch Brown Butter Candied Bacon by combining an ice cream base with nutty browned butter and swirled with bacon that has been caramelized in brown sugar and maple syrup and chunks of Nestlé Crunch Bar.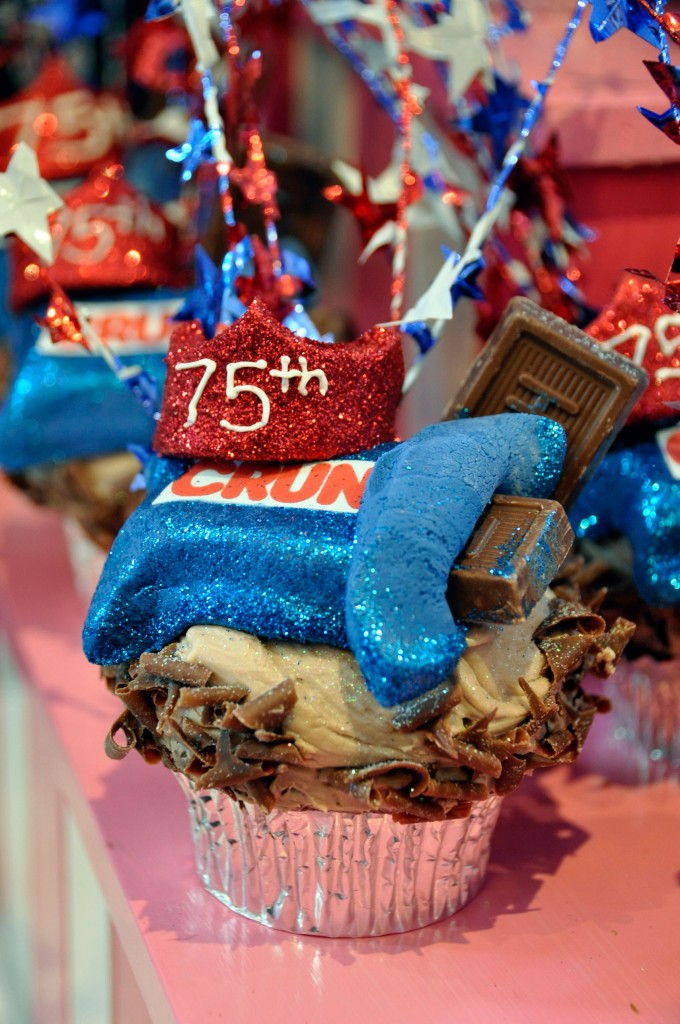 Chocolate Royalty Cupcake:  Casey Reinhardt describes her cupcake as a celebration.  Featuring edible glitter and sparkles, this devil's food cupcake is infused with pieces of  Nestlé Crunch bar, includes creamy chocolate Nestlé Crunch filling, and is topped with milk chocolate icing, chocolate shavings, a Nestlé Crunch Bar, and a red crown.
Which is your favorite?  I have my eye on the Nestlé Crunch Munchies from Cakeology because I absolutely love Macaroons.
Be sure to cast your vote weekly since Nestlé Crunch will choose 75 winners each week!  The three bakers with the highest number of votes will participate in a final bake-off to determine the grand prize winner which will hold  Nestlé Crunch's 75 birthday candles.
If you live near one of the 15 featured bakeries, be sure to stop by to try out these Nestlé Crunch-inspired treats. But hurry, they'll only be around through the end of the month (April 21st, 2013).
No compensation was received for this post. I was invited to a media event which helped facilitate the writing of this post. 
Images: Rockin' Mama unless otherwise noted. All rights reserved. 
Latest posts by Caryn Bailey
(see all)