This giveaway is now closed.  Thanks for stopping by.  The winner is Dawn.  Congrats!
"Mama mama…I need a snack!"  I hear that phrase over and over throughout the day in my household.  Fortunately, I've learned to turn this into a positive.  I utilize snack time as a way to include healthy foods into my toddler's diet.  One of the things I hope to instill within all my children is healthy eating habits.
Some of you may be preparing for your children to go back to school this fall.  My son is in preschool right now and he only attends half of the day so I'm still largely in control of what he eats.  However, if you pack a lunch for your children, I highly recommend incorporating some of the healthy snacks from Hain Celestial Group.  My son eats the cookies and crackers from Earth's Best and my husband and I enjoy Garden of Eatin's Blue Corn Tortilla Chips with homemade guacamole.
The Hain Celestial Group is offering a giveaway filled with healthy snacks and free coupons to help spread the word about the "Take a Healthy Bite Out of Reading" back to school promotion.  The company has teamed up with Barnes & Noble to help inspire reading through healthy eating.
The "Take a Healthy Bite" promotion is a receipt redemption program, where you can send your receipts for any products from Garden of Eatin', MaraNatha, West Soy, Earth's Best, and Healthy Valley in exchange for gift cards from Barnes & Noble.  A $5.00 gift card for $15 worth of product and a $10 gift card for $25 worth of product.  There is also a sweepstakes where one parent will win $500 worth of free books from Barnes & Noble for their local school library.  I really need to be doing this because our family purchases many of these products on a regular basis (they're available at natural food stores like Whole Foods).  You can enter the giveaway here.  If you sign up for the newsletter, you'll receive valuable coupons.  You can also find healthy snack tips and kid friendly recipes from Keri Glassman, R. D. on the site.
5 "Smart Lunchbox" tips to keep kids eating a balanced and varied diet that includes smart snacks!
1. Make every lunchbox complete. Fill lunchboxes with a whole grain, dairy, lean protein, healthy fat such as nuts, nut butter or avocado, fruit and vegetables.
2. Remember to get kids involved. Set aside a block of time for food planning and preparation early in the week. Portion out a couple days worth of food items such as hummus or nut butters. Slice fruits and vegetables and pack into several containers. Preparing food ahead of time will make it easier to pack lunches on school days.
3. Make food fun to eat! Pack dips, such as yogurt mixed with peanut butter and pair with fruit. Serve crackers with similar size and shape deli meats and cheese and let kids "stack" them on their own.
4. Satisfy your child's sweet tooth. Choose healthy alternatives like a drinkable yogurt smoothie made with nonfat soy milk or yogurt and berries, Health Valley Oatmeal Raisin Cookies or frozen mashed bananas.
5. Choose nutrient dense snacks. Earth's Best Organic Crunchin' Crackers, Garden of Eatin' Whole Grain Sea Salt Pita Chips with hummus, apple slices with MaraNatha peanut butter all hit the spot!
5 HEALTHY SNACK IDEAS
Very Berry Smoothie:
8 oz WestSoy Plus soymilk mixed with 1 cup frozen unsweetened strawberries and ½ cup blueberries
Soymilk: 110 cals, 4g fat, 10g carbs, 7g protein
Strawberries: 52 cals, 1g fat, 13 carbs
Blueberries: 41 calories, 10.5g carbs
Better than S'Mores:
6 Health Valley Amaranth Bran Graham Crackers with 2 teaspoons of MaraNatha Organic No Stir Peanut Butter and 1 oz chocolate
Crackers: 120 cals, 3g fat, 22g carbs, 3g protein
Peanut Butter: 66 cals, 5 g fat, 2.3g carbs, 2.3g protein
Chocolate: 152 cals, 8.6g fat, 16.5g carbs, 2g protein
Chips n' Dip:
1 oz Garden of Eatin' Whole Grain Sea Salt Pita Chips with 2 tablespoons of hummus
Pita Chips: 120 cals, 3g fat, 20g carbs, 3g protein, 180 mg omega 3
Hummus: 50 cals, 3.5g fat, 4g carbs, 1g protein
As, Bs and Cookies!:
9 Earth's Best Organic Sesame Street Oatmeal Cinnamon Letter of the Day Cookies dipped in low fat yogurt with an   8 oz container of Earth's Best Kidz 2% Reduced Fat Milk
Cookies: 90 cals
Milk: 120 cals, 5g fat, 11g carbs, 8g protein
Nutty Wafflewich:
4 Earth's Best Sesame Street Frozen Organic Mini Waffles with 2 teaspoons MaraNatha Organic No Stir Almond Butter and a tablespoon of honey
Mini Waffles: 80 cals, 3g fat, 12g carbs, 2g protein; Almond Butter: 64 cals, 6g fat, 2g carbs, 3g protein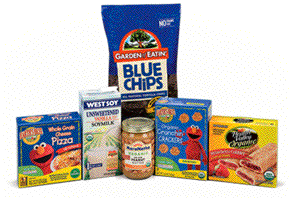 Win It! One of you will win an assortment of natural and organic products from Hain Celestial Group including Garden of Eatin' blue corn chips (which are seriously yummy), Healthy Valley granola bars (my son loves the soft, chewy ones), Earth's Best Tots juice boxes and coupons for free jar of MaraNatha nut butter, free 32 ounce West Soymilk and free Earth's Best Sesame Street frozen pizza.  The total value of this giveaway is $25 and I would soooo enter if I could!  Simply visit Take a Healthy Bite Out of Reading.  Come back and leave me a comment with a product you've never tried that you'd like to!  If you have questions about some of these products, I'd love to answer them (you know what a health nut I am!).  Comments will close on August 14, 2009 at 10 PM PST (only 1 week!).  One comment per person, please. US residents only. Duplicates and comments not including the above information will be disqualified. Comments are moderated. If you don't see your comment in a reasonable amount of time, send me an email. Bloggers and non-bloggers may enter. If you don't want to leave your email address, please be sure to check back for my announcement on the winner. Please note that winners must respond within 48 hours of being announced/contacted or another winner will be drawn.
Want an extra entry? Do any or all of the following and receive an extra entry for each one.
Be sure to leave me a separate comment for each additional entry.
Follow me on Twitter AND tweet about the contest.
Spread the word about the contest.  You can blog, share on Facebook, etc.
Disclosure:  The information for the contest and the giveaway were both provided by Mom Bloggers Club. I was compensated to run this giveaway.