Our temperate southern California weather allows me the flexibility to wear open-toed shoes practically every day.  Shoes are one of my FAVORITE accessories, particularly wedges and sandals, so style is just as important as comfort.  And when I'm running around after my kids, a pair of flip flops reflects the laid-back, often variable schedule that is our life.  Over the summer, I lived in Tidewater Sandals' wedges and flip-flops. Not only are these summer sandals comfortable, they pair nicely with jeans, shorts, and sundresses!
Sponsored.
Tidewater Sandals
One of the first things I noticed about Tidewater Sandals is the brand's unique style. Their sandals are classy and versatile, while their flip flops exude the playful nature of poolside fun and beachside relaxation. The brand offered our family a few styles to check out, and I immediately noticed how comfortable they felt.
Sandals
As a shorter female, I am always looking for shoes that can give me some height. Oftentimes that comes at a cost because wedges and heels tend to only be comfortable for a short time. I chose the Beach Haven Sandals, which features stylish embellishments, a cushioned natural footbed, and premium arch support. What that means is that I can be trendy and comfortable while running errands, strolling the beachfront, or working an event. At present, these sandals are available in gold/blue, and I would love to see Tidewater Sandals offer them in additional colors/prints because of how comfortable and versatile they are.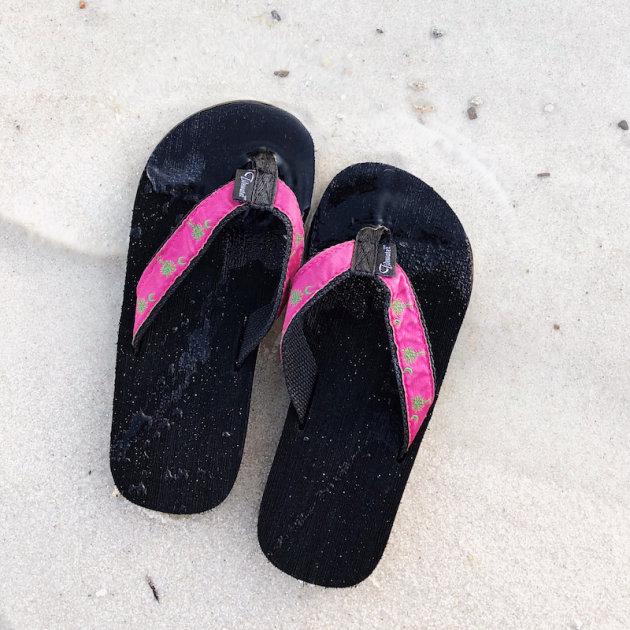 Flip Flops
As much as I adore flip flops, and would live in them if possible, the common lack of support causes discomfort, particularly when worn for long periods of time. Tidewater Sandals ensures that all of their flip flops and sandals are made to mold to your arch, whether high or low.
I chose the Black Buoy flip flops, which feature a black and metallic silver buoy design. My son opted for the Navy Palmetto design and my daughter chose a complementary Pink and Green Palmetto pair.  Their flip flops are very lightweight, and I was impressed at how the fabric, color, and design withstood the ocean water, sand, and chlorine from our summer adventures.
Tidewater Sandals also offers flip flops in varied designs for men. Find their sandals and flip flops at boutiques and speciality shops across the country or online at TidewaterSandals.com.
Exclusive Tidewater Sandals Discount
Right now, you can save 15% off any online purchase by using the code ROCKIN15!
Tidewater Sandals Giveaway
Win It! One of you will win a pair of Tidewater Sandals. Simply complete the Rafflecopter form and leave me a comment with the style and color you'd choose if you won. Comments will close on September 14, 2018 at 11:59 PM PST.
US Residents only. Duplicates and comments not including the above information will be disqualified. Comments are moderated. If you don't see your comment in a reasonable amount of time, send me an email. Bloggers and non-bloggers may enter. If you don't want to leave your email address, please be sure to check back for my announcement on the winner. Please note that winners must respond within 48 hours of being announced/contacted or another winner will be drawn.