This giveaway is now closed. Thanks for stopping by. The winner is Jennifer P!  CONGRATS!
We still have at least 6 more weeks of winter, but I wanted to give you a sneak peek at my next series.  One of my New Year's resolutions is to get the house clean and organized.  Over the weekend I hosted a party (which I'll tell you more about very soon!).  My husband and I spent Saturday cleaning the downstairs area for the party and it looks fantastic.  Now if I can get motivated to finish the upstairs…

Amanda, Tanya, and I have joined forces once again to help you get clean and organized this year!  And maybe in the process MY house will be clean and organized!   This year, my series is not going to be as heavily focused on products, but rather practical ways to achieve your goals this spring.  And as a green mom, the products I do feature will be all-natural and safe enough to use around your children. The series doesn't officially begin until March, however, I have a pre-series giveaway to get you excited about spring cleaning.
A vacuum is  a cleaning staple in any household.  One of the first things I look for in any vacuum is a HEPA (high efficiency particulate absorbing) filtration system.  Without one, the dust, dirt, and microbes simply get blown into the air. The Oreck XL Platinum Pilot vacuum has a HEPA filtration system that traps up to 99.9 percent of dust and allergens down to 0.3 microns.  My husband, son, and I all have allergies so this is an important feature for us.



I have to admit that when I did my research on the vacuum (before testing it out) and found out it uses a bag, I was a bit disappointed.  I remember my mom's old vacuum and what a hassle it was for her to change the bags (it was messy for the most part). We have a bagless vacuum and I have to say that some of the dust particles do in fact get uplifted into the air when I empty it (which is why I do it outside or in the garage).  The Platinum Pilot actually uses self-sealing bags (a concept I'd never heard of before) which means you don't have to be exposed to dirt, dust, and allergens.  While it is an added expense to purchase bags ($20-$35 for 8 bags), overall I think it's a cleaner, healthier way to deal with the "stuff" that you vacuum up.  If you have pets, you definitely want self-sealing bags in order to help eliminate pet odors.  While I like to "see" what my vacuum has picked up, I'm more interested in keeping all of those microbes nicely packed away in a vacuum bag…to be disposed of!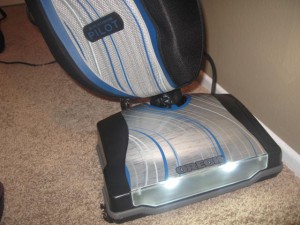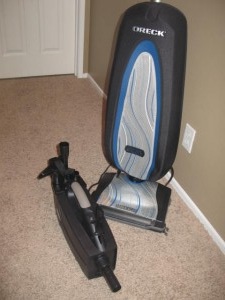 Vacuums are heavy.  They also tend to be bulky which makes storing them a challenge.  At only 10 pounds, I can easily take the Platinum Pilot up and down the stairs to vacuum (I can even vacuum the stairs).  It has a slim design which makes it easy to store nicely in our closet downstairs.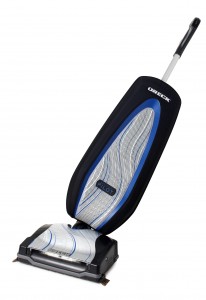 I honestly didn't realize the power behind this vacuum, especially considering how light and compact it is.  We have eco-friendly carpet with a bit of "shag" to it so it's not the easiest to vacuum.  It traps dirt and dust which means it never really "looks" dirty.  But I know it gets dirty (we can fill up a bagless vacuum with one room).  The Platinum Pilot features a powerful, pile-lifting roller brush to help pull out embedded dirt, dust, allergens, dander, and pet hair. The vacuum also has an anti-microbial agent built into it (and on it) to inhibit the growth and reproduction of bacteria, mold, and mildew.
The vacuum handles well.  Not only is it extremely light in weight, it maneuvers well. The Platinum Pilot features 360° Glide technology (ball-joint and pivot connection) which means it tilts, twists, turns, and moves easily in hard to reach places (it even lies flat!).  The result is that I don't have to spend nearly as much time going back to places I've missed with a handheld vacuum.
A vacuum is a big investment…one that needs careful consideration.  My personal feeling is that it should be effective at picking up and containing dirt, dust, etc., easy to use and maneuver, lightweight, and utilize HEPA filtration.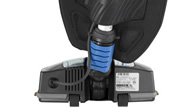 The Oreck XL Platinum Pilot Vacuum retails for $599 and also includes a lightweight handheld vacuum.  The company offers a 30-day risk-free trial period because they stand behind their products.  For additional information about the vacuum and it's features, or to purchase the vacuum, simply visit their site.

Win It! One of you will win an Oreck XL Platinum Pilot Vacuum!  Simply check out their website, then come back and leave me a comment with a feature of the vacuum you like.  Comments will close on February 25, 2010 at 11:59 PM PST.  One comment per person, please (unless you do the extra credit). US residents only. Duplicates and comments not including the above information will be disqualified. Comments are moderated. If you don't see your comment in a reasonable amount of time, send me an email. Bloggers and non-bloggers may enter. If you don't want to leave your email address, please be sure to check back for my announcement on the winner. Please note that winners must respond within 48 hours of being announced/contacted or another winner will be drawn.
Want an extra entry? Do any or all of the following and receive an extra entry for each one.
Be sure to leave me a separate comment for each additional entry.
Add the "Win an Oreck Platinum Pilot Vacuum" button to your sidebar.  Be sure it's up for the duration of the giveaway.
Follow me on Twitter AND tweet about the contest.
Subscribe to my feed via email or reader.
Blog about this giveaway. It doesn't have to be a separate post. Just include a blurb about it when you blog about other giveaways. Please include this button:

Click on one of the very cute buttons below and digg, stumble, fav, etc. Just let me know what you did in the comments!
I did not receive compensation for this post. I received a product, courtesy of the company, in order to facilitate this review.
Latest posts by Caryn Bailey
(see all)