While their is no shortage of fast food restaurants in the US, finding a healthy, on-the-go meal is a bit more challenging.  And with many of us short on time, particularly during the lunch hour, Garden Fresh Restaurant Corporation (who's buffet-style restaurants include Souplantation and Sweet Tomatoes) recognized the need for a healthy, quick-serve meal option.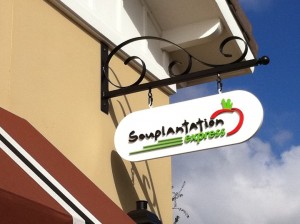 The very first Souplantation Express is scheduled to open tomorrow, January 17th in Carlsbad, California. The new dining concept will feature the same quality food you expect from Souplantation and Sweet Tomatoes in a quick, convenient way.  And while you won't be able to eat all you care to, the restaurant still gives you the freedom to personalize your meal, including creating your own salad from over 30 different ingredients.  Soup and salad are integral to the restaurant and it's guests, which is why the restaurant will offer the option of pairing any salad with one of five made-from-scratch soups or their signature macaroni and cheese.  The meal will also include one of my personal favorites, the garlic asiago foccacia.  Dessert is not included, however, you can purchase their delicious chocolate chip cookies or blueberry muffins if you're still hungry (although I guarantee you'll be quite satisfied with the amount of food served).
Last week, I spent two days learning about the company's latest venture and was one of the first inside the restaurant to test it out.  While the restaurant is smaller than their buffet-style venues, it is still capable of seating 60-65 people (when you include patio dining).  Rather than serving yourself, a Souplantation Express employee will build your salad for you for just $5.99, which I don't mind.  Frequent diners may be concerned that the portion size is not enough.  However, the salad bowls are very generous and you can add as much of any ingredient as you'd like.  Add a soup or macaroni and cheese for $7.99 and the entire meal is filling.  Kids will also have their own meal option for $4.99 which includes a salad with 3-5 ingredients, macaroni and cheese or soup, a cookie and a drink.
The company is planning to open four more Express restaurants within the next year, which are designed to compliment, rather than replace their traditional buffet restaurants.  I can see the company choosing venues such as shopping malls, airports, and college campuses to debut their new dining concept.  With the demand for healthier food options growing and consumers short on time, the quick-serve concept is attractive in numerous ways.
The new Souplantation Express restaurant in Carlsbad, Calif., is located in Bressi Ranch Village Center at 2681 Gateway Road, Carlsbad.  To celebrate the grand opening, Souplantation Express will offer a reusable insulated Express cup to the first ten customers every day from Monday, January 17 – Sunday, January 23 which can be used for free beverages on return
visits for the remainder of January. In addition, every guest that dines at Souplantation Express during the week of January 17th-23rd will be entered into a daily giveaway to win 10 free meals to
Souplantation Express and/or any Souplantation restaurant.
Be sure to sign up for Club Veg Express and follow them on Twitter/Facebook for the latest news and deals.
No compensation was received for this post. I attended a media event to preview the new dining concept, courtesy of the company.
Latest posts by Caryn Bailey
(see all)