With summer less than 2 months away, I'm already planning ways to make those 2 months memorable and engaging for my kids. We spend the entire school year working fervently on school and sports, and admittedly, I look forward to the extra downtime to sleep in, lounge by the pool, and enjoy the company of family and friends.  Playdates, picnics and campouts are some of our favorite ways to spend quality time engaging with those closest to us, and very often I'll find myself baking or cooking for the occasion.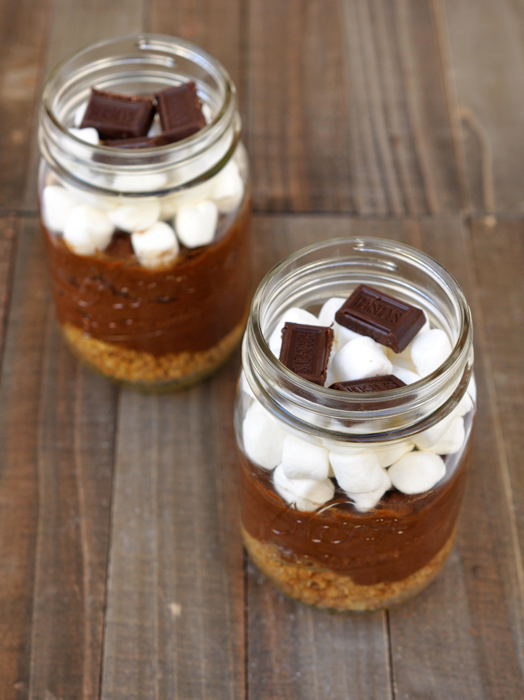 One of my kids' favorite treats is the iconic S'more. Traditionally enjoyed during campouts, I've found that we're often looking for additional ways to enjoy this delightfully messy treat.  Interestingly enough, the origin of this campfire treat can be traced to the Girl Scouts and variations on the roasted marshmallow sandwiched with a layer of chocolate in between graham crackers have included everything from cheesecake and ice cream to popcorn and pizza!
I've been known to resort to our stove or the microwave for impromptu s'mores and a movie night, but admittedly, toasted marshmallows are ideal. Since we like to enjoy the flavors and textures of s'mores beyond our camping trips and backyard campouts, I thought I'd endeavor to change up the traditional campfire treat with my S'mores in a Jar. With a buttery graham cracker crumble and a dark chocolate pot de creme, this decadent dessert will definitely satisfy your craving for s'mores. And with traditional ingredients like marshmallows, graham crackers and mini chocolate bars (all available at your local Walmart), you'll still enjoy all of the flavors you associate with s'mores.

S'mores in a Jar
Ingredients
Buttery Graham Cracker Crumble
2

cups

crushed graham crackers

6

tbs

unsalted butter

4

tbs

dark brown sugar
Chocolate Pot de Crème
5

ounces

semi-sweet or dark chocolate

or use chocolate chips, chopped

6

egg yolks

8

tbs

organic sugar

Pinch of salt

2

cups

heavy whipping cream

1/2

cup

whole milk

1

tsp

vanilla extract
S'mores in a Jar
Buttery Graham Cracker Crumble

Chocolate Pot de Crème

Mini Marshmallows

Hershey Mini Dark Chocolate Bars

4

Mason Jars
Instructions
For the Buttery Graham Cracker Crumble
Combine graham crackers and brown sugar in a small bowl

Add in melted butter and mix until crumbly
For the Chocolate Pot de Crème:
Whisk egg yolks, sugar and salt in medium-sized bowl

Whisk in heavy whipping cream and whole milk

Transfer mixture to a pan and cook over low-medium heat, whisking constantly (remember to scrape the bowl to prevent the mixture from settling and sticking to the bottom of the pan)

Cook until thickened, approximately 10 minutes

Pour custard through a strainer over chocolate

Combine mixture, whisking until smooth

Whisk in vanilla extract

Cool pot de crème to room temperature

Refrigerate until chilled for several hours or overnight
For the S'mores in a Jar
Add 4 tbs of buttery graham cracker crumble to each mason jar

Add 1 cup of chocolate pot de crème to each mason jar

Top pot de crème with 1/2 cup mini marshmallows

Garnish with Hershey Mini Dark Chocolate Bars

Quick broil the marshmallows/chocolate until browned (be sure to watch closely)

Serve immediately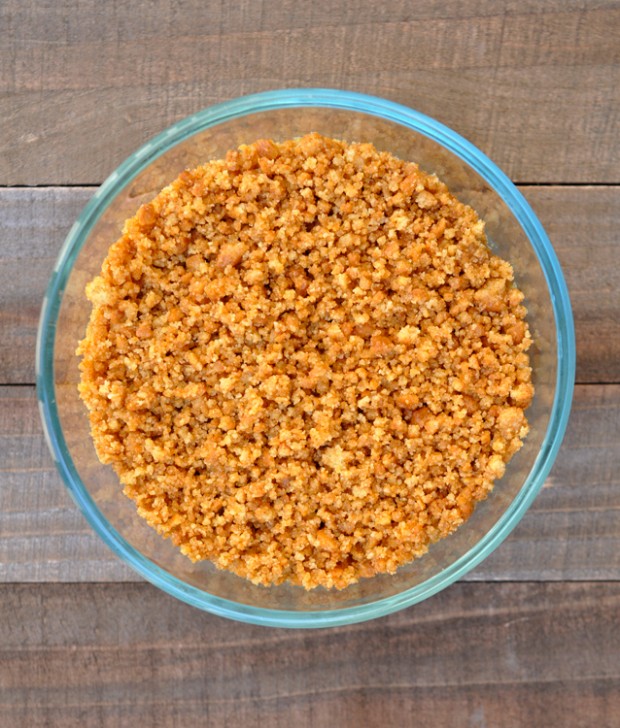 These S'mores in a Jar are perfect for Summer picnics, playdates, barbecues and any other occasion you can dream up. Not only do they look beautiful, the velvety smooth Chocolate Pot de Crème with the Buttery Graham Cracker Crumble and toasted marshmallow is absolutely divine. I opted for a crumble since it offers the taste and texture of a "pie" in a jar and compliments the Chcolate Pot de Crème beautifully.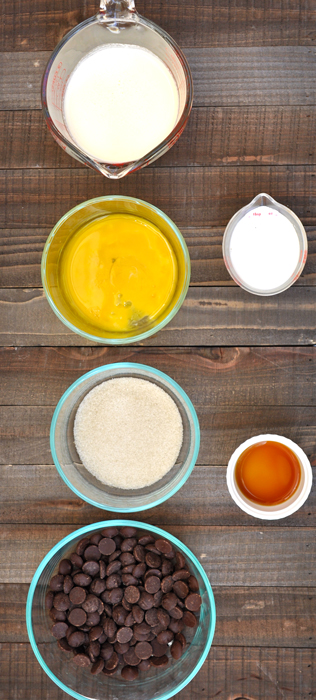 Since I love all-things European, I opted to elevate the traditional pudding you might associate with "in the jar" recipes and create a chocolate custard. Specifically, Pot de Crème is a French dessert custard traditionally made with eggs, cream, milk and vanilla or chocolate (I used both!).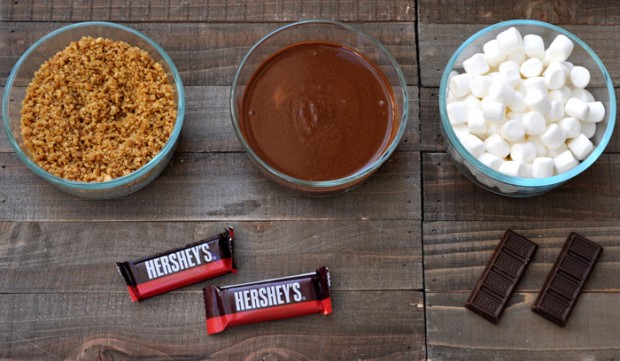 If you're planning to serve these S'mores in a Jar for a special occasion, be sure to prepare the Chocolate Pot de Crème the night before so that you can assemble this dessert with ease.
What is your favorite way to enjoy S'mores? I'd love to hear your best inspired recipes!
Latest posts by Caryn Bailey
(see all)