This giveaway is now closed. Thanks for stopping by. The winner is Sylvia. Congrats!
Precycling is a term that is very new to me, but the concept is one I've strived to practice for years. Last week I wrote about how easy it is to recycle. However, if you'd like to deepen your shade of green, consider reducing or even eliminating waste that will need to be recycled (or thrown away) by avoiding it altogether.
So how do you do this? Here are some "simple steps." You may notice they sound a lot like many of the concepts I've already written about:
BYOG (bring your own bag). Doing so will cut down on the amount of plastic bags that are rampant in stores across the country. And while you're at it, bring your own utensils, napkins, etc. and avoid disposable anything.
Bulk up. Shopping in bulk reduces packaging that then needs to be thrown away or recycled.
Become a minimalist. Opt for products in the least amount of packaging (or none at all). At the very lease try to purchase products in recyclable packaging (1 and 2 are best).
Think outside the box. Can that item be used in another way (i.e. repurposed)?
Get digital. You know all of those magazines piling up on your counter, never to be read? They're online.
Return to Sender. You know all of that junk mail that comes to your home every. single. day.? You can stop it.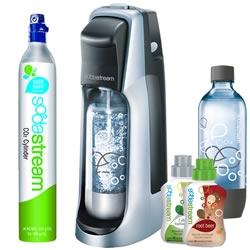 One of the ways we precycle is by making our own soda with Sodastream Fountain Jet. While we still purchase bottles and cans on occasion, we've managed to get creative with our machine by carbonating juices and other drinks. CO2 is used to carbonate water (and juices, I found out recently). Add one of their 30 flavored syrups (free from HFCS and aspartame) and you have your own homemade soda (or energy drink, sparkling tea, flavor essence). The system comes with two reusable bottles which means you never have to buy a can.
As a society, we're not great at recycling. "The average American consumes nearly 600 bottles and cans of sparkling water and soda every year (Sodastream)." Making our own sodas is one way we precycle…and we save money doing it. One 12 ounce can of soda is only 25 cents.
For more information about Sodastream just visit their website. You can also read my previous review here.
Win It! One of you will win a Fountain Jet starter pack (retail value approx. $100), which includes a machine, 1 carbonator, two BPA-free carbonating bottles and two flavors of the winner's choice. Simply leave me a comment with the two flavors you'd like to try and how you're going green this Earth Day. Comments will close on May 3, 2010 at 11:59 PM PST. One comment per person, please (unless you do the extra credit). US residents only. Duplicates and comments not including the above information will be disqualified. Comments are moderated. If you don't see your comment in a reasonable amount of time, send me an email. Bloggers and non-bloggers may enter. If you don't want to leave your email address, please be sure to check back for my announcement on the winner. Please note that winners must respond within 48 hours of being announced/contacted or another winner will be drawn.Want an extra entry? Do any or all of the following and receive an extra entry for each one.
Be sure to leave me a separate comment for each additional entry.
Follow Sodastream on Twitter AND tweet about the contest using the hashtag #EarthDay
Follow me on Twitter AND tweet about the contest using the hashtag #EarthDay
Subscribe to my feed via email or reader.
Blog about this giveaway. It doesn't have to be a separate post. Just include a blurb about it when you blog about other giveaways.
Click on one of the very cute buttons below and digg, stumble, fav, etc. Just let me know what you did in the comments!
I did not receive compensation for this post. This giveaway was sponsored by Sodastream.