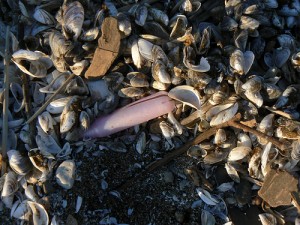 Plastic is everywhere.  It's how many of the products we purchase are manufactured and  packaged.  It's in toys and baby bottles…it houses food and household cleaners.  Two years ago, I was lucky if I found one or even two companies that utilized safe plastics ( BPA-free) in their infant bottles.  Today, their is no shortage of plastic alternatives to baby bottles, toys, and many other products.
Here are some startling facts about plastic, taken from Clean Air Council:
Americans throw away 2.5 million plastic bottles every hour.
Every year, Americans make enough plastic film to shrink-wrap the state of Texas.
Americans toss out enough paper & plastic cups, forks and spoons every year to circle the equator 300 times.
The average American office worker goes through around 500 disposable cups every year.
THE largest landfill is actually in the middle of the Pacific Ocean.
Along with the eco-damage plastic is responsible for, there are reports of adverse health effects that can be attributed to BPA leaching from some plastics.  So what can you do?
Invest in a reusable water bottle. Ditch those plastic water bottles (they're not better than tap water anyway) and pick up a bottle that isn't lined with plastic.  The Disney Store has an adorably "green" (hehe) aluminum bottle featuring one of the little green men from Toy Story and inscribed with the message "Save Planet Earth." Currently on sale for $6.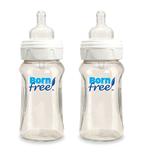 Opt for glass or stainless steel baby bottles. BornFree's leak proof, BPA-free bottles come in glass and feature an anti-colic vent.  They're surprisingly light in weight, offer nipples in five flow rates, and parts can be interchanged with their trainer cups as your baby grows. Retails for $17.99 to $19.99 for two bottles.

Alternatively, Pura Stainless offers electro-polished stainess steel, BPA-free bottles. Not only do they look sleek and modern, they're lightweight and functional.  Their Kiki line of bottles are offered in spring green, racing red, pretty pink, aqua blue and tangerine.  Once your baby moves beyond bottles, turn it into a sippy bottle with their sip spouts.  What I like most about these bottles is the ability to use virtually any nipple with them.  Retails for $13.99-$15.99.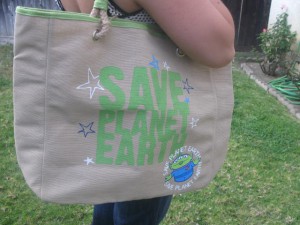 Bring a reusable bag to the grocery store. Consider this sobering fact: Between 500 billion and a trillion plastic bags are consumed worldwide each year.  Where do they end up?  Landfills, oceans, and other bodies of water.  Opt for a reusable bag (bonus points if it's made from recycled bottles).  Some stores even give you a bit of a cash refund if you BYOB (bring your own bag).  This one from the Disney Store features the three-eyed green alien from Disney-Pixar's Toy Story.  It's sturdy, fashionable and purchases benefit the Nature Conservancy.  Retails for $19.50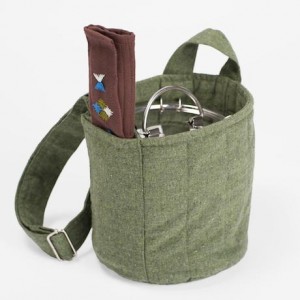 Pack a waste-free lunch. Avoid the cost (financially and environmentally) of plastic utensils and sandwich bags and opt for a 3-Tier Action Pack from To-Go Ware.  The set includes 3 stainless steel containers and a bamboo utensil set in a recycled cotton bag.  Retails for $43.95.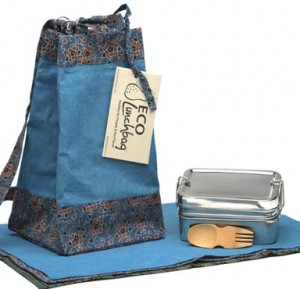 For smaller tots, consider a 100% plastic-free Eco Lunchbox.  Stainless steel, cotton, and bamboo are the only materials you'll find in their lunch systems.  Retails for $35 to $50.
Opt for plastic-free food storage.  Life Without Plastic offers plastic alternatives to food storage. You'll find wood, glass, ceramic, and stainless steel containers that should meet your plastic-free needs.  I like their line of re-heatable containers, made from stainless steel.  Retails for
If you absolutely must use plastic, choose wisely (source Healthy Child Healthy World) :
Safe Choices:
Avoid:
I did not receive compensation for this post.  Product samples from Pura Stainless, The Disney Store, and To-Go Ware were provided for this review.
Latest posts by Caryn Bailey
(see all)