This giveaway is now closed. Congrats to Clarissa Neiding!
Our "nursery" looks more like a little boy's playroom these days.  Our baby girl came 3 weeks early and we're still trying to work through the process of organizing the room to function as both a toddler room and a nursery.  Home design isn't something I'm great at and I'm always looking for ways to make the rooms in our home look stylish and representative of our family.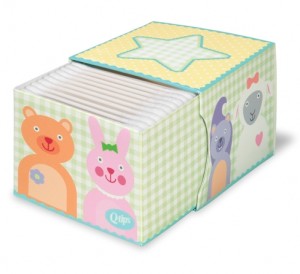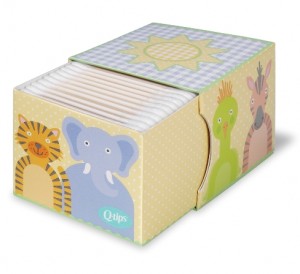 Q-tips just released their new Baby Packs which are launching at Target and Walmart stores nationwide this week and into early February.  The company teamed up with celebrity nursery designer, Wendy Bellissimo, to design the Baby Packs which come in two cute animal designs and compliment a boy's or girl's nursery beautifully.  We typically take our Q-tips out of the plastic box they come in and store them in a plastic circular container in the bathroom.  The new space-saving baby packs feature a sliding drawer that will keep them clean for use.

Q-tips can be used to clean those hard-to-reach baby areas such as in between the toes (where lint likes to hide) and around the umbilical cord (our little girl's got really icky before it fell off).  They're also handy for applying creams or ointments to your baby.  The new Baby Packs include 285 Q-tips and retail for $3.19.

Wendy Bellissimo offers some simple tips for creating the perfect nursery.  Here are some of my favorites:
1. Don't Sacrifice Style for Functionality: It is easy to create a beautiful, organized space in the nursery to care for your baby (without the piles of diapers and a mess of toiletries). Place a basket or fabric covered box (from an arts & crafts or paper store) on the changing table or shelf above and fill with diapers, Vaseline® petroleum jelly, diaper cream and rubbing alcohol. One nursery essential you won't have to hide is the new Q-tips Baby Pack! They are available in two adorable nursery animal designs and are functional (with a new sliding drawer that keeps Q-tips cotton swabs protected for baby) so they can always be within arm's reach.
2. Add a Personal Touch: Give your nursery a personal touch by adding framed covers of your favorite childhood books or classic black & white or sepia photos of you and your significant other when you were babies.
3. Create A Sleepy Time Sanctuary: We all need our beauty rest, so it is important to create an environment that's peaceful for your baby to sleep. Create a calming atmosphere with soothing colors and softer tones rather than bright or harsh colors. Then, use accents to add pops of color without being too overwhelming. Be careful not to make the room too dark or too quiet at nap time. This way your child will be able to fall asleep in any environment, which is great when you are traveling or when new siblings arrive! You can also play soft, soothing music or lullabies to help the baby fall asleep.
4.  Room to Grow: Choose design options that can grow with your child – consider color palette, furniture style, storage options and a play/reading area. Look for a dresser with drawers and cabinets, rather than a standard changing table and simply secure a changing pad on top. Once your child outgrows diapers, you will have a beautiful piece of furniture with drawers for clothing and cabinets for toys that are within reach for your child.
5. Accessorize: A few must-have accessories for any nursery are books, books and more books! You can also add a silver piggy bank and a few irresistibly soft stuffed animals that will quickly become your child's best friends! Even my celebrity clients still go for the traditional accessories – they bring us all back to that magical time of childhood.
Q-tips has taken something simple and functional and transformed it into a multi-purpose item. I hope other companies continue doing this (perhaps I wouldn't have to spend a lot of effort transforming the room after all!).
On Thursday, February 4th at 8 p.m. EST, MomSelect and Q-tips are having a Twitter party where you'll learn tips and tricks for caring for your baby in style.  There will be opportunities to win prizes so be sure to follow @MomTalkRadio, @ResourcefulMom and @MomSelectAmy throughout the evening for updates, prize information and contest details.  If you RSVP before the party, you'll be entered to win a Q-tips prize pack.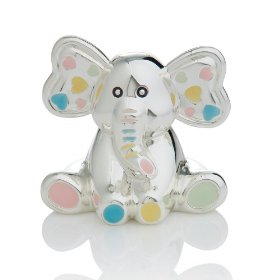 Win It! One of you will win a Perfect Nursery Product Pack which will include Q-tips Baby Packs and a Silver Elephant Bank.  Simply leave me a comment with YOUR best nursery design tip.  Comments will close on February 7, 2010 at 10 PM PST. One comment per person, please (unless you do the extra credit). US residents only. Duplicates and comments not including the above information will be disqualified. Comments are moderated. If you don't see your comment in a reasonable amount of time, send me an email. Bloggers and non-bloggers may enter. If you don't want to leave your email address, please be sure to check back for my announcement on the winner. Please note that winners must respond within 48 hours of being announced/contacted or another winner will be drawn.
Want an extra entry? Do any or all of the following and receive an extra entry for each one.
Be sure to leave me a separate comment for each additional entry.
Follow me on Twitter AND tweet about the contest.
Subscribe to my feed via email or reader.
Blog about this giveaway. It doesn't have to be a separate post. Just include a blurb about it when you blog about other giveaways.
Click on one of the very cute buttons below and digg, stumble, fav, etc. Just let me know what you did in the comments!
I did not receive compensation for this post.  I received product samples, courtesy of Q-tips and MomSelect to facilitate my review.