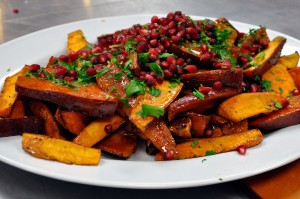 For the first time in many years, my husband and I will venture to prepare most of our family's Thanksgiving meal.  Our family doesn't follow tradition, so this year, we've incorporated some deliciously gourmet flavors like pomegranate and fennel into our menu.  Endeavoring to make the turkey has me a bit nervous, but with the help of my husband and some guidance from Simple Gourmet, we're equipped with simple tips and recipes to give our Thanksgiving meal that foodie flair!
Before I share with you one of Simple Gourmet's incredible Thanksgiving recipes, here are some tips they provided on hosting a stress-free Thanksgiving!
1. Shop early. (Fail! I will be shopping today)
2. Plan the menu ahead of time (Hooray! I actually did something to prepare beforehand)
3. Write out a timeline the day before
4. Make anything that can be prepared ahead of time, the day before
5. Ask friends or family members to bring dessert, side dishes, beverages, etc. to help take some of the load off one person
6.  Set the table the day before
7.  Invest in a meat thermometer (it's the only way you'll know for sure your turkey is cooked!)
Simple Gourmet is an LA-based company offering cooking classes broached from the perspective that food should be clean, seasonal, natural, approachable, exciting, international, interesting and dynamic! I took a Thanksgiving-themed class a few weeks ago and came away with a number of tips I can incorporate into meals beyond the holidays.  Surprisingly, the two chef team only used one oven to prepare an entire Thanksgiving meal.  Here are two of the recipes created that night: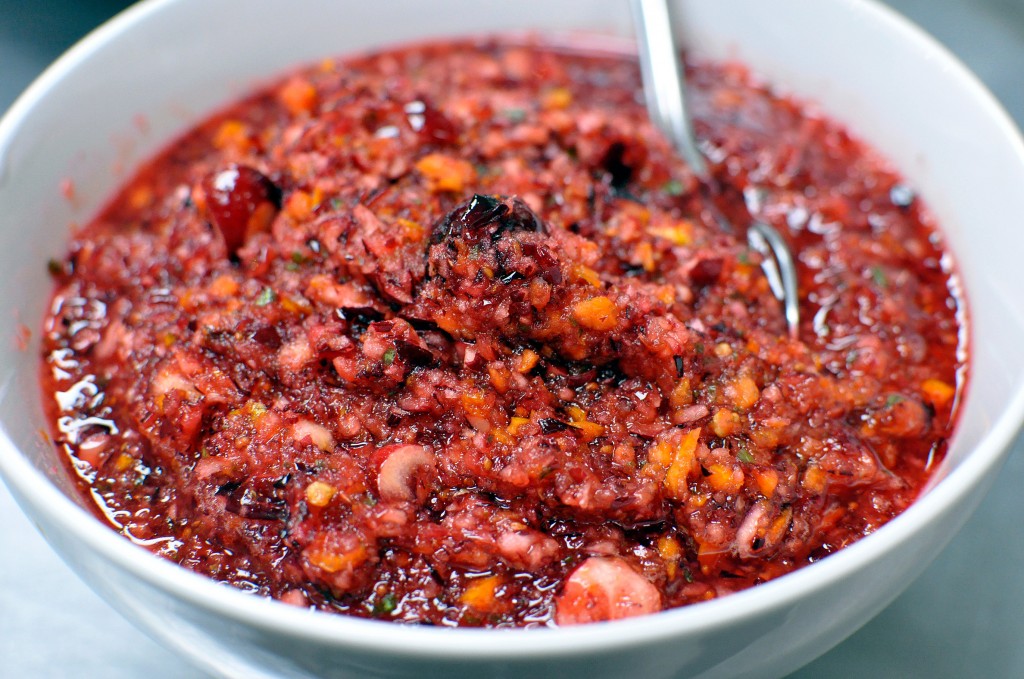 The first is a no-cook Cranberry Lemon Basil Relish.  I am not one to eat many foods out of a can, particularly jellied cranberries which really don't resemble the fruit in any way.  Traditionally, we've always made our own cranberry sauce with fresh cranberries, orange juice, sugar, and a few spices. This recipe seems even easier since there is no need to cook it.
1 12 -oz bag of fresh cranberries
2 tangerines, cut into slices with skins, seeds removed
5-6 big leaves of basil
1 tbl of lemon zest
2/3 cup sugar
1/4 honey
1 tsp salt
1/2 red chili flake
Prep:
Combine all ingredients in a food processor until finely chopped. Place in a bowl and refridgerate at least one hour before serving. Serve cold or at room temperature (I prefer it cold).  Prepare in advance so the flavors have had a chance to come together.
Interestingly enough, I wasn't certain I'd like the chili flakes but it's not overwhelming and just gives the dish a bit of flair.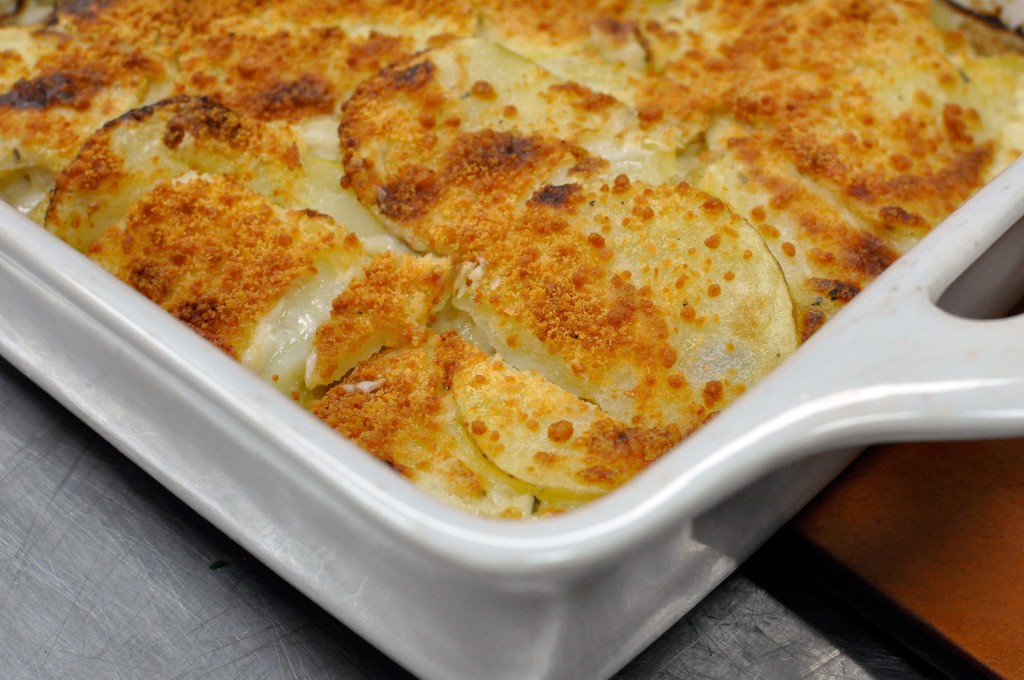 The second recipe I found interesting and particularly delicious was a Yukon Potato Gratin with Parmesan-Rosemary Bechamel. This dish was so popular, whatever was not consumed was taken home to be enjoyed at a later time. Here is the recipe:
5 to 6 lbs. yukon gold potatoes, sliced 1/2 -inch thick (with skins still on)
3  tablespoons butter
3  tablespoons flour
3  cups whole milk
1 tablespoon chopped rosemary
1  garlic clove, grated
1/2  cup grated parmesan cheese (plus more for sprinkling on top)
salt and pepper as needed
Place the cut potatoes in a large pot of cold water over high heat. Bring to a boil, reduce heat and cook for 5 to 10 minutes or until potatoes are just tender. Drain immediately and place in a large bowl.
Preheat oven to 450 degrees.
Heat a saucepan over medium heat. Add butter. When melted, add the flour. Cook for 1-2 minutes stirring constantly. Whisk in milk and rosemary. Cook, whisking often, until mixture comes to a boil. Reduce heat and simmer for a couple minutes. Remove from heat and stir in parmesan. Taste and season with salt and pepper as needed. Toss the potatoes with the sauce and dump into a 9×13 inch casserole dish.  Sprinkle with a little more parmesan cheese and place into the oven.  Bake for 15 minutes or until golden.  Remove and let rest 10 minutes before serving.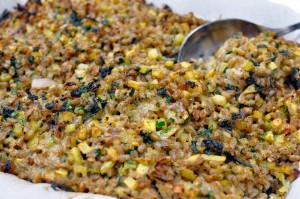 What are you serving this Thanksgiving?  Do you plan a traditional meal or venture to try new flavors and dishes?
If you're in the area, check out Simple Gourmet's fabulous cooking classes.
No compensation was received for this post. I was invited to try out a cooking class at Simple Gourmet and came back educated and inspired.
Latest posts by Caryn Bailey
(see all)