This giveaway is now closed.  Thanks for stopping by.  The winner is Chrysa.  Congrats!
A week ago, I was sitting at a table with Amanda, Tanya, Liz, and Meghan from Seventh Generation.  I've been working with Meghan for many many months now and it was so amazing to finally meet her.  I told her I was pregnant (LOL…she could SEE that I was pregnant), we hugged and chatted and I thought to myself, these are the kinds of relationships I am making.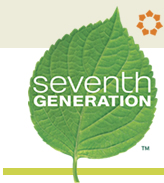 Before I even started working with Meghan and Seventh Generation, I used their products.  Many of you've read about my struggle with my son's diaper rashes and how I finally happened upon Seventh Generation's diapers (and now Training Pants) which I believe really solved that problem.  I also switched to their cleaning products when I found out I was pregnant with my son because I wanted to rid my household of toxic chemicals.  All this to say, many of the products you see here on my blog are ones we use in our home….either because we used them already or we started using them once we were introduced to them.
If you're interested in reading any of my reviews, I can definitely point you in the right direction.  Right now, I have two incredible opportunities I'd like to share with you.
1. Seventh Generation is hosting an "Under the Sink Makeover Contest" which ends on August 14, 2009.  Here is what you need to do:  Seventh Generation asks that you reveal your best friend's dirtiest secrets – those hiding under the kitchen sink, that is in order to enter. With the area under the kitchen sink as a family's typical dumping ground for chemical products, Seventh Generation wants families nationwide to know about – and detox – this potentially hazardous area, usually within arm's reach of kids.
The "Under the Sink Makeover Contest" is seeking nominations on www.SeventhGeneration.com/under-the-sink through August 14, for under the kitchen sink areas that are in desperate need of organization and detoxification. Submit a photo of the area under a friend's sink and a 250-word description on why they deserve an under the sink makeover (e.g., she's concerned for the health of her family and the environment, the area under her sink a toxic wasteland, she's overwhelmed by the chaos of motherhood and wants to change but doesn't know where to begin, etc.), for a chance to win great prizes.
One lucky grand prize winner will receive a package that includes:
· An in-home consultation at the friend's house with Dr. Alan Greene, practicing pediatrician and specialist in green living
· A one year supply of Seventh Generation products for both the entrant and the friend in need
· A trip to New York City for the entrant and her friend that includes a one-night stay at the W New York – Times Square hotel
· A day of pampering at New York's Green Spa that will include a Body Polish, Wellness Massage, Ocean Vegan Spa Manicure/Pedicure along with a one hour make-up application and lesson
Four other finalists and their friends will receive a Seventh Generation Living Home Starter Kit containing a variety of home-cleaning products for their own under the kitchen sink makeover, in addition to a luxurious Lavera home spa kit containing Lavera's customer favorite BODY SPA shower gel, body scrub and bath salts, and premium LAVERÉ Anti-Aging body lotion to pamper themselves.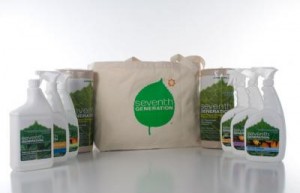 Win It! One of YOU will win a Seventh Generation Living Home Starter Kit.  I received this kit a few months back and a. LOVE it b. Still have products from the kit c.  Use them whenever I clean.  All you need to do is head on over to the site and take a look around.  Come back here and leave me a comment with a product you'd like to try.  Comments will close on August 19, 2009 at 10 PM PST.  One comment per person, please. US residents only. Duplicates and comments not including the above information will be disqualified. Comments are moderated. If you don't see your comment in a reasonable amount of time, send me an email. Bloggers and non-bloggers may enter. If you don't want to leave your email address, please be sure to check back for my announcement on the winner. Please note that winners must respond within 48 hours of being announced/contacted or another winner will be drawn.
Want an extra entry? Do any or all of the following and receive an extra entry for each one.
Be sure to leave me a separate comment for each additional entry.
Follow me on Twitter AND tweet about the contest.
Spread the word about the contest.  You can blog, share on Facebook, etc.
Submit an entry to the Under the Sink Makeover Contest.
Disclosure:  The information for the contest and the giveaway were both provided by Seventh Generation.