This giveaway is now closed.  Thanks for stopping by.  The winner is Candie.  Congrats!
My little boy is constantly on the go!  In fact, at 6 months pregnant I'm having a little difficulty keeping up with all of his energy.  That's why I like ride-on toys.  We live in a private community that doesn't get a ton of traffic, so I'm able to sit and watch him go-go-go on his toys.  He needs to be outdoors and these types of toys allow him to do that in the safety of our neighborhood.
When I was a little girl, my father taught me how to ride a bike. At the time, children learned with training wheels.  Once I was ready to get rid of the training wheels, he'd hold onto the back of the bike to help me balance until one day he let go.  Bicycles with training wheels are for older children who are coordinated enough to pedal.  Obviously, a two year old isn't able to do this.  But…he can still learn to ride a bike.  How?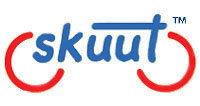 With the Skuut!  With this awesome wooden balance bike, (designed for children ages 2-5), kids will learn balance, steering, and coordination while quickly gaining the skills to transition to a "regular" bike – without fear, and without training wheels." The concept is simple…the child kicks off the ground, pushing (or scooting) themselves forward.
My son (at 27 months) has never been the tallest child in his age range.  So  while he should be able to use this, he is not quite there yet.  Daddy has to support/hold the bike up for him because his little feet don't touch the ground and he hasn't learned to balance yet.  Hence, I don't have pictures to show you (and you know how I love pictures and videos).  He's very excited about his "bike" and he asks to ride it often but we need daddy's help for this one until he grows in height just a bit more.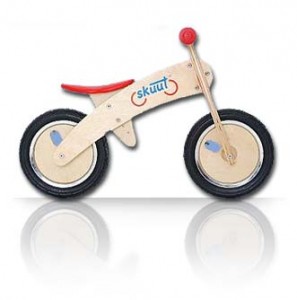 My husband put this together and said it wasn't difficult.  I like the fact that there are several seat adjustments (13.5 inches to 16.5 inches high).  I also like the fact that it's made from wood and it weighs just 10 pounds.  Overall, I'm satisfied and can't wait until my son can use this a bit more.
The Skuut retails for approximately $90 (it varies from store to store) and is available throughout the nation (check the site for retailers).
Win It! One of you will win a Skuut!  Do I hear a Squee?  Simply head on over to the site and take a look around.  Come back and leave me a comment with something you learned on the site.  Comments will close on October 5, 2009 at 10 PM PST. One comment per person, please (unless you do the extra credit). US residents only. Duplicates and comments not including the above information will be disqualified. Comments are moderated. If you don't see your comment in a reasonable amount of time, send me an email. Bloggers and non-bloggers may enter. If you don't want to leave your email address, please be sure to check back for my announcement on the winner. Please note that winners must respond within 48 hours of being announced/contacted or another winner will be drawn.
Want an extra entry? Do any or all of the following and receive an extra entry for each one.
Be sure to leave me a separate comment for each additional entry.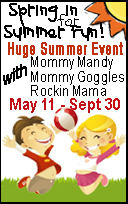 Add the "Spring In For Summer Fun" banner to your sidebar and leave me a comment (be sure to visit the main party post for more details on extra entries)
Follow me on Twitter AND tweet about the contest. Be sure to use the hashtag #SummerEvent
Enter Tanya and Amanda's giveaways
Subscribe to my feed via email or reader.
Blog about this giveaway. It doesn't have to be a separate post. Just include a blurb about it when you blog about other giveaways.
Click on one of the very cute buttons below and digg, stumble, fav, etc. Just let me know what you did in the comments!
Latest posts by Caryn Bailey
(see all)