As a little girl, I found myself drawn to a variety of Disney characters, but Winnie the Pooh was my favorite. His friendly, thoughtful disposition juxtaposed against his wit were captivating to my 9 year-old self. Winnie the Pooh was created by author A. A. Milne, and in the span of time since his inception, countless adaptations have been crafted including theatrical productions, TV series, and feature films. This Fall, take home the beloved new film from Disney, Christopher Robin.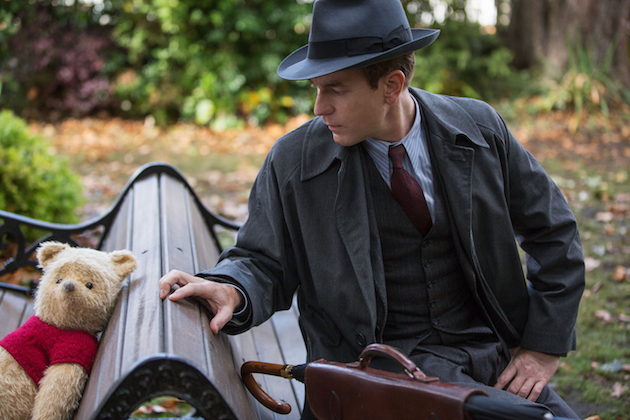 Consideration provided by Disney.
Christopher Robin
Disney's latest iteration of Milne's beloved stories is a live-action film starring Ewan McGregor as Christopher Robin. Inspired by the book titled Winnie-the-Pooh, the film follows Christopher Robin as an adult who has lost his sense of imagination.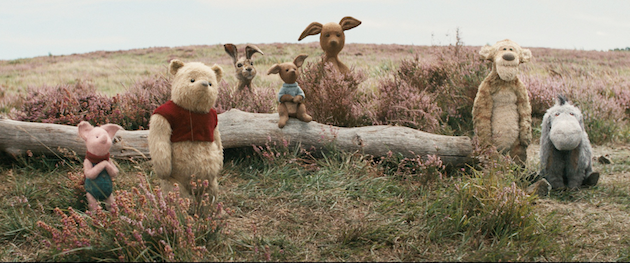 As a young boy, Christopher Robin embarked on adventures through the Hundred Acre Wood with his stuffed animal friends. Now grown up, he has lost his way, stuck in a job where he is overworked, underpaid, and facing uncertainty. With work as his life, he has little time for his wife and daughter.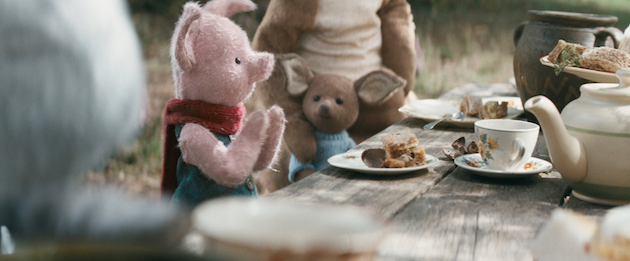 When Christopher Robin is reunited with Winnie the Pooh, tattered and worn from years of play, their friendship is rekindled, reminding him of the days of childlike wonder and make believe that characterized his childhood. When an unfortunate mishap occurs with his briefcase, Pooh and his friends step out of the Hundred Acre Wood to return Christopher's possessions, reminding him that best friends will always be there for you.

Christopher Robin DVD Release
Christopher Robin is now available on Digital, Movies Anywhere, Blu-ray and DVD. The film marks the first appearance of Pooh, Tigger, Piglet, Eeyore, Kanga, Roo, Rabbit, and Owl as three-dimensional characters.
Bonus features include the making of Christopher Robin, showcasing the artistry that brings the characters to life, the human actors' techniques for interacting with the stuffed animals, and the filmmakers' passion for the project. Bronte Carmichael (Madeline), takes audiences on an exciting journey from the drawing board to film locations through the UK. Audiences will also see flashbacks, highlighting Walt Disney's affinity for Winnie the Pooh. An exclusive feature explores the actual teddy bear given to Christopher Robin Milne 98 years ago, which inspired the original Pooh stories that have been shared and loved by families across the globe.
BLU-RAY & DIGITAL HD:
In Which … A Movie Is Made for Pooh – Filmmakers and cast share their passion for this story in a behind-the-scenes look at the making of the movie.
In Which … Pooh Finds His Voice – Discover what it's like to voice Winnie the Pooh, from voice actors Sterling Holloway to Jim Cummings.
In Which … Pooh and Walt Become Friends – How did Walt Disney and Pooh meet? Take a journey through time to explore the legacy of Walt's first encounter with Pooh.
In Which … Pooh and Friends Come to Life – See how Winnie the Pooh and Friends were brought to life as walking and talking stuffed animals in this magical live-action world.
EXCLUSIVE DIGITAL BONUS FEATURE:
In Which … We Were Very Young – Meet the actual, original teddy bear who, along with his best friends, has inspired so much love worldwide for almost a century.
Christopher Robin Recipes
To celebrate the release of Christopher Robin on digital, Blu-ray, and DVD, we made a simple Rustic Apple Tart inspired by Martha Stewart's recipe.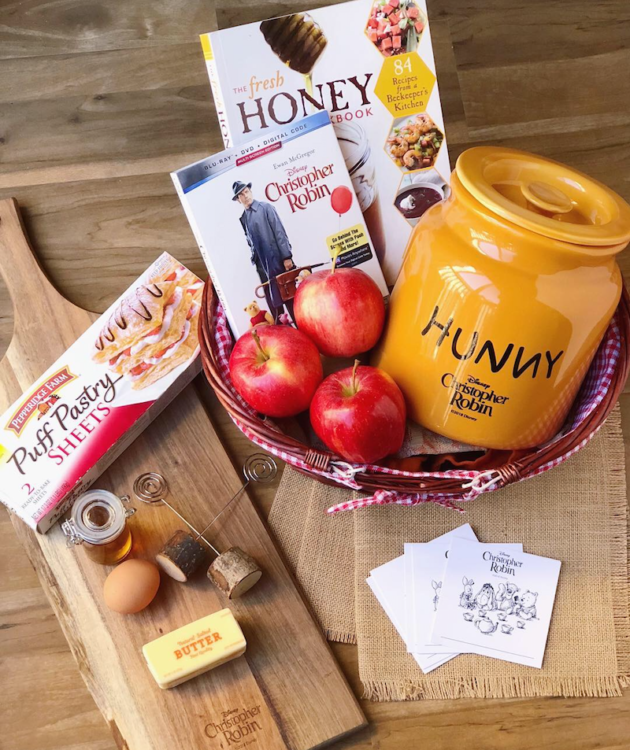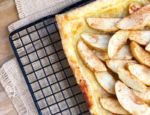 Rustic Apple Tart
Ingredients
1

sheet

frozen puff pastry

thawed

3

Gala apples

1/3

cup

honey

1

egg yolk

beaten with 1 tsp water

2

tbsp

butter
Instructions
Preheat oven to 375 degrees.


Open pastry sheet and remove paper. Fold sheet back up. On a lightly floured work surface, roll out pastry sheet (still folded) to an 8-by-14-inch rectangle. Trim edges with a sharp knife.


Transfer to a baking sheet; place in freezer.


Peel, core, and slice apples 1/4 inch thick. Toss in a large bowl with honey.


Brush pastry with egg wash, avoiding edges.


Use a sharp knife to score a 3/4-inch border around pastry (do not cut all the way through).

Place apples inside border, and dot with butter. Bake until pastry is golden and apples are tender, 30 to 35 minutes.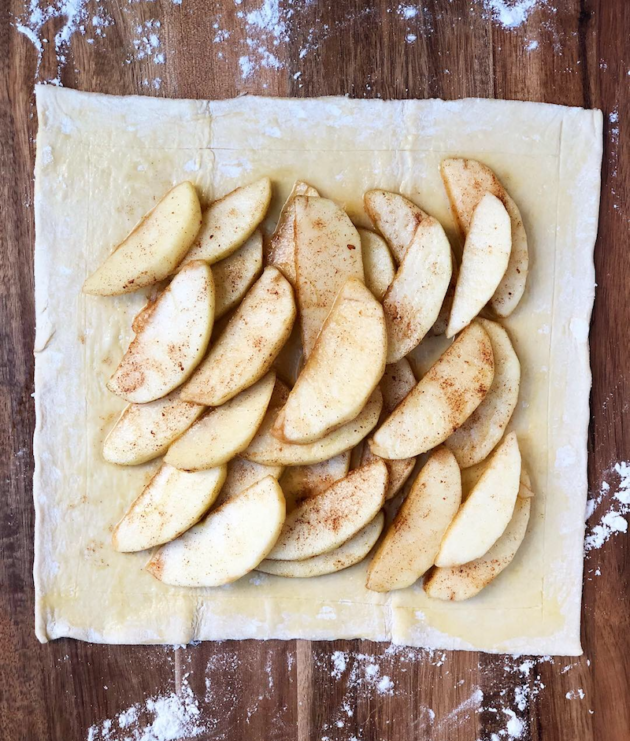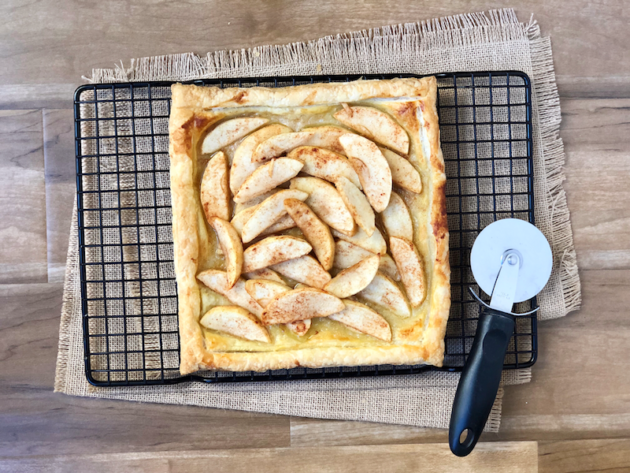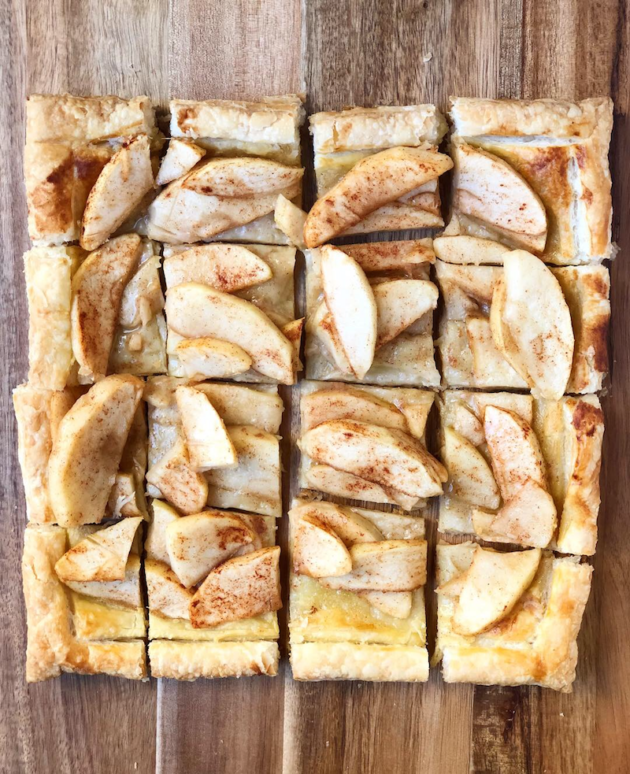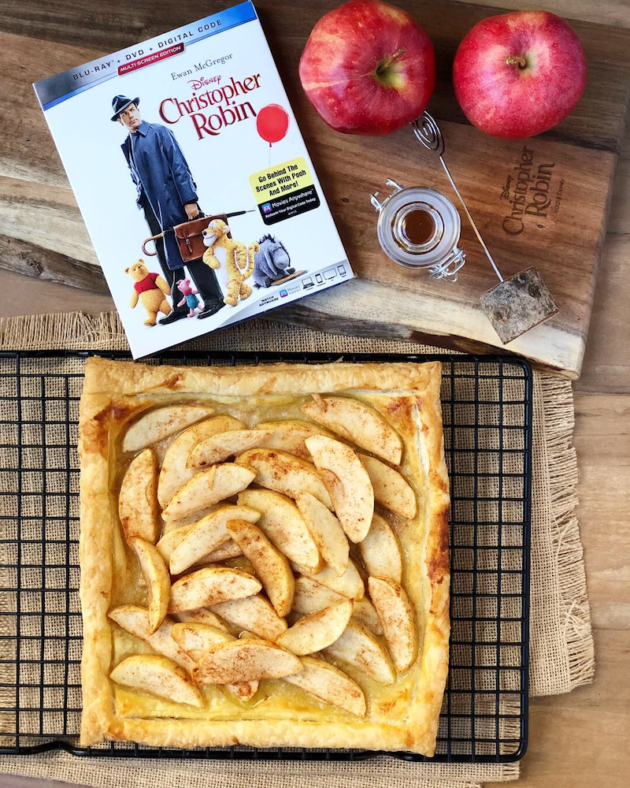 Rajah's Honey-Roasted Tiger Tails
Ingredients
3

lb

whole carrots

trimmed

2

tbsp

olive oil

1

tbsp

honey

1

tbsp

lemon juice

1/2

tsp

salt

balsamic glaze
Instructions
Preheat oven to 400 degrees.

Trim ends off whole carrots and set in a large mixing bowl (you can peel or leave un-peeled depending on your preference).

In a smaller dish, whisk together olive oil, honey, lemon juice, and salt. Pour mixture over the carrots and distribute evenly on a large sheet pan.

Roast carrots for 45-60 minutes until browning and fork-tender. Stir several times throughout cooking.

Once carrots are browned and ready, remove from oven and place onto a serving dish. Drizzle top with balsamic glaze in a zig zag pattern (to look like tiger stripes!). Serve warm as part of a healthy dinner.

Grilled Fruit Kebabs with Honey Lime Yogurt Dip
Ingredients
2

lb

assorted fruit

strawberries, pineapple, mango, kiwi, peach, nectarine, plum

8

metal or bamboo skewers

1

cup

plain yogurt

2

tbsp

honey

1

tsp

grated lime zest
Instructions
Heat grill to medium high, making sure grate is clean.

Thread chunks of washed, peeled or seeded fruit onto skewers. (If using bamboo skewers, soak in water for 10 minutes to minimize chances of burning)

Grill for 3-4 minutes per side, turning carefully so fruit does not fall off of skewers. Remove from heat and serve with dip.

Combine yogurt, honey and lime zest and stir until well blended. Keep chilled until serving time.

Healthy Peanut Butter Crispy Rice Treats
Ingredients
3

cups

Rice Krispies

1/2

cup

creamy peanut butter

1/2

tsp

vanilla extract

3

cups

mini marshmallows
Instructions
Line an 8x8 baking pan with wax paper, spray wax paper with cooking spray and set aside.

Combine peanut butter and vanilla in a medium pot sprayed with olive oil spray. Heat over medium-low heat, stirring to prevent burning.

Add marshmallows, continuing to stir until marshmallows melt and blend with peanut butter.

In a large mixing bowl pour peanut butter/marshmallow mixture over Rice Krispies and stir until completely coated.

Press cereal mixture into lined 8x8 pan and cool in refrigerator 30 minutes before cutting and serving.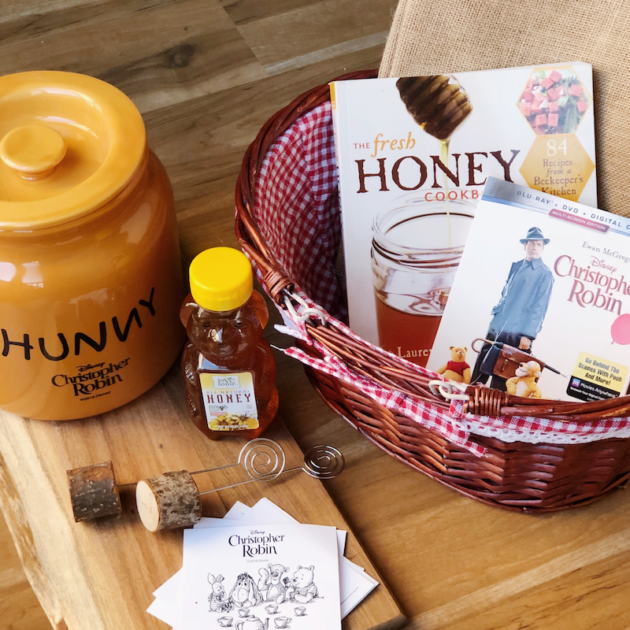 Christopher Robin Printables
In honor of the digital and DVD release of Christopher Robin, download our free Christopher Robin printables, coloring sheets, and activity pages.