This giveaway is now closed. Thanks for stopping by.  The winner is heather c.  Congrats!
A couple of weeks ago we were miserable with a stomach bug.  I don't remember every feeling as sick as I did. ever.  Because I had just underwent surgery, the doctor came very close to admitting me.  And my son, who is only 2 1/2, didn't want to drink anything but juice…which is really quite the opposite of what he should be drinking with a stomach bug.  If you've read my tweets, then you know that we *think* our little boy has a dairy allergy.  So trying to make sure he was getting enough liquids was a challenge, since milk is always his "comfort food."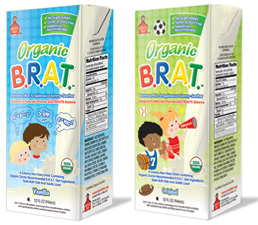 Our little boy can be very strong-willed.  When he gets sick, he refuses to drink other rehydrating liquids, so it was nice to be introduced to Organic B.R.A.T. Wellness Drink.  We all know that the recommended diet for an upset stomach is bananas, rice, applesauce and toast.  This new, organic line of non-dairy beverages are designed to soothe upset tummies and are based on the principles of the B.R.A.T. Diet.  Available in four flavors, Organic B.R.A.T. Wellness Drink is nourishing and helps promote gastrointestinal health and natural electrolyte balance.  The drinks are a blend of organic brown rice milk, banana and apple purees, and a dose of vitamins and minerals.  They're free from lactose, gluten, casein, soy, and corn and do not contain added sugar or preservatives.
If you have a child with food allergies, this really is a great option for them, even if they're not sick. My son does not like rice or almond milk.  He drank cow's milk for so much of his life that he has not been able to make the switch.  For now we've been using vitamins and fortified orange juice to ensure he gets enough calcium and Vitamin D.  When these drinks arrived in the mail, the first thing my son (who's 2 1/2) said was, "I want the milk."  The drinks have a definite milk-like consistency with a hint of flavor (vanilla, cinnamon, etc.).  We both like the Vanilla the best.  The drinks also come in Chocolate Honey, Cinnamon Toast, and Original (which is our least favorite flavor).  Children (at least my child) prefers things like this to be flavored so we'd likely only purchase the 3 flavors in the future.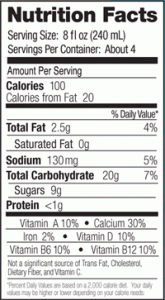 What I really like about these drinks, besides the fact that my son will actually drink them, is their nutritional content.  One 8 oz serving packs in 30% of a child's daily calcium, and 10% of a child's daily Vitamin A, Vitamin D, Vitamin B6, and Vitamin B12.  The electrolytes present are designed to help avoid dehydration or rehydrate a child.
The company recently donated 300 cases of Organic B.R.A.T. Wellness drinks to the Haiti Relief Efforts to help nourish and hydrate those in need.  If you have a child who is sick with a stomach bug or the flu, I would recommend trying Organic B.R.A.T. Wellness drinks.  They're available in 32 ounce packages (although I recommend that the company offer them in smaller, single servings as well) and can be purchased at Whole Foods, Babies R Us, Safeway, Shaw's, Albertsons and online through Amazon.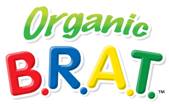 Win It! One of you will win a package which will include one of each flavor (4 total).  Simply leave me a comment with something you liked or learned on the site and the flavor you'd like to try.  Comments will close on February 21, 2010 at 11:59 PM PST.  One comment per person, please (unless you do the extra credit). US residents only. Duplicates and comments not including the above information will be disqualified. Comments are moderated. If you don't see your comment in a reasonable amount of time, send me an email. Bloggers and non-bloggers may enter. If you don't want to leave your email address, please be sure to check back for my announcement on the winner. Please note that winners must respond within 48 hours of being announced/contacted or another winner will be drawn.
Want an extra entry? Do any or all of the following and receive an extra entry for each one.
Be sure to leave me a separate comment for each additional entry.
Follow them on Twitter (one entry) and Facebook (one entry).
Follow me on Twitter AND tweet about the contest.
Subscribe to my feed via email or reader.
Blog about this giveaway. It doesn't have to be a separate post. Just include a blurb about it when you blog about other giveaways.
Click on one of the very cute buttons below and digg, stumble, fav, etc. Just let me know what you did in the comments!
I did not receive compensation for this post. Product samples were received to facilitate this review.
Latest posts by Caryn Bailey
(see all)