{Sponsored}
The unofficial start to Fall begins with the induction of Pumpkin Spice Lattes at my local coffee shop.  Despite the fact that the days are shorter and our nights are colder, there is something warm and nostalgic about pumpkin. Perhaps it is the memories I have of being the designated pumpkin pie creator on Thanksgiving day while my father prepared our family's favorite, yet wildly untraditional rice pilaf recipe.
With Thanksgiving right around the corner, I knew that I wanted to uphold the pumpkin tradition, and yet as much as I love pumpkin pie, this year I really wanted to create something a little more upscale and gourmet. After thinking about all of the creative and non-traditional ways I could use pumpkin in a dessert, I gleaned inspiration during my time in Chicago.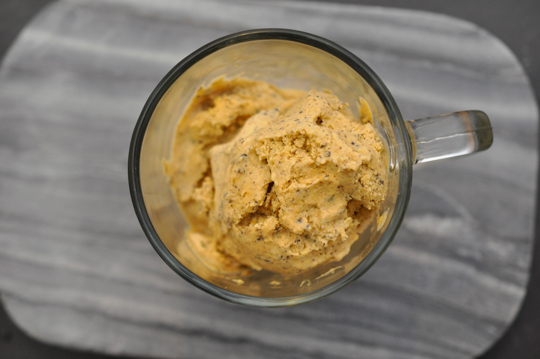 For one blissful, blustery afternoon, I ate my way through Eataly indulging on foccacia pizza and a decadent triple chocolate cake. As I was sipping a delightful latte at the Lavazza counter, the girl next to me orders an Affogato. My inquisitive foodie self sensed this off-the-menu item was one of Italy's best kept secrets, but at that point I was too full to consume anything else. So I vowed to re-create this Italian coffee-based dessert as soon as I returned. Everything you'll need for this recipe can be found at Walmart.
Affogato litereally means "drowned," which perfectly describes how a scoop or two of gelato is "drowned" with a shot of espresso. Since we're in the season of all-things pumpkin, I had to re-create this dessert with a festive Fall twist. While this particular recipe uses homemade Pumpkin Stracciatella Gelato, you could easily pick up a half gallon of your favorite pumpkin spice ice cream, brew a carafe of your favorite espresso and top it with chocolate shavings or your favorite seasonal spices.
Pumpkin Stracciatella Affogato
Ingredients
For the Pumpkin Stracciatella Gelato
2

cups

cream

2

cups

whole milk

3/4

cup

organic cane sugar

1 15

ounce

can pumpkin purée

1

vanilla bean

4

tsp

pumpkin pie spice

Pinch of salt

2

ounces

of bittersweet chocolate

plus additional for garnish, finely chopped
For the Pumpkin Stracciatella Affogato
2

scoops Stracciatella Gelato

1

shot of espresso

2 T

Bittersweet chocolate shavings
Instructions
For the Pumpkin Stracciatella Gelato
Heat milk, cream, and sugar in a saucepan until the mixture simmers

Remove from heat

Whisk in pumpkin purée, seeds from the vanilla bean (cut in half lengthwise), pumpkin pie spice and salt

Chill over ice or in the refrigerator

Transfer mixture to ice cream maker and follow your manufacturer's instructions for gelato

30 minutes before the gelato is finished, add in finely chopped chocolate
For the Pumpkin Stracciatella Affogato
Place 2 scoops of gelato into a cup

Top with 1 shot of espresso

Top with chocolate shavings

Serve immediately
There aren't many decadent desserts that you could easily put together in less than 30 minutes, but once you have your gelato (either homemade or store-bought), your affogato literally takes just minutes to prepare. I recommend experimenting with your favorite gelato and coffee flavors! And if you really want to take your Thanksgiving dessert up a notch, put together an affogato bar with a few varieties of gelato, your favorite espresso and coffee brews, and a selection of toppings.

Latest posts by Caryn Bailey
(see all)