The transition between Summer and Fall is abrupt here in Southern California. Last week temperatures soared well into the 90s. This week we pulled out jackets, boots and umbrellas for the first rain of the season. I love this time of year when the holidays and the seasons converge, bringing friends and families closer together. Día de Muertos ushers in this season of togetherness where families pause for a moment to reflect on loved ones who have died. As with many Mexican holidays, food is central to Día de Muertos celebrations. In honor of this sacred holiday, I put my unique twist on the traditional Pan de Muertos, inspired by the season of pumpkins. This Pumpkin Spice Pan de Muertos Recipe is mildly sweet with a hint of spices.

Día de Muertos
Also known as Day of the Dead,Día de Muertos is a Mexican holiday celebrated between October 31st and November 2nd. This is a time for families to remember their loved ones who have died. I lost my father several years back, and I can attest to how wonderful it is to think back on our time together. So much healing has taken place in those moments when my kids and I talk about how my father. We look back through his photographs and acknowledge his skill. Friends remind us how my father welcomed everyone he met with kindness and humor. His unique personality lives on through my son. While this holiday is traditionally celebrated in Mexico, I find that taking time to remember my father inspires me to make the most of each moment with those I love.
During Día de Muertos, it is not uncommon for families to build ofrendas (private altars) and to honor those who have died through calaveras, aztec marigolds, and traditional food and drink. Families also visit the graves of those who have passed and leave gifts or possessions. Death is understandably somber and a topic most people are not comfortable discussing. A change of perspective can help take one of life's inevitable certainties and transform it into a time of joy, celebration, and remembrance.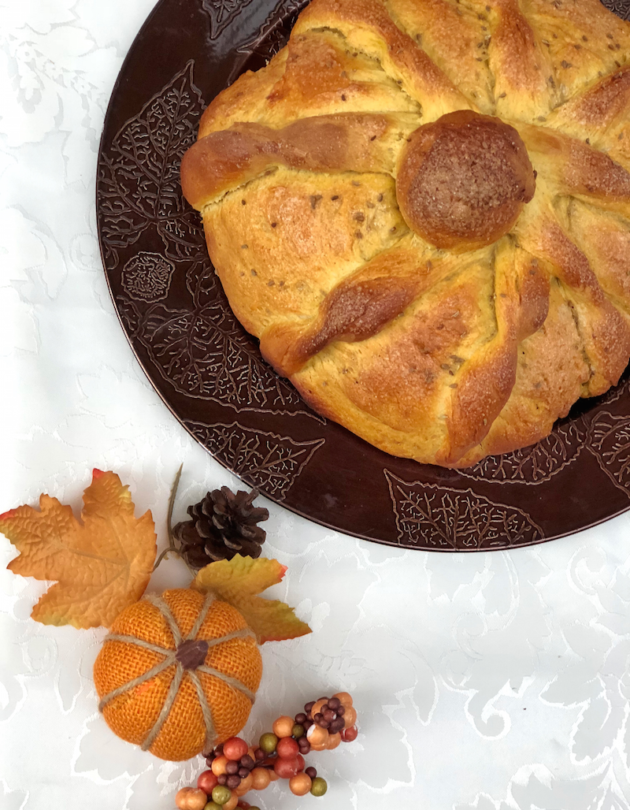 Pumpkin Spice Pan de Muertos
Inspired by VivaMejor's Pan de Muertos Recipe, I created a Pumpkin Spice Pan de Muertos for Día de Muertos. Pan de Muertos is a soft, sweet bread shaped like a bun and decorated with bone-shaped pieces to represent a skull. The bones are representative of those who have died and represents the circle of life. The simple sweet bread recipe includes anise seeds, orange zest or orange flower water, and is topped with sugar.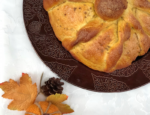 Pumpkin Spice Pan de Muertos
Ingredients
1

envelope

active yeast

1/4

cup

water

heated to approximately 125°F

1/4

cup

buttermilk

1/4

cup

pumpkin puree

1/4

cup

Country Crock® Buttery Sticks

melted

3

cups

all-purpose flour

1/4

cup

sugar

1/2

tsp

salt

1 1/2

tsp

pumpkin pie spice

1

tsp

anise seeds

1

egg white

1

tbsp

water

1

tbsp

sugar
Instructions
Combine yeast with warm water in medium bowl and set aside until foamy, about 5 minutes.

Stir in milk, eggs, and melted Country Crock® Buttery Sticks; set aside.

Sift flour, sugar, salt and pumpkin pie spice in large mixing bowl. Stir in anise seeds. Make a well in the center of flour mixture. Stir yeast mixture into flour mixture with a wooden spoon until dough forms. Add a little more flour if the dough is too wet or a little more milk if it is too dry.

Knead dough on lightly floured surface until smooth but slightly sticky, about 10 minutes.

Transfer dough to large, lightly greased bowl. Cover and let rise in warm place until doubled, about 1 hour.

Preheat oven to 350°. Spray baking sheet with no-stick spray.

Knead dough on lightly floured surface 3 minutes.

Cut about 1/4 of the dough off; reserve. Shape remaining dough into a round loaf on prepared baking sheet. Cut off one portion of reserved dough to make a knot. Roll remaining reserved dough into a thick rope, then cut into 4 portions. Use fingers to create "bones" and cut into 4 pieces. Arrange pieces on loaf in the shape of a star. Place "knot" on top of the loaf.

Cover loosely and let it rise in warm place until doubled, about 30 minutes.

Beat egg white with water, then brush loaf with egg wash. Sprinkle with sugar. and anise seeds, if desired.

Bake 35 minutes or until top is lightly golden brown. Remove to wire rack and cool.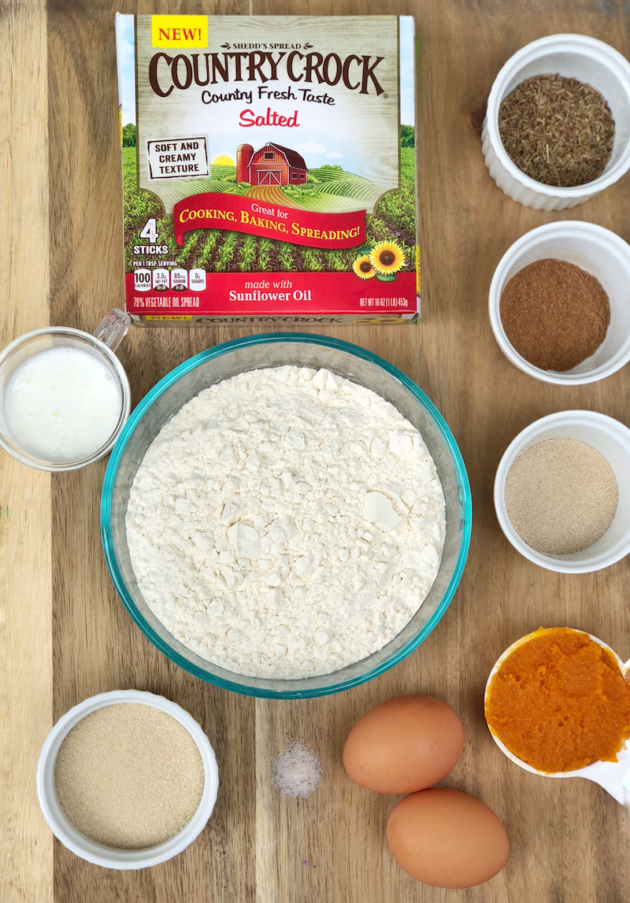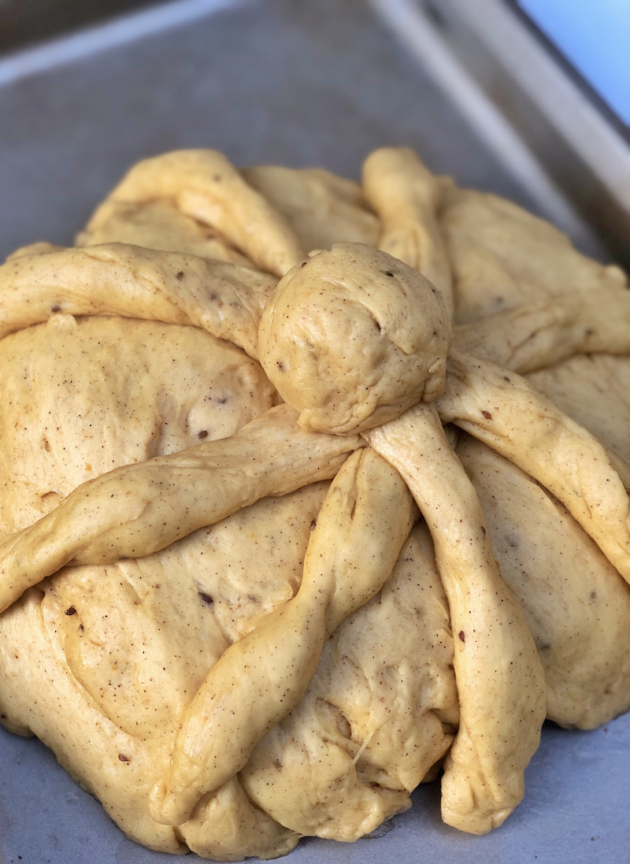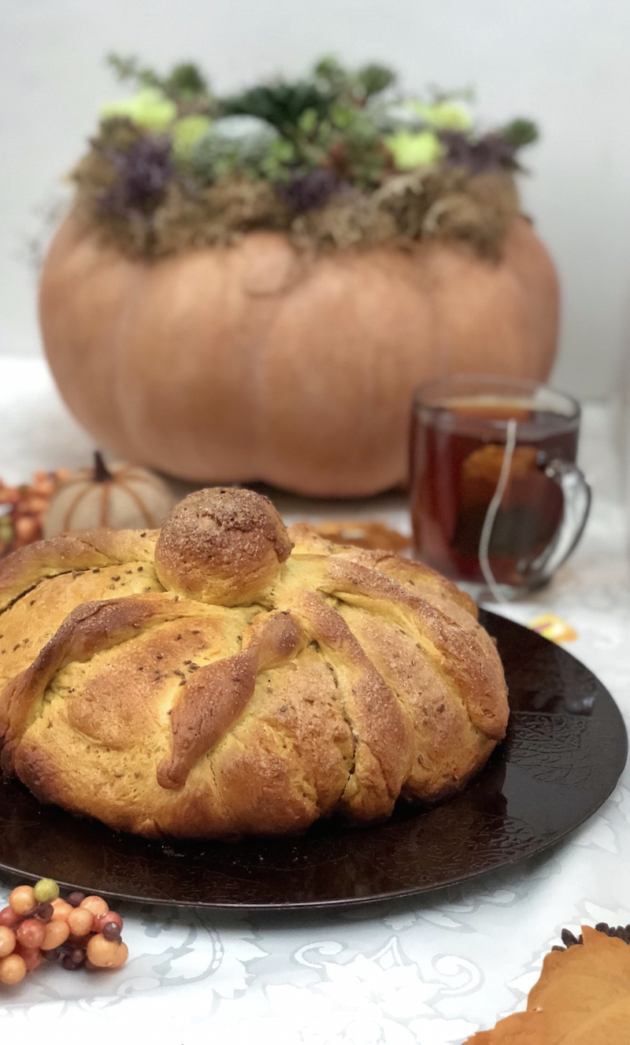 How do you celebrate Día de los Muertos? I would love to hear stories of your traditions and how you celebrate those loved ones you have lost.