This giveaway is now closed. Thanks for stopping by. The winners are Christopher H. and Lily K. Congrats!
It has been soooo hot the last few weeks here in Southern California. We've been so busy that we've not had a chance to get to the pool or beach as often as we'd like. With skin cancer cases on the rise we try to be very diligent in remembering to wear sunscreen, regardless of what we're doing. There are a ton of brands on the market…some targeted for babies and children, others targeted for adults, and still others targeted towards athletes.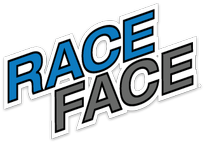 I recently had an opportunity to try Race Face, a sunscreen created with the racing fan in mind. Now, we're not racers (can you tell), but I do think this is something athletes would be very interested in. The sunscreen has an SPF of 30 and is available in a 2-ounce version (great for traveling) and a 6-ounce continuous spray bottle. I actually prefer a spray to get a more even distribution and to keep my hands from getting too greasy. The person in the house getting the most out of this is my husband. His fair skin causes him to burn very easily so I've been having him carry the 2-ounce bottle in his car with him. And I have to say it works (when he uses it).
Racing fans might appreciate the fact that the bottles feature some of the most famous drivers including Dale Earnhardt Jr., Jeff Gordon, Jimmy Johnson, Kyle Busch, Kasey Kahne, and Dale Earnhardt Sr. To be very frank, I wouldn't necessarily buy this for the racers but I would recommend it for it's ease of use and SPF coverage.
I'm a huge proponent of safe cosmetics and went to Skin Deep to evaluate the Race Face Sunscreen we received. It was listed as a 5 which isn't horrible (it's just right in the middle). Sunscreen is a very difficult skin care product to research and purchase if you're concerned about chemicals. It must be effective in preventing sun damage but safe enough not to pose a risk.
Race Face is available at retailers nationwide.
Win It! Two of you will win some full-size samples. Simply visit the site…then come back and leave me a comment with something you liked or learned on the site. Comments will close on September 1, 2009 at 10 PM PST. One comment per person, please (unless you do the extra credit). US residents only. Duplicates and comments not including the above information will be disqualified. Comments are moderated. If you don't see your comment in a reasonable amount of time, send me an email. Bloggers and non-bloggers may enter. If you don't want to leave your email address, please be sure to check back for my announcement on the winner. Please note that winners must respond within 48 hours of being announced/contacted or another winner will be drawn.
Want an extra entry? Do any or all of the following and receive an extra entry for each one.
Be sure to leave me a separate comment for each additional entry.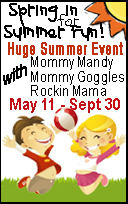 Add the "Spring In For Summer Fun" banner to your sidebar and leave me a comment (be sure to visit the main party post for more details on extra entries)
Follow me on Twitter AND tweet about the contest. Be sure to use the hashtag #SummerEvent
Enter Tanya and Amanda's giveaways
Subscribe to my feed via email or reader.
Blog about this giveaway. It doesn't have to be a separate post. Just include a blurb about it when you blog about other giveaways.
Click on one of the very cute buttons below and digg, stumble, fav, etc. Just let me know what you did in the comments!