My very first video game system was the NES (Nintendo Entertainment System) and at the time, it was the coolest piece of tech I owned. As the kids and I opened our ProjeX Projecting Game Arcade, it reminded me of both Nintendo's Duck Hunt (one of the first games I played) and Disneyland's Astro Blasters. With ProjeX, you can turn any wall in your home into a gaming arcade and this is exactly the type of quarantine fun we needed.
This is a sponsored post in collaboration with ProjeX.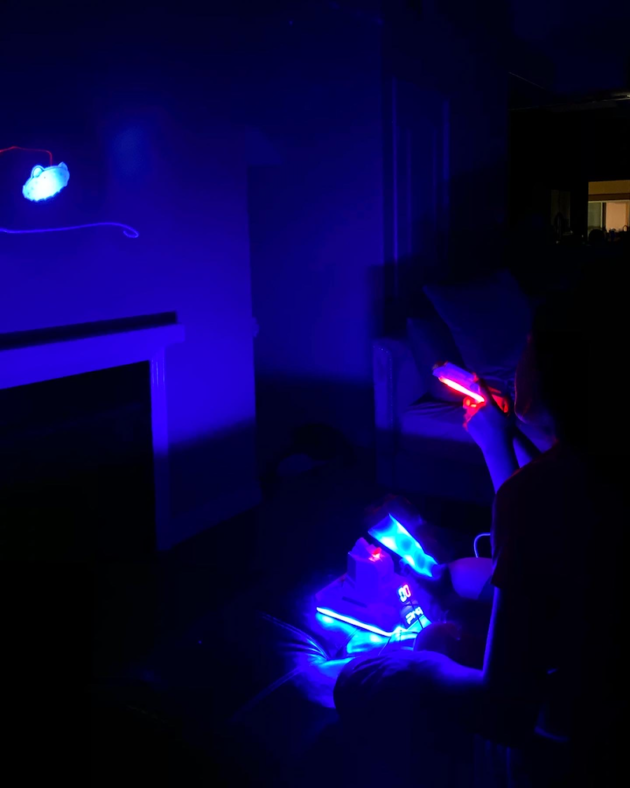 What is ProjeX?
ProjeX is unique in that it allows for screen-free gaming anywhere you have a wall. You are really only limited by the size of your wall as far as available game play area.
This arcade-style shooting game features five games and three skill levels, including a beginner setting for younger gamers. ProjeX comes with two blasters, 3 target cartridges, and a projector. Here is a brief overview of ProjeX:
Three types of game play: Solo, head-to-head, or co-op (two players team up to combine scores)
Three different targets: Ducks, UFOs, and bullseye targets
Portable and battery-operated
Screen-free play
Digital scoring is visible and tracked on the projector
Play inside or outside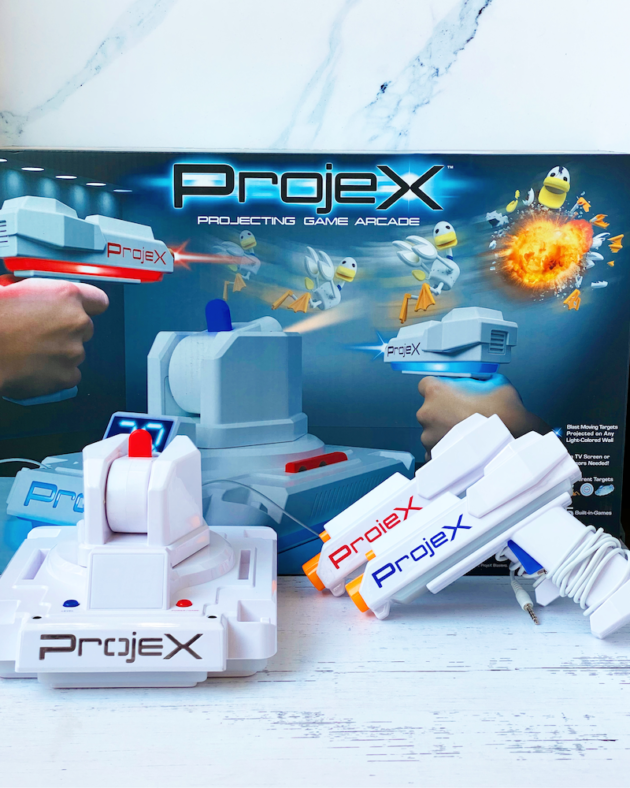 How to Set Up ProjeX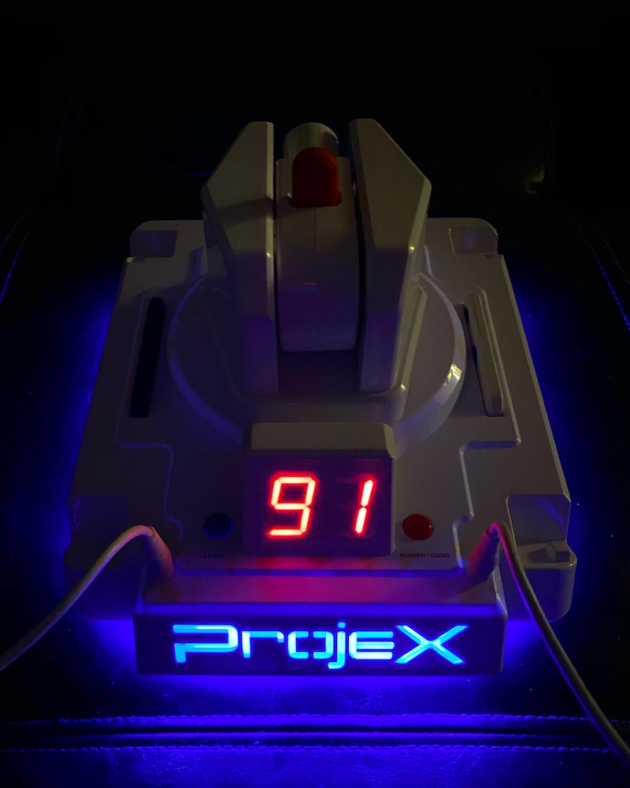 The simplicity of the game and it's retro-technology make for a compelling family gaming experience. Here is how to set up ProjeX:
Install three, brand new AA batteries.
Set the projector on a low table aimed at a wall (indoors or outside). Be sure the projector is at least 5 feet from the wall.
Slide one of the three provided cartridges into the image slot. For reference, blue is beginner, red is advanced, and white is expert when it comes to skill level.
Plug in both blasters.
If you plan to play solo, simply unplug one of the blasters.
Press the red power button and wait for the projector to focus (less than 1 minute).
Press the red button to select a game (1-5).
Press the blue button to select your skill level.
Load your blaster by sliding the button on the top. Each reload will give you 6 shots and you can reload at any time.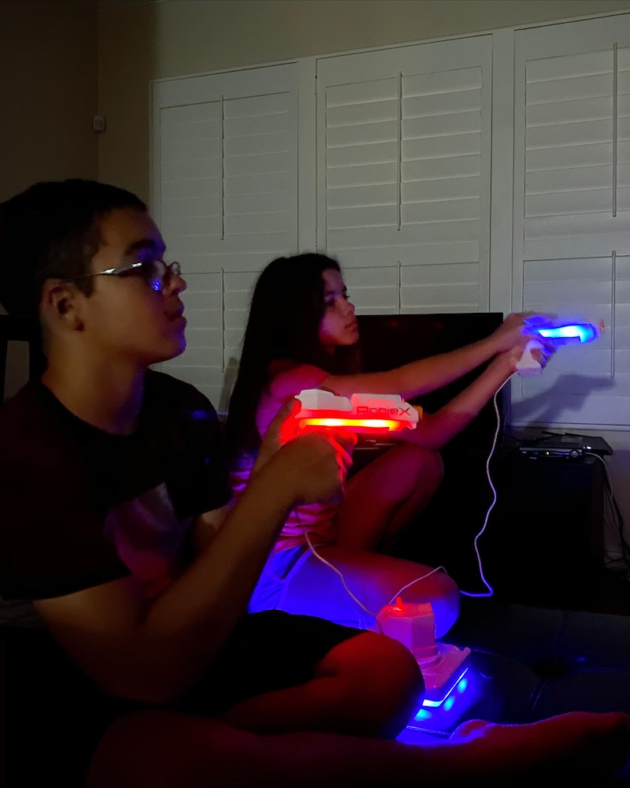 ProjeX Game Play
Once we set up our ProjeX Projecting Game Arcade, my kids took to the game immediately. They can be competitive, so they liked the ability to see their scores displayed on the projector in real-time. They started with the beginner cartridge and played until I called bedtime. The real measure of success is that despite the competitive nature of the game, they didn't have any conflicts!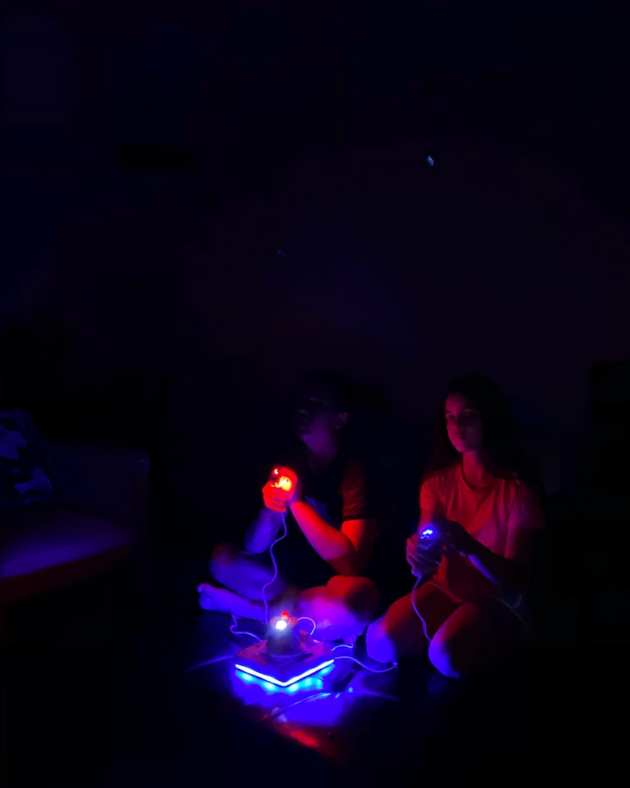 As a parent, there are so many advantages to a portable game like ProjeX. It doesn't require a screen (TV, smart phone, computer), so we can take it with us anywhere (i.e. road trips). Speaking of portability, the blasters and image slides are stored right on the projector unit, making it less likely that we will lose anything. ProjeX runs on batteries, so I don't have to worry about finding an outlet. The game can be played anytime, indoors or outdoors, but we found that the graphics were best when we played at night.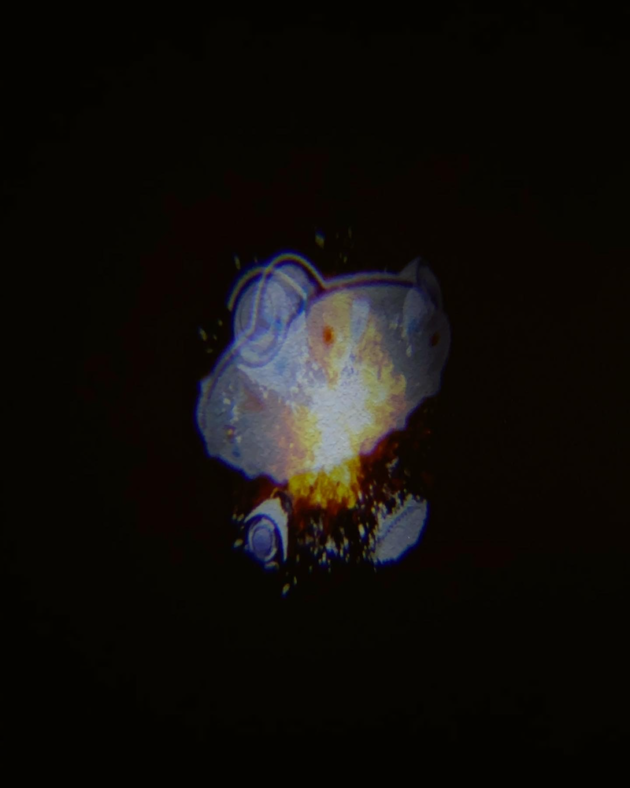 The technology is reminiscent of both the old Duck Hunt game and the interactive shooting attractions you find at amusement parks. The graphics are impressive and the sounds evoke a bit of 80s nostalgia.
While the recommended age of gameplay is 6, it is easy and intuitive, and with help from a parent or an older sibling, younger kids will enjoy the experience. With all of us home more than ever these days, ProjeX is a great way to bring families together for some retro, arcade-style game play!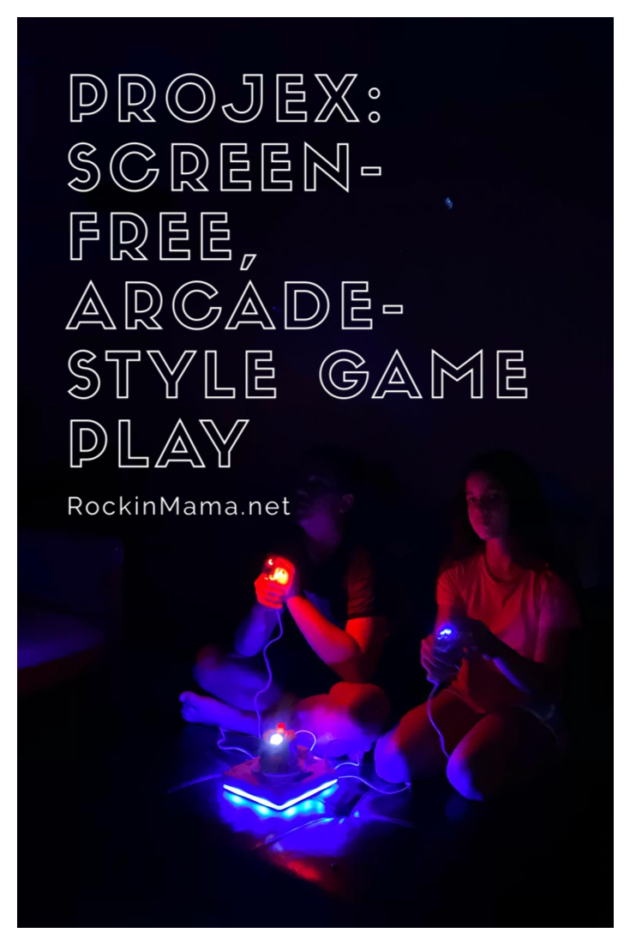 You can purchase ProjeX at Target, Walmart, or ProjeXGame.com for $49.99.
ProjeX Projecting Game Arcade Giveaway
a Rafflecopter giveaway
Latest posts by Caryn Bailey
(see all)