We are right in the middle of football season, and as we approach the Super Bowl, our family will host a number of game day celebrations in honor of the season. Hosting a party can be stressful, which is why I like to put together simple, flavorful dishes that can be made ahead of time. Small bites, appetizers, and finger foods tend to be the most popular, particularly when the focus of the get-together is on the game. Thanks to Krusteaz, I decided to create an easy Poblano Stuffed Cornbread Recipe, the perfect complement for chili, soup, and other game day recipes.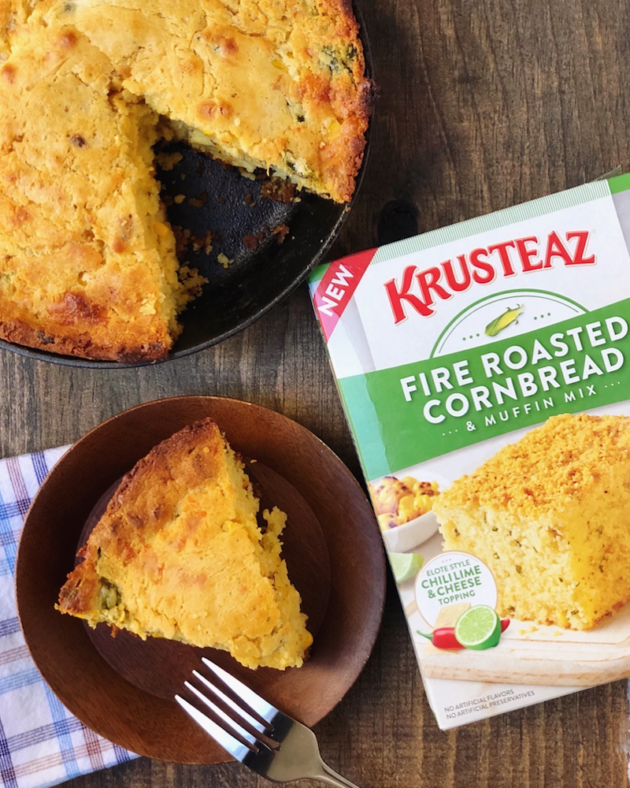 Krusteaz
The name Krusteaz was actually thought up by a group of women who had a simple idea for an easy pie crust. Over a game of bridge, "Crust Ease" was born, inspiring the line of home-baked goods popular among families today. Krusteaz's line began with a "just add water" Pancake Mix, and has expanded to include biscuits, muffins, brownies, breads, desserts and more.
Poblano Stuffed Cornbread Recipe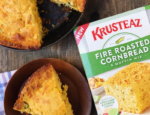 Poblano Stuffed Cornbread
Ingredients
1

box

Krusteaz Fire Roasted Cornbread

1/2

cup

buttermilk

1/2

cup

milk

1

egg

1/4

cup

butter

2

tbsp

butter

1

cup

frozen corn

1

cup

cheese

can use cheddar or jack

1

roasted poblano pepper

diced
Instructions
Preheat the oven to 400 degrees F

Heat a 12-inch cast-iron skillet on the stovetop over medium heat. Add 1/4 cup butter and allow to melt.


Reserve the melted butter for later use, carefully wipe out the pan, and place in the oven to heat.

In a bowl, combine the milk, buttermilk, egg and melted butter. Add wet ingredients to cornbread mix.

Add combine the cornmeal and mix until lumps have dissolved.

Fold in the cheese, corn and poblanos.

Carefully remove the skillet from the oven and add the remaining 2 tablespoons butter until it sizzles.

Coat the pan with the butter and quickly pour the cornbread batter into the skillet.

Place the skillet in the oven and bake until golden brown, about 20 – 25 minutes.

Remove from the oven and let cool slightly before slicing. Serve warm.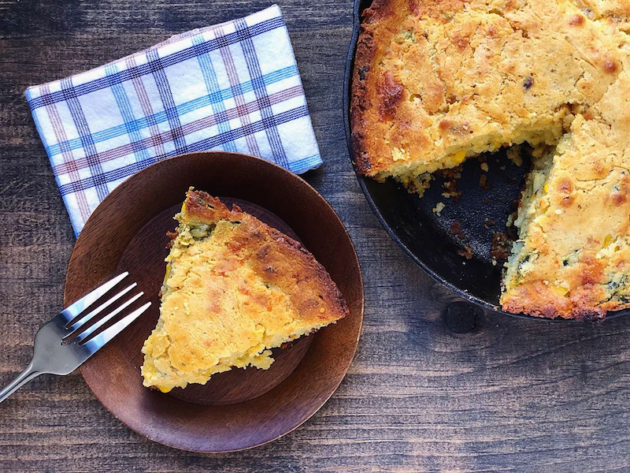 Krusteaz's Fire Roasted Cornbread is prepared elote style, and is the perfect complement to this Poblano Stuffed Cornbread Recipe. The mix includes a chili lime and cheese topping, however, I omitted it for this particular recipe.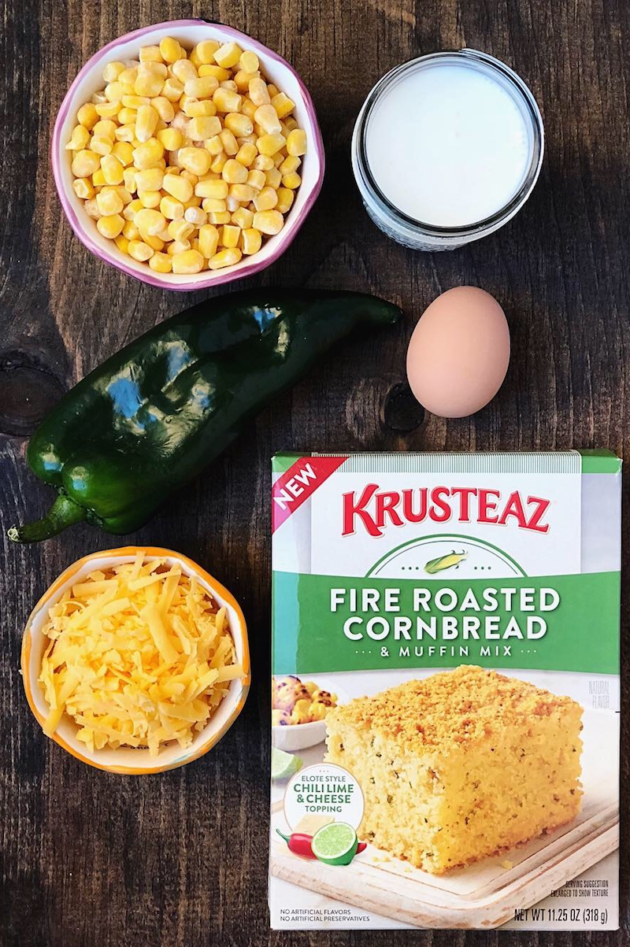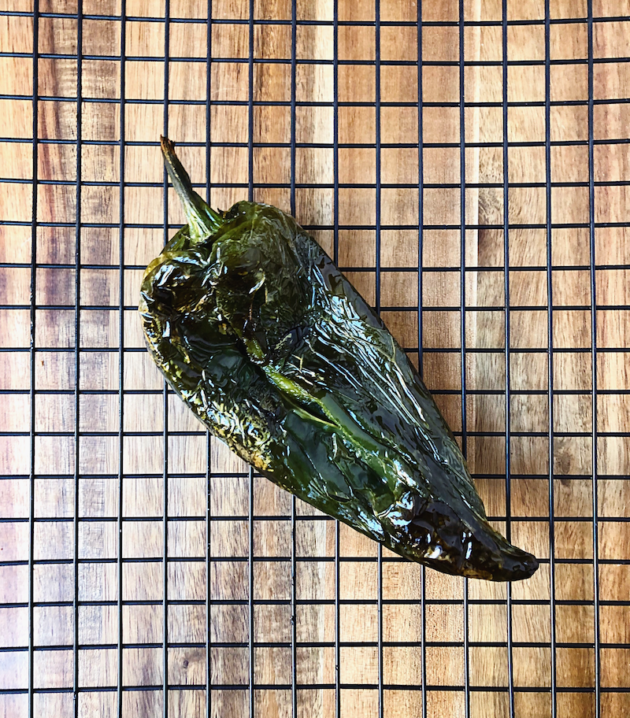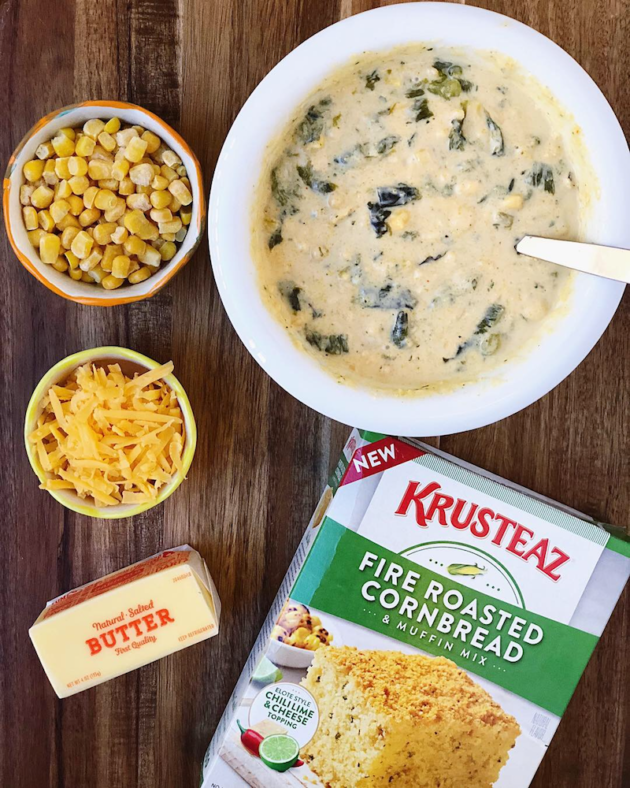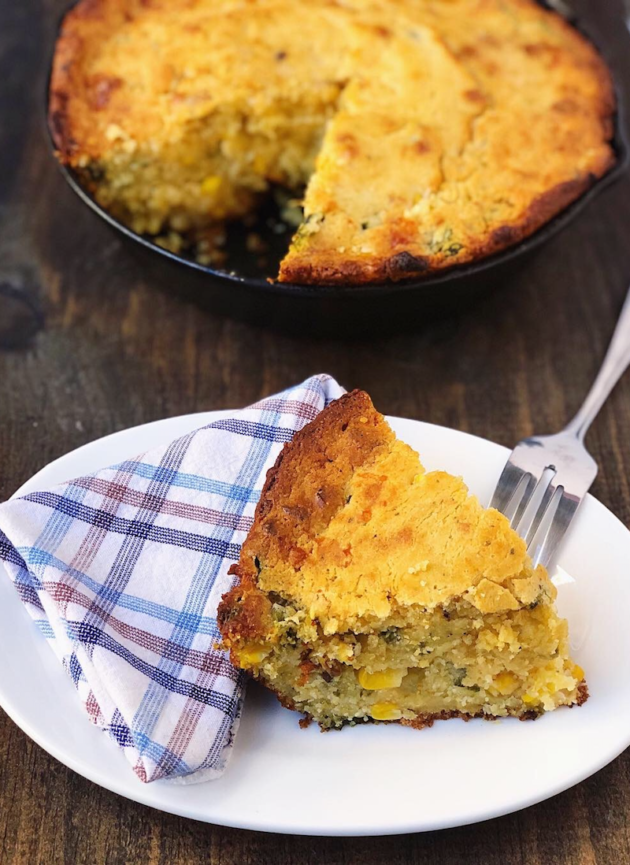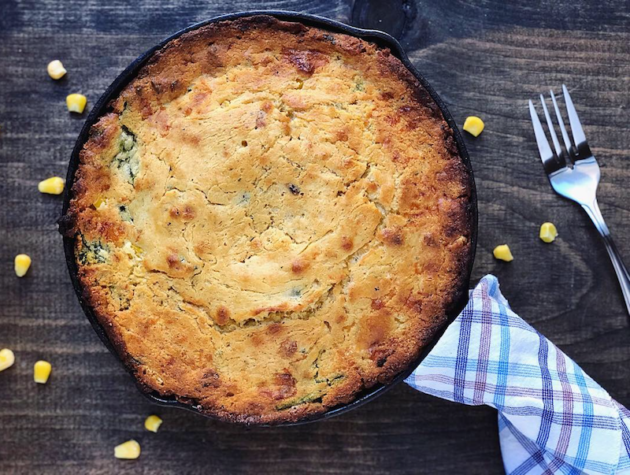 Krusteaz offers a variety of Cornbread mixes that can easily be incorporated into main dishes, appetizers, and even desserts. Game day should be enjoyed by everyone, including the host. Visit Krusteaz.com for additional recipes to inspire your next game day celebration.