*Update*
This giveaway is now closed.  Thanks for stopping by.  Janelle won with her tweet!  Congratulations!

I'm the lucky girl that didn't have to cook the other night! Oh wait…I'm the lucky girl that doesn't have to cook most nights because I have an awesome husband who comes home from work and enjoys cooking! So I guess he is the one who had respite a couple of days ago when Pizza Hut delivered their new Tuscani Lasagna and breadsticks to our home.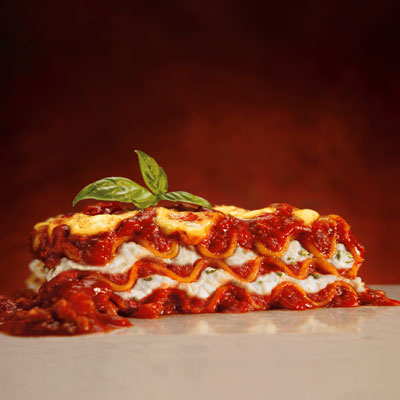 If you're like me, you're probably thinking…"I didn't know Pizza Hut made lasagna?" Well…they do! And it's good! For $14.99 you can get enough lasagna and breadsticks to feed an entire family of four and still have leftovers. At present, they only have one variety but I am really hoping that they offer a vegetarian option because I know that would be a success. Here is a short description of the Tuscani Lasagna from the site:

"With layers of lasagna noodles and real ricotta, Parmesan and Romano cheeses smothered in Italian-seasoned meat sauce and freshly oven-baked with a layer of melted cheese, you'll get the taste of Italy, delivered right to your door."

My husband and I love Italian food and we make lasagna from scratch about once or twice a month. It's labor intensive and time-consuming so actually having it made fresh and delivered to our door was a treat. So we sat down at the table like a good family (all three of us) and of course we all grabbed for the breadsticks…because we're a bread-eating family! When we finally tried the lasagna we all agreed that it was yummy! Even my very picky son who only eats half of the meals we prepare or buy for him was signing "more." Sometimes when I eat lasagna, I find myself wishing it either had more cheese or less sauce. This had a nice blend of both! And if you don't want to take my word for it…you surely must trust the Italians right? Pizza Hut brought their new Tuscani Lasagna all the way to Italy where it received rave reviews
I know that I can't go out and feed all three of us for less than $20 (particularly if it's an Italian meal) and while I love going out, it's so much easier to stay in with a toddler. Ordering in is the perfect alternative! Head on over to your local Pizza Hut (sorry…CALL your local Pizza Hut) and try it out!
Win It! One of you very lucky readers will receive an e-gift card so that you can try Pizza Hut's all-new Tuscani Lasagna and breadsticks. Head on over to the site and check out their entire line of pastas. Come back here and leave me a comment with your favorite (other than the lasagna). Comments will close on March 12, 2009 at 10 PM PST. One comment per person, please. US residents only. Duplicates and comments not including the above information will be disqualified. Comments are moderated. If you don't see your comment in a reasonable amount of time, send me an email. Bloggers and non-bloggers may enter. If you don't want to leave your email address, please be sure to check back for my announcement on the winner. Please note that winners must respond within 48 hours of being announced/contacted or another winner will be drawn.
Want an extra entry? Do any or all of the following and receive an extra entry for each one.
Be sure to leave me a separate comment for each additional entry.
Follow me on Twitter AND tweet about the contest.
Subscribe to my feed via email or reader.
Blog about this giveaway. It doesn't have to be a separate post. Just include a blurb about it when you blog about other giveaways.
Place my button on your site. If you have difficulty, please let me know.
Click on one of the very cute buttons below and digg, stumble, fav, etc. Just let me know what you did in the comments!
Latest posts by Caryn Bailey
(see all)