March 14th is Pi Day, and while I took AP Calculus, Physics, and a ton of other math classes in preparation for my career in nursing, this is the first that I'm hearing of such a celebration. Pi is the infamous mathematical constant represented by this symbol: π. The first three numbers are 3, 1, and 4, hence the reason why Pi Day is observed on March 14th.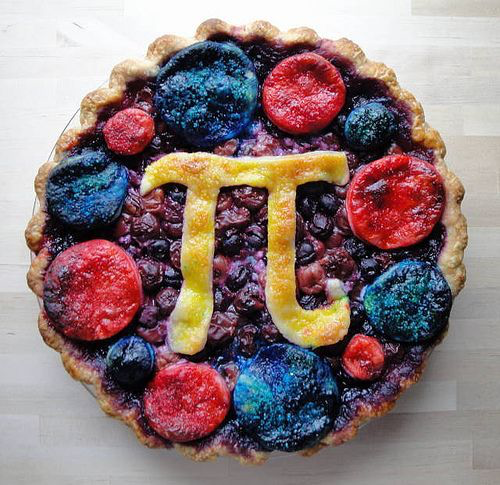 The significance of Pi is that it has been calculated to over a trillion digits beyond its decimal point and will continue infinitely without repetition or pattern. Pi Day was first celebrated in 1988 at the San Francisco Exploratorium and was officially recognized by the US government in 2009. People have celebrated Pi Day in a variety of ways including eating pie, throwing pie, and having deep discussions about the number's significance.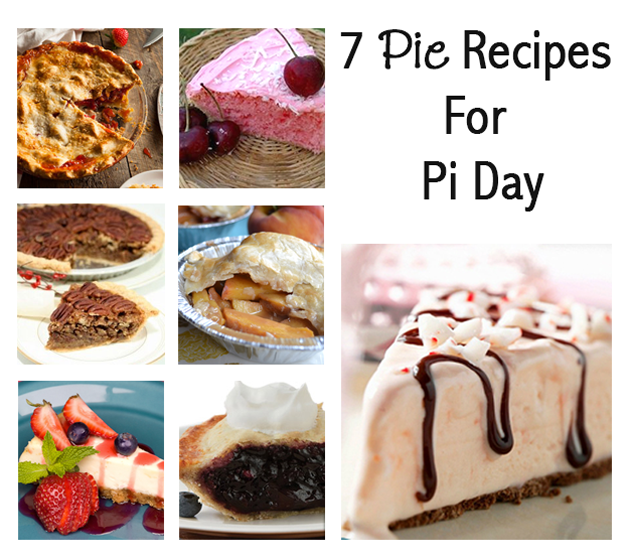 I'm all about finding an excuse to bake up something sweet and delicious, so in honor of the occasion, here are 7 Pie Recipes to Celebrate Pi Day.
Strawberry Rhubarb Pie
Ingredients:
1 Wholly Wholesome Traditional Organic Pie Shell
1 egg
1 cup sugar
2 Tbsp. all-purpose flour
1 tsp vanilla extract
3/4 pound rhubarb rib, cut into 1/2-inch pieces, or sliced frozen rhubarb
1 pint fresh strawberries, halved
Topping:
3/4 cup all-purpose flour
1/2 cup packed brown sugar
1/2 cup quick-cooking or old-fashioned oats
1/2 cup cold butter, cubed
Directions:
Cool on a wire rack, then dig in!
Bake at 400°F for 10 minutes. Reduce heat to 350°F, bake for 35 minutes longer or until crust is golden brown and filling is bubbly.
For topping, in a small bowl, combine the flour, brown sugar and oats; cut in butter until crumbly. Sprinkle over fruit.
In a large bowl, beat egg. Beat in the sugar, flour and vanilla until well blended. Gently stir in rhubarb and strawberries. Pour into pastry shell.
Cake in a Pie
Ingredients:
1/2 cup chopped nuts of your choice
1/2 cup dark chocolate chips
Vegetable oil (as required by boxed cake mix)
Eggs (as required by boxed cake mix)
Store bought cream cheese frosting of your choice
Boxed cake mix of your choice
1 Wholly Wholesome Traditional Organic Pie Shell
Directions:
Preheat oven to 350°F.
Leave Wholly Wholesome Traditional Organic Pie Shell out to thaw while you prepare the cake batter.
Prepare the cake batter per the instructions on the box. Add dark chocolate chips and chopped nuts.
Gently poke a few small holes in the bottom of the pie crust, being careful not to poke through the tin.
Pour half of the cake batter into the pie crust.
Place the pie on a cookie sheet and place in the oven.
Bake for 35 minutes at 350°F. After 35 minutes, turn oven down to 325°F and continue baking for another 12-15 minutes or until cake is finished.
Cool completely, then frost the pie. Enjoy!
Aunt Bonnie's Pecan Pie
Ingredients:
1 Nine Inch Wholly Wholesome Pie Shell (White, Whole Wheat or Spelt)
1/2 cup sugar
1 cup corn syrup
4 tbsp. butter
3 eggs (beaten lightly)
1 tsp pure vanilla extract
1 pinch salt
2 cups broken pecans (broken into small pieces)
60 whole pecan halves (for top of pie)
Directions:
Combine sugar and syrup in a fry pan over a medium heat for 5 minutes.
Melt butter into mixture.
Set aside to cool (if you're in a rush, put the pan on a bed of ice in the sink).
Preheat oven to 400 deg F.
Once cooled, add eggs, salt and vanilla.
Fill pie shell w/broken pecans.
Pour syrup mixture over pecans until it's just below the rim
Arrange pecan halves on top starting with the largest pecans around the outside in a circle and using progressively smaller pecan halves as you circles move towards the center. Be sure to save some nice small ones for the center.
Place on a piece of foil on top of a cookie sheet and place in the oven
Reduce oven to 350 deg F. and bake for 50 minutes or until pecans are nicely toasted, but not burnt.
Peachy Kean IPA Beer Pie
Ingredients:
1 package Wholly Wholesome Traditional Organic Pie Dough
6 cups (6-8 large peaches) yellow peaches, sliced (peeled if desired)
1/2 cup brown sugar
1/3 cup white sugar
1/2 tsp cinnamon
1/4 cup flour
3 Tbsp. cornstarch
Pinch salt
1/3 cup Glutenberg India Pale Ale
Egg wash (1 egg + 1 Tbsp. water, beaten)
Directions:
Preheat oven to 400°F.
Add the peaches to a large bowl. Sprinkle with brown sugar, white sugar, cinnamon, flour, cornstarch and salt. Use your hands to stir the peaches until they are fully coated with the dry ingredients and all of the dry ingredients have been moistened.
Pour the beer over the peaches, and gently stir to combine.
Place four oven-safe bowls (1 cup size) on a baking sheet. Divide the filling evenly among the bowls.
Roll the pie dough out on a lightly floured surface, cut into four squares. Cover each bowl with a square of pie dough. Brush with egg wash.
Bake at 400°F for 18-22 minutes or until golden brown.
Strawberry and Blueberry Cheesecake Pie
Ingredients:
1 Wholly Wholesome Graham Cracker Pie Shell
1/4 cup butter, melted
2 (8 ounce) packages cream cheese
1/2 cup white sugar
1 tsp vanilla extract
2 eggs
2 cups fresh blueberries
1 cup fresh strawberries, sliced
1/2 cup strawberry jam
1 cup heavy cream, whipped (optional)
Directions:
Preheat oven to 425°F.
Bake in preheated oven until edges are just golden, 6 to 8 minutes; cool slightly on a wire rack. Reduce oven temperature to 350°F.
In a medium bowl, beat cream cheese, sugar, and vanilla with an electric mixer until light and fluffy. Beat in eggs until well combined. Fold in 1 cup of blueberries. Pour filling into prepared crust.
Bake at 350°F until set, 40 to 50 minutes. To prevent the crust from over-browning, gently cover pie with foil for the last 25 minutes of baking. Cool completely on a wire rack.
In a small bowl, beat jam until smooth; drizzle over cheesecake filling. Arrange 1 cup blueberries and 1 cup sliced strawberries on top.
No-Bake Blueberry Pie
Ingredients:
1 Wholly Wholesome Traditional Organic Pie Shell
3 cups fresh blueberries
2/3 cup granulated sugar
8 oz. cream cheese
1 1/2 cups plain yogurt
1/2 cup powdered sugar
1 tsp vanilla extract
1/2 cup heavy cream
Directions:
Combine blueberries, sugar and 1/2 cup yogurt in your food processor and process until smooth.
In a large bowl, combine cream cheese, remaining 1 cup of yogurt, powdered sugar and vanilla and use an electric mixer to combine until smooth.
Add the blueberry mixture to the cream cheese mixture and beat on medium to combine.
In a separate bowl, add heavy cream and use your mixer to beat it until it turns into whipped cream.
Fold the whipped cream into the blueberry mixture and carefully combine.
Pour the blueberry pie filling into crust.
Freeze the pie until solid, about 3-4 hours. Enjoy!.
Wholly Wonderful Ice Cream Pie
Ingredients:
1 Wholly Wholesome Graham Cracker Pie Shell or Chocolate Pie Crust Pie Shell
1 quart vanilla ice cream
1 (8 ounce) container whipped topping
Chocolate syrup or hot fudge sauce
Optional: peppermint candy, chopped mixed nuts, chopped candy bars
Directions:
Place ice cream in refrigerator for about 15 minutes to soften. Scoop ice cream into Wholly Wholesome Pie Shell and spread evenly with spatula. Pipe or spoon whipped topping around border of pie. Place pie in freezer for several hours or until ice cream is firm.
To serve, cut pie into 8 wedges. Place each wedge on a dessert plate and drizzle with chocolate syrup and top with optional chopped mixed nuts, peppermint candy, or chopped candy bars if desired.
All of the above Pi Day Recipes are available at Wholly Wholesome. We use their Organic Pie Shells for sweet and savory pies because they taste good and made with a minimum number of natural ingredients. Their pie shells, along with their ready-to-bake pies, ready-to-bake cakes, pizza dough balls and gluten-free products are available in the frozen food section of your local grocery store.
For additional Pi Day recipes, visit Wholly Wholesome.
Recipes/Images via Wholly Wholesome Used With Permission.
Latest posts by Caryn Bailey
(see all)