This giveaway is now closed. Thanks for stopping by. The winner is Peggy G. Congrats!
I can't believe that it's only been a few weeks that I've actually had any sort of appetite. Right after BlogHer, the nausea mysteriously disappeared and I started getting HUNGRY (shocking!). What should I crave but CHOCOLATE!
Before I found out I was pregnant and started getting very, very sick, I agreed to review a food item that sounded seriously YUMMY! I don't know about you but I absolutely love peanut butter. I eat it on crackers and celery… Plus…it's a great way to get in some protein (pauses for quick peanut butter snack break).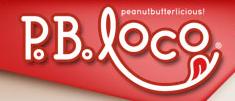 P.B. Loco is a gourmet peanut butter company specializing in peanut butter flavors for adults. In other words, us foodies are right at home! Some of the flavors are intense…I probably wouldn't give my two year old Peanut Butter with Asian Curry Spice or Peanut Butter with Sumatra Cinnamon and Raisin (don't they sound absolutely exotic?). I chose Peanut Butter with Dark Chocolate Duo and Peanut Butter with Chocolate-Chip Cookie Dough to review with my husband and son. Here is a little more information from the site:
All of the mouth-expanding, flavor-infused peanut butters P.B.Loco offers have 0 grams trans fat. We use premium European chocolates in our peanut butters. The chocolates are couvertures, meaning they contain no animal fat. By using these and other premium ingredients, all of our peanut butters have 0 grams trans fat. P.B.Loco peanut butter also is a great source of healthy monounsaturated fats and has an abundance of nutrients like folate, niacin, copper, selenium, zinc, magnesium, and fiber. Peanut products also contain significant amounts of phytosterols, which are believed to protect against heart disease and cancer.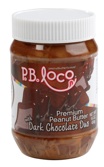 While I agree that some of the flavors should be reserved for adults, I think that once a child is old enough to eat peanuts (for us we decided to wait until 2), I think peanut butter (and some of the flavors from P. B. Loco) makes a healthy, enjoyable snack. Being the health nut that I am, I only purchase peanut butter that is 1. natural and 2. free from added sugar. The peanut butter from P. B. Loco actually fits the bill in both categories. If you've never purchased peanut butter without added sugar, I should inform you to expect a different taste (regardless of the brand you purchase). However, it is much better for you and your children.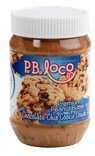 I love (LOVE) chocolate and cookie dough is my favorite flavor of ice cream. You'll often find me taking a dip into the cookie dough bowl (when I'm not pregnant). The dark chocolate is rich and flavorful but not overwhelming. I like that I can still taste the peanut butter. The cookie dough is like a treat, but again, not too sweet. I like both flavors for a snack (as opposed to putting the peanut butter on a sandwich for a meal). Try it with bananas (or your favorite fruit) or graham crackers (mmmm….). The website has a TON of recipes and I highly recommend checking them out. Some of the flavors are savory and can be used in dinner dishes.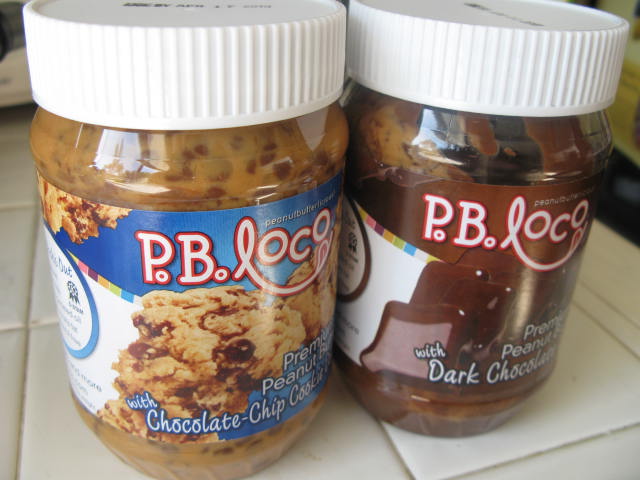 Overall I was highly impressed with the company. I can only speak for the 2 flavors I tried and I'm not a huge savory fan but I'd love to find out if any of you have tried P.B. Loco.
A 16 ounce jar (which as you know will last a LONG time) retails for $6.95 and can be purchased directly from the site.
Win It! Get ready for this!!!!! One of you will win a three-pack (YUM!). Simply head on over to the site and take a look around. Come back and leave me a comment with your favorite flavor! Comments will close on September 1, 2009 at 10 PM PST. One comment per person, please (unless you do the extra credit). US residents only. Duplicates and comments not including the above information will be disqualified. Comments are moderated. If you don't see your comment in a reasonable amount of time, send me an email. Bloggers and non-bloggers may enter. If you don't want to leave your email address, please be sure to check back for my announcement on the winner. Please note that winners must respond within 48 hours of being announced/contacted or another winner will be drawn.
Want an extra entry? Do any or all of the following and receive an extra entry for each one.
Be sure to leave me a separate comment for each additional entry.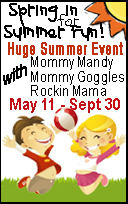 Add the "Spring In For Summer Fun" banner to your sidebar and leave me a comment (be sure to visit the main party post for more details on extra entries)
Follow me on Twitter AND tweet about the contest. Be sure to use the hashtag #SummerEvent
Enter Tanya and Amanda's giveaways
Subscribe to my feed via email or reader.
Blog about this giveaway. It doesn't have to be a separate post. Just include a blurb about it when you blog about other giveaways.
Click on one of the very cute buttons below and digg, stumble, fav, etc. Just let me know what you did in the comments!