This giveaway is now closed.  Thanks for stopping by.  The winner is Chastidy.  Congrats!
Our sweet little baby is going to be here in about 16 weeks (scheduled c section).  I can't believe I'm more than half-way through the pregnancy.  I'm so thankful that this pregnancy is going so much better than my first.  If you think I was worried when I was pregnant with my son, I was even more worried after he was born.  As a parent and a NICU nurse, I think about things like illness, injury and SIDS (sudden infant death syndrome).  My husband says I tend to "hover" too much.  But I think it's somewhat natural to want to protect your child from danger.
I educate parents every day about safe sleeping techniques to help prevent SIDS.  I emphasize the importance of putting babies on their backs to sleep, keeping the baby's sleeping area free from stuffed animals, loose blankets, etc., and avoiding overheating.  When my son was born (during the summer), I knew it would be a challenge to avoid overheating him when we were experiencing triple digit temperatures.  I also knew that babies slept better when they were wrapped, but I was nervous about blankets coming loose that could cover his face.  It was about that time I discovered Halo's SleepSacks.  I ran out and bought several…in blue of course!

It's been more than two years and with our baby girl on the way, I thought it would be nice to get a warmer SleepSack for her (the ones we bought my son were cotton).  Thanks to Mom Select, we received a gorgeous pink (squee!) Plush Dots Velboa SleepSack Swaddle blanket.  If you're not familiar with SleepSacks, they're simply wearable blankets.  They have a zipper down the front and now come with the swaddle option.  Here is a little more information from the site:
The ORIGINAL SleepSack Wearable Blanket now with an adjustable, removable swaddle feature. The 2-in-1 SleepSack Swaddle hugs your baby to prevent the startle reflex – allowing your little one to sleep more soundly. The SleepSack™ Swaddle replaces loose blankets for safer sleep and allows your baby to stay safe, warm and cozy all night long.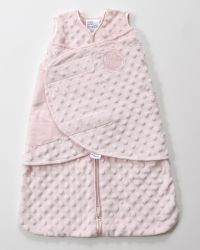 I think the new design is fantastic.  I didn't use the Swaddle option with my son and I do remember he woke up a ton as an infant.  That could have been because he was an infant and that's what they do. But we used the SleepSacks until he was about a year and then he didn't want to wear them any longer.  I like the safer option of being able to swaddle my new little girl without worrying about her becoming entangled or suffocated by loose blankets.  The fabric is so soft and warm (which is perfect since our little baby will be born in the winter).  If you have a baby that doesn't actually like to be swaddled, you can just remove that part and still use the sack as a wearable blanket (it has Velcro to attach it).  Some of the features that I am highly impressed with include the following:
The option to swaddle with arms in, out, or not at all
Inverted zipper so I can complete middle of the night diaper changes and deter curious hands from trying to unzip the blanket
Sleeveless design which is actually a safety feature allowing ventilation and reducing the risk of re breathing carbon dioxide (which has been linked to SIDS)
It's flame retardant! (you never know!)
Overall, I'm highly impressed with Halo's SleepSacks. Our daughter will be sleeping in them just like our son did.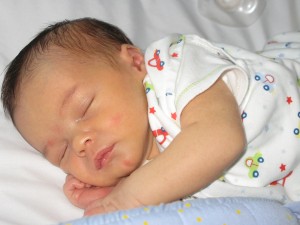 My son as a newborn sleeping in his SleepSack (yes, he should have been on his back but he always rolled over)
Halo's SleepSacks vary in price, depending on whether you want organic cotton (or conventional), micro-fleece, or plush dot velboa and whether you want the swaddle option.  Be sure to check out their Clearance section for awesome discounts on select styles and prints.  Their website is incredibly resourceful.  I highly recommend checking it out for sleep tips and more products to keep your baby safe!
Win It! One of you will win a Plush Dots Velboa Halo SleepSack (this one does not have the swaddle option) in blue, size small (10-18 pounds).  Simply head on over to the site and take a look around.  Come back here with an interesting fact you learned on the site and who will be the lucky recipient of this blanket.  Comments will close on September 19, 2009 at 10 PM PST.  One comment per person, please (unless you do the extra credit). US residents only. Duplicates and comments not including the above information will be disqualified. Comments are moderated. If you don't see your comment in a reasonable amount of time, send me an email. Bloggers and non-bloggers may enter. If you don't want to leave your email address, please be sure to check back for my announcement on the winner. Please note that winners must respond within 48 hours of being announced/contacted or another winner will be drawn.
Want an extra entry? Do any or all of the following and receive an extra entry for each one.
Be sure to leave me a separate comment for each additional entry.
Follow me on Twitter AND tweet about the contest.
Subscribe to my feed via email or reader.
Blog about this giveaway. It doesn't have to be a separate post. Just include a blurb about it when you blog about other giveaways.
Click on one of the very cute buttons below and digg, stumble, fav, etc. Just let me know what you did in the comments!
Latest posts by Caryn Bailey
(see all)