My kids have grown up in the kitchen. I remember cooking dinner with my daughter in a baby carrier while my son colored at the kitchen table. Mealtimes have been a unifying and integral part of our family, and incorporating them into the prep of those meals has helped shape their now diverse palates. I remember the challenges of introducing new foods to my kids, and admittedly, I still struggle with picky eaters. Noshi Food Paint was introduced as a fun, healthy way to make mealtime fun, particularly for picky eaters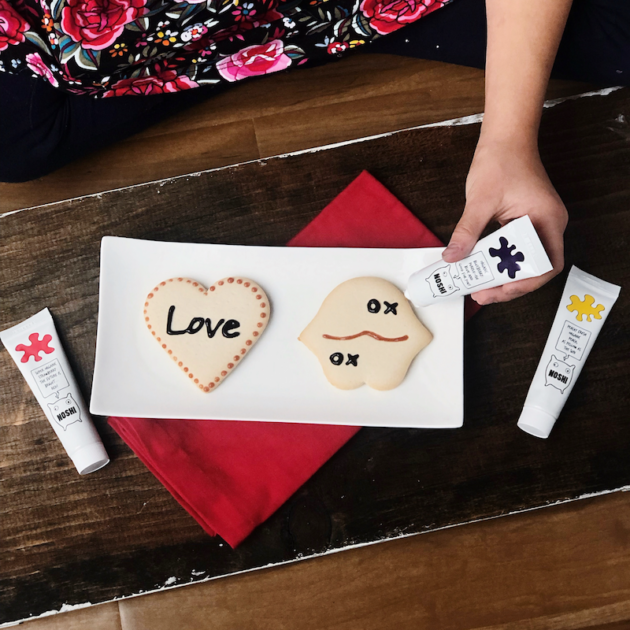 I participated in this campaign on behalf of Wendy's Bloggers. I received Noshi Food Paint to facilitate my review, but my opinions and creative content are my own.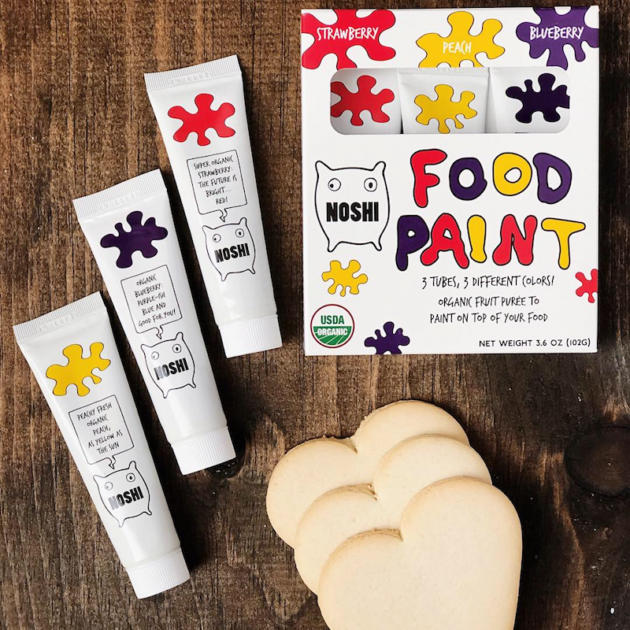 Why Noshi Food Paint?
Noshi Food Paint was started by a parent who was frustrated over the limited options available for healthy kids' food products, particularly for extremely picky eaters. Co-founders Pegi and Tomo dreamed up the idea of Noshi Food Paint based on research that showed kids were more likely to eat their food if they helped prepare it.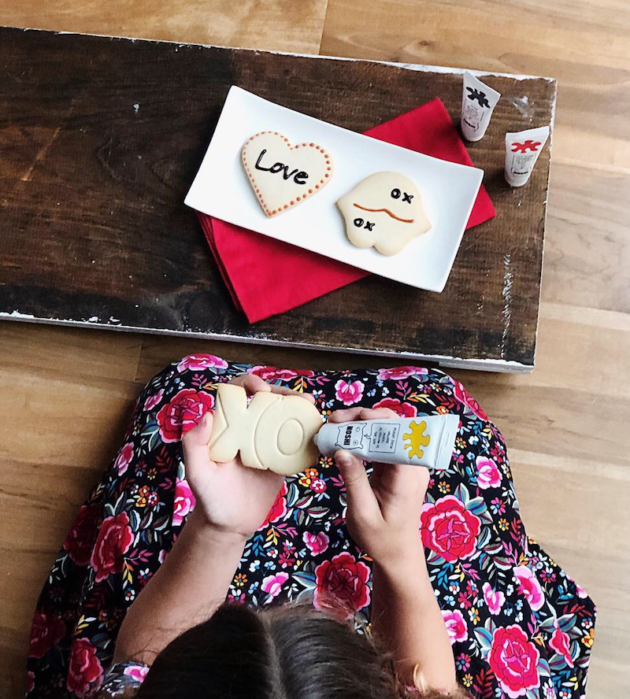 The idea for Noshi Food Paint was based on studies that showed kids who help prepare their food take pride in it, think about what that food is, and the ingredients that were used to prepare it. Add in the "fun" component, and perhaps kids will look forward to mealtime, alleviating those all-too-frequent battles.
What is Noshi Food Paint?
Noshi Food Paint is a condiment, like maple syrup or fruit sauce, that comes in kid-friendly tubes. Organic, gluten-free, low in sugar, and free from preservatives, Noshi Food Paint can be used to decorate a variety of foods. At present, these organic fruit purees are available in three edible colors including red strawberry, yellow peach, and purplish-blue blueberry.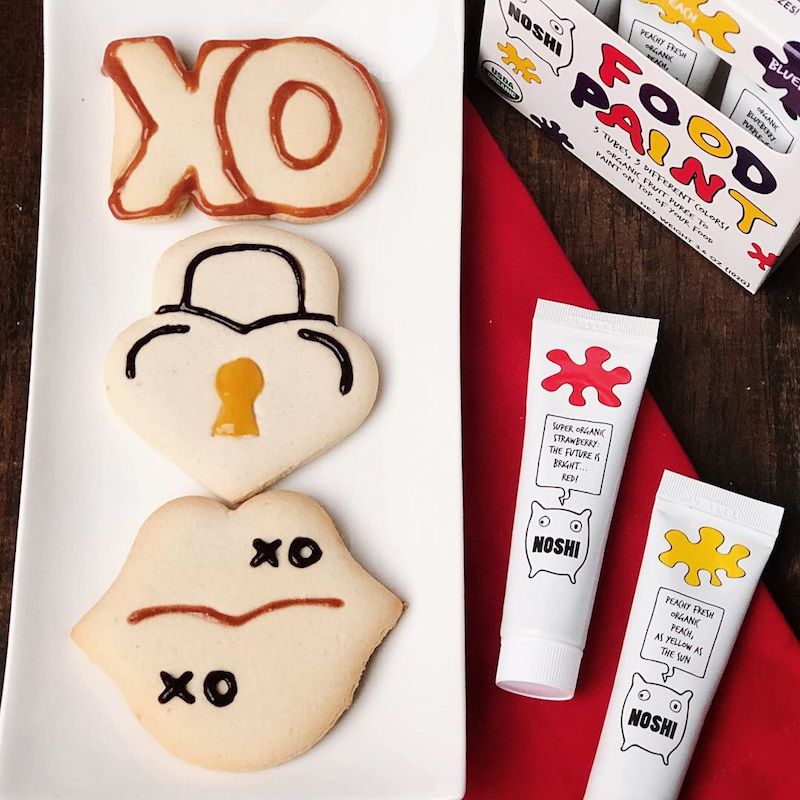 Noshi Food Paint can be used on any food including pancakes, waffles, toast, fruit, and any dish you can dream of. With Valentine's Day just around the corner, I decided to let my daughter decorate sugar cookies with the food paint as an alternative to frosting. This was a fun activity the two of us did together and my daughter didn't seem to miss the frosting.
Perhaps the most prominent question is how does it taste? Both of my kids tried each of the three Noshi Food Paint flavors and described them as sweet and fruity, like jelly or jam. I found it to be mildly sweet, true to its fruit flavor, and similar to jam with a thinner consistency.
I would have loved to have Noshi Food Paint available when my kids were younger. Kids love to play with their food, and incorporating Noshi Food Paint into mealtimes is a great way to infuse fun while encouraging creativity, independence, and responsibility.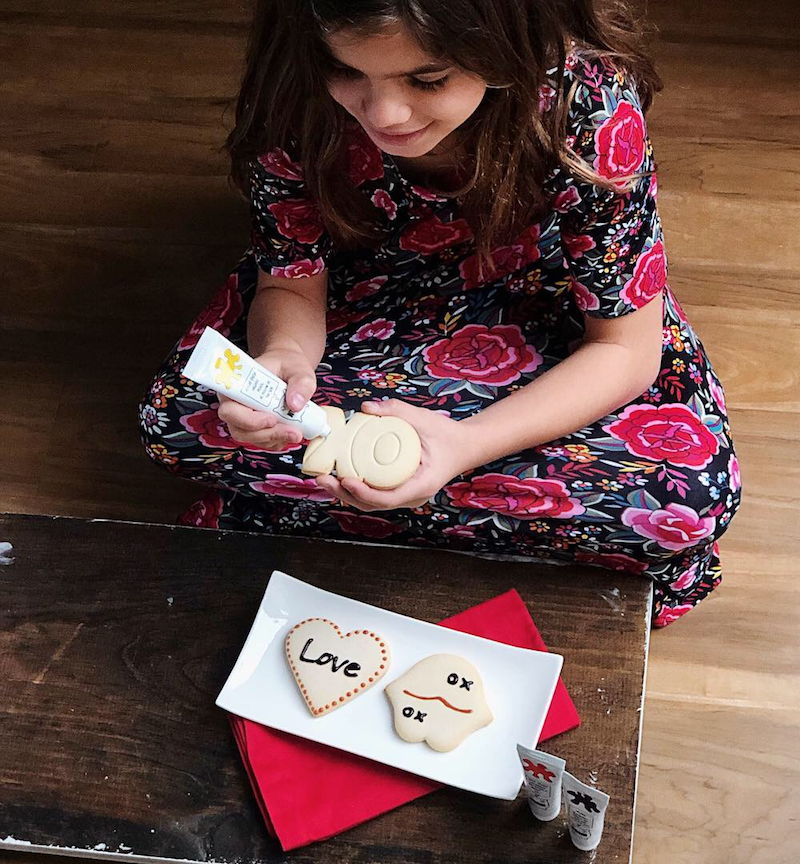 Where to Find Noshi Food Paint
Noshi Food Paint is sold in a box of three tubes, like a paint set from an art store. Find it on Amazon for $6.99, or use their store locator to find a retailer near you.