This giveaway is now closed. Thanks for stopping by. The winner is Cori. Congrats!
I've suffered from chronic allergies since childhood and it looks like it might be genetic, given my son's multiple environmental and food allergies. While spring and fall are definitely the most troublesome, sniffling and sneezing are rather common occurrences in our household…which is why we try to spend a good amount of time outdoors. Despite our days out, we still manage to spend a good amount of time indoors (at least 14 hours if you consider dinner, sleep time, and breakfast). According to the EPA, most Americans spend 90% of their time indoors. In fact, indoor air may be significantly more polluted than outdoor air (even in LA!).
Since the start of the year is all about making change, I decided that one of my goals is to make our home as healthy as possible. In the past few years, I've managed to *almost* completely eliminate any household cleaners that are not safe and environmentally friendly. We already encase our pillows and mattresses as a barrier to dust mites and allergens, dust every week, regularly wash all linens and stuffed animals, use a vacuum with a HEPA filter, have a carbon monoxide detector installed and change our air filter with the seasons. This year, we're using an air purifier to remove indoor pollutants.

Therapure air purifiers feature a Triple Action Purification Process which can significantly improve the quality of the air you breathe. The air purifiers contain a permanent HEPA-type filter which removes allergens and pollutants, a UV lamp to kill bacteria and germs, and a Photocatalyst to remove VOC's (Volatile Organic Compounds) such as toxic paint and chemical emissions. Some of the benefits of an air purifier include the following:
-Removes allergens including pollen, dust, animal dander, mold, and smoke.
-Controls bacteria and viruses
-Gets rid of unwanted odors from smoking, cooking, and pets
-Cleans the air by removing toxic fumes from household products, cleaning agents, and chemical emissions (i.e. new carpet, paint, wallboard)
Therapure offers 4 different models, depending on the size of the room you'd like to use the air purifier in. We received the 201 M model which fits nicely into a corner without taking up a lot of space. The purifier operates on three settings, the first two which are relatively quiet. The high speed setting is audible but not disruptive. On the contrary, you won't even know the purifier is on after a few minutes if you turn it on at it's lowest setting. Three of the four purifiers offered by Therapure are Energy Star rated for maximum energy efficiency. And apart from the fact that you simply turn it on to use it, I like that there are no filters to change. You simply vacuum the filter after a month's use. I like our air purifier so much that eventually, I'm going to invest in at least one more so we have one upstairs and downstairs. Therapure offers three models of air purifiers and they retails for $89.95 to $179.99 depending on the size.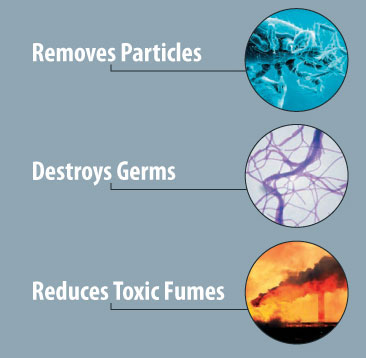 In addition to the tips mentioned above, Dow Building Solutions recently initiated a campaign called Imagine Home Health to serve as a resource for improving the health of your home. Here are some additional tips offered for improving indoor air:
1. Insulate your home to keep your family comfortable and improve energy efficiency.
2. Air Seal your home to keep critters and insects out and conditioned air in!
3. Review the EPA's tips for preventing and controlling mold.
4. Keep your home free of radon, a colorless, odorless gas that can cause lung cancer by ensuring your home is properly insulated.
5. Ditch tobacco products.
6. Consider purchasing a hygrometer to maintain the relative humidity in your home between 30–50%. High humidity encourages mold growth.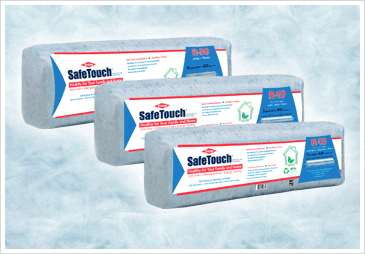 While we've done much to improve the air inside our home, we can still do more. The two most immediate steps I'm going to take are to purchase a hygrometer (anyone have a great recommendation?) and look into AirSealing our home.
To read more about improving the air inside your home, I highly recommend reading The Inside Story: A Guide to Indoor Air Quality, put out by the EPA.
Win It! I have a fabulous "Healthy Home" prize for one reader! One of you will win four bags of SAFETOUCH R-13 insulation (ARV $256) which is free from formaldehyde and fiberglass fibers and does not support the growth of mold and a Therapure 201MB air purifier (ARV $129.95)! Simply leave me a comment with something you learned from the SAFETOUCH site and from the Therapure site. Comments will close on January 26, 2011 at 11:59 PM PST. US Residents only. Duplicates and comments not including the above information will be disqualified. Comments are moderated. If you don't see your comment in a reasonable amount of time, send me an email. Bloggers and non-bloggers may enter. If you don't want to leave your email address, please be sure to check back for my announcement on the winner. Please note that winners must respond within 48 hours of being announced/contacted or another winner will be drawn.
Want an extra entry? Do any or all of the following and receive an extra entry for each one. Be sure to leave me a separate comment for each additional entry.
Follow me on Twitter AND tweet about the contest.
Like me on Facebook
Subscribe to my feed via email or reader.
Blog about this giveaway. It doesn't have to be a separate post. Just include a blurb about it when you blog about other giveaways.
Click on one of the very cute buttons below and digg, stumble, fav, etc. Just let me know what you did in the comments!
No compensation was received for this post. Products for review and giveaway were supplied by the company.