This giveaway is now closed.  Thanks for stopping by.  The winner is Ed. Congrats!
Did you know that October is also National Seafood Month?  I didn't either!  Hubby and I LOVE seafood but it's not something we eat very often because my son hasn't had much in his 2 years of life.  I don't like to cook separate meals for us so we just try to eat it when we go out (which isn't often).  And one of my all-time favorite seafood restaurants is McCormick & Schmick's.  My dad LOVES seafood and growing up, that was one of the restaurants we ate at for special occasions (it always had to be a seafood restaurant).  My husband and I ate there about a month or so ago and had a really nice experience (it had been some time since we last dined in the restaurant).  The service was impeccable, the food delicious, and it was surprisingly kid-friendly (we brought our little boy with us).  It would make a great restaurant for a date night, but don't overlook it if you want to go out for a family dinner.
Throughout the month of October, McCormick & Schmick's is celebrating National Seafood Month by offering menu specials highlighting the country's most popular seafood dishes. Here is a little more information about the event:
With the Choose Your Perfect Combination special, guests have the option to choose from among five seafood classics, including Jumbo Gulf Shrimp, Fresh Water Tilapia, Atlantic Salmon, Alaskan Halibut or Crab Cakes. Guests can choose two for $19.95 or three for $24.95.  And, through a new partnership with the Rachael Ray Show, diners can save even more by using a coupon for 20% off any entrée.
For an even greater savings choose three items for $24.95 and add on the North Atlantic Lobster Tail upgrade for $3.00.  Apply the coupon and you will have three types of fresh seafood for $22.95.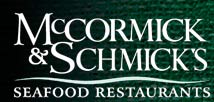 Win It! One of you will win a $25 gift card to McCormick & Schmick's to try out some of their seafood specials.  Simply leave me a comment with what you'd order!  It's late and I'm hungry (and pregnant) so make it something really yummy!  Comments will close on October 28, 2009 at 10 PM PST.  One comment per person, please (unless you do the extra credit). US residents only. Duplicates and comments not including the above information will be disqualified. Comments are moderated. If you don't see your comment in a reasonable amount of time, send me an email. Bloggers and non-bloggers may enter. If you don't want to leave your email address, please be sure to check back for my announcement on the winner. Please note that winners must respond within 48 hours of being announced/contacted or another winner will be drawn.
Want an extra entry? Do any or all of the following and receive an extra entry for each one.
Be sure to leave me a separate comment for each additional entry.
Follow me on Twitter AND tweet about the contest.
Subscribe to my feed via email or reader.
Blog about this giveaway. It doesn't have to be a separate post. Just include a blurb about it when you blog about other giveaways.
Click on one of the very cute buttons below and digg, stumble, fav, etc. Just let me know what you did in the comments!
Here are some fun seafood facts, courtesy of the company…Enjoy!
Did you know . . .

· National Seafood Month was started in the 1940s by the National Fisheries Institute. It originally started out as a week-long event, but evolved into a month-long celebration in the 1950s.

· Shrimp is America's favorite seafood, followed by salmon and tuna (Ahi, Yellow Fin or other fresh tuna).* At McCormick & Schmick's restaurants nationwide, diners feast on approximately 515, 000 pounds of shrimp and 470,000 pounds of salmon each year.

· This October, McCormick & Schmick's guests will have the option to choose both shrimp and salmon (or other seafood varieties) with the Choose Two for $19.95 or Choose Three for $24.95 promotion.

· Interestingly enough, it's the same three types of seafood that are eaten most often at home, with canned tuna replacing fresh tuna as the second runner-up for home-cooked meals.*

· Nearly 50 percent of Americans are more likely to eat seafood while dining out as opposed to cooking at home. In fact, on average, nearly 10 million meals are served at McCormick & Schmick's each year.*

· The American Heart Association and USDA dietary guidelines recommend eating seafood at least twice a week. Yet, the vast majority of Americans, 86.7 percent, have seafood only once per week or less.

· In the U.S. in 2008, we consumed 16 pounds of seafood per person, down 0.3 pounds from 2007.**

Tips for Enjoying Seafood from The King of Seafood, Chef Bill King

· When pairing seafood, pay attention to flavors and textures. Some of the best seafood combinations to try are halibut with shrimp and salmon with crab cakes.

· If you want a lighter, healthy option, you can always request any seafood "simply grilled" at McCormick & Schmick's. During October's promotion, the halibut, salmon and shrimp specials will all be simply grilled to perfection. Just a squeeze of lemon juice is enough to enhance the natural flavors of the seafood.

· Think seafood and cheese don't go together? Then you haven't tried McCormick & Schmick's Parmesan-Crusted Tilapia served with capers and lemon butter sauce. Delicate and flavorful.

· When ordering crab cakes, ask your server about the ratio of crab to filler. A good crab cake should be mostly crab.

· When pairing wine with seafood, you don't have to go with whites every time. In fact, many varieties of seafood pair better with red varietals. For example, try ordering a glass of Pinot Noir to go with salmon.

· When it doubt, ask your server. They know what's fresh that day, the origin of the seafood and they've usually tried everything on the menu, so they can help with tough ordering decisions.
Latest posts by Caryn Bailey
(see all)