With temperatures expected to soar over 110, our plan was to lounge poolside during our stay at Miramonte Indian Wells Resort & Spa. Very few of our trips involve true relaxation, so we welcomed the opportunity to enjoy the newly renovated resort located in the Coachella Valley of California.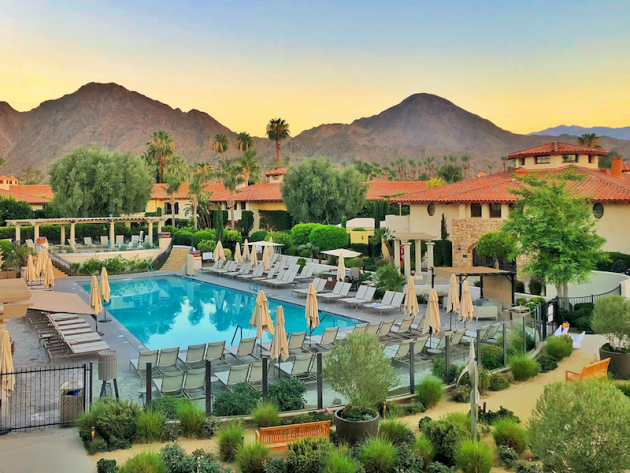 Consideration provided by Miramonte Indian Wells Resort & Spa.
Miramonte Indian Wells Resort & Spa
I met with Miramonte Indian Wells Resort & Spa in the Spring to learn more about their on-site family-friendly activities and the new renovations that have transformed the resort into a highly sought-out luxury destination. Located approximately 2 hours from Los Angeles, Orange County, and San Diego, Miramonte exudes luxury while appealing to families with kids. This "intimate desert oasis" is moderate in size with 215 rooms that span 11 acres. The resort is quiet and offers a tranquil escape from the busyness of the city.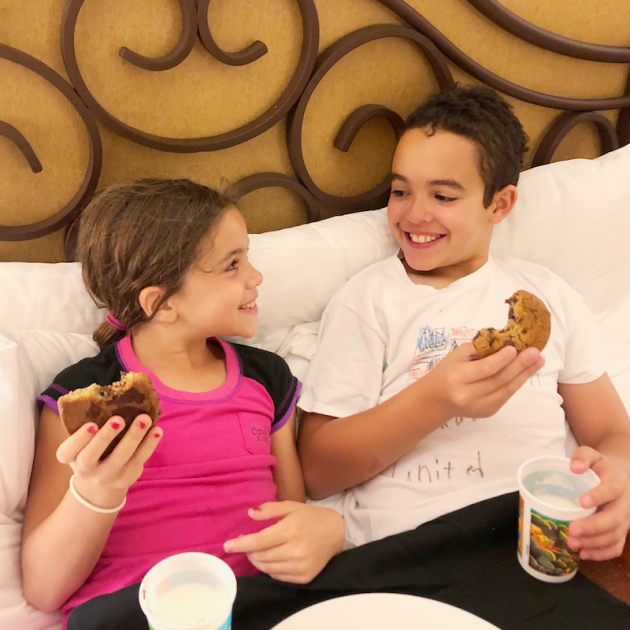 Accommodations
We walked into our adjoining Junior Suites and nearly decided to stay put our entire stay. These newly renovated rooms offer ample space to relax and include a separate living area and a private patio with views of either the property's citrus or rose gardens. The Junior Suite is available in one king bed or two queen beds and is ideal for mid-size families like ours.
If you prefer more space, consider booking a Villa Suite, which offers a private entrance and a garden adjacent to the Miramonte Pool. The expansive space includes a king bedroom, a living area with a sofa bed, a dining table that can seat four, and a private terrace with whirlpool.
The Miramonte Suite is the largest room available and features an apartment-style layout. The suite includes a king bedroom, a living area with sofa bed, a dining table that can seat eight, a wet bar, and a private balcony.

Miramonte Resort Amenities
Travel should be an escape from day-to-day life and all of its busyness. Where we stay is important and has the potential to affect our entire trip. As a working parent, there are several things I look for when booking a stay at a resort. Location and amenities are integral to that decision, and typically I prefer that a resort include some family-friendly activities.
Miramonte offers standard amenities like room service, complimentary wi-fi (essential!) an award-winning spa, wellness programs at their 24-hour fitness center, three on-site pools, board/lawn games, bike rentals, valet and self parking, and two on-site restaurants.  Additionally, the resort offers pet-friendly accommodations and provides guests access to Indian Wells Golf Resort. Indian Wells is highly sought out for their pristine golf courses, so providing access along with golf concierge and golf bag storage is compelling.
*It should be noted that the resort charges a daily fee to cover the above amenities.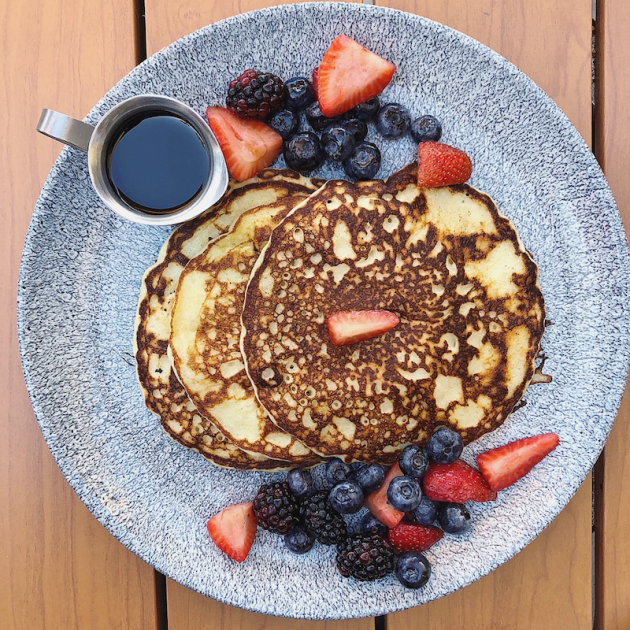 Dining at Miramonte Resort
The importance of your resort having an on-site restaurant becomes vital when you've just arrived after a lengthy drive across the desert and your kids are hangry! Miramonte has two on-site restaurants including the new farm-to-table restaurant Citrus & Palm and the Tavern Bar.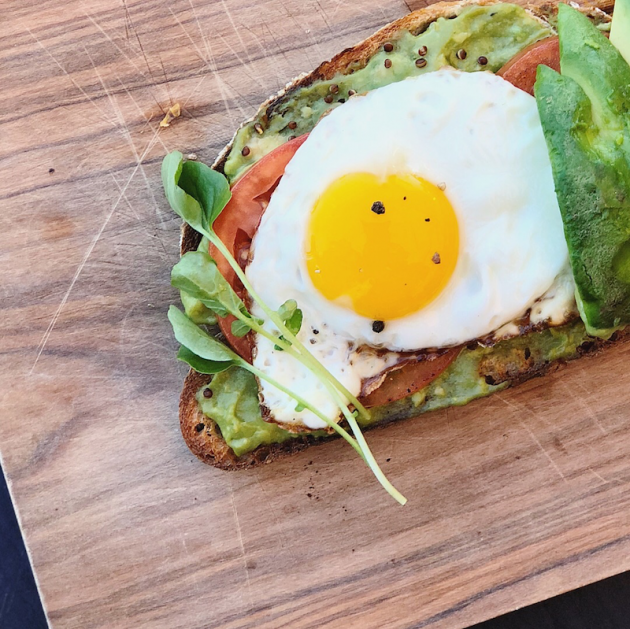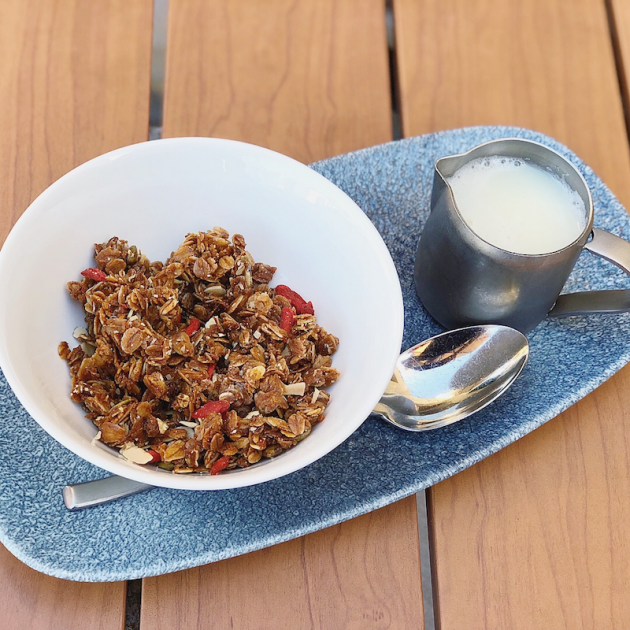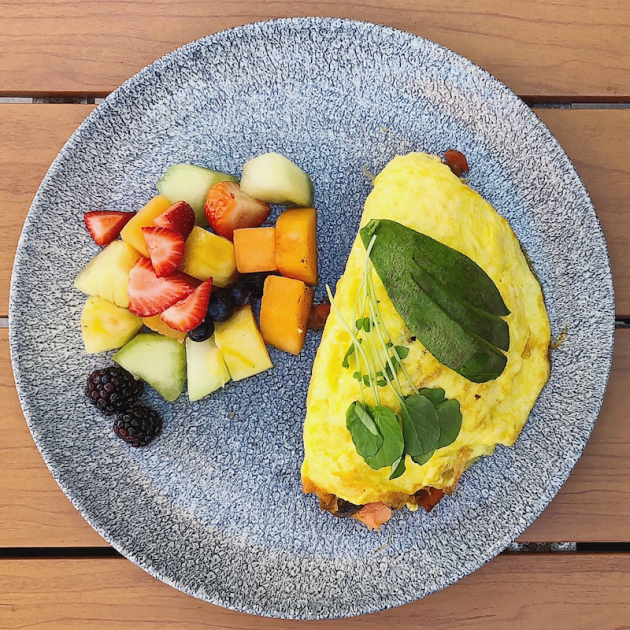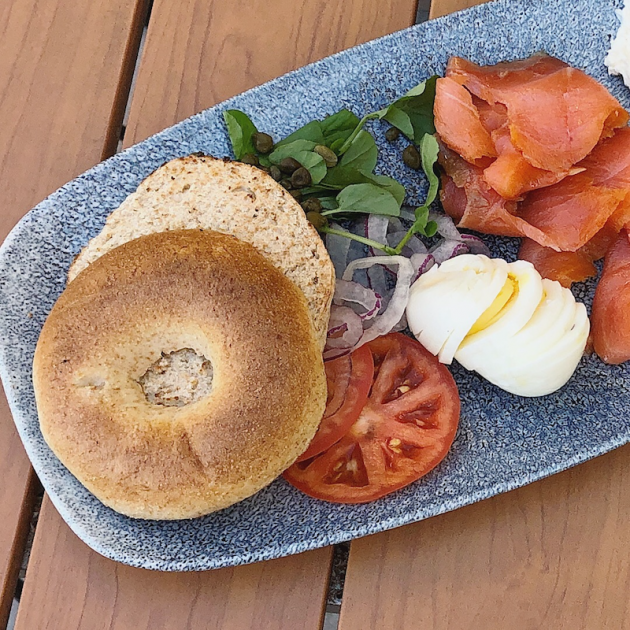 Citrus & Palm
Executive Chef Paul Hancock heads up the new restaurant, which elevates the farm-to-fork experience. The restaurant offers breakfast, lunch, and dinner and features seasonal menus with locally-sourced ingredients. The property has an on-site garden where Hancock grows herbs, citrus, olives, and other ingredients used in his dishes.
We enjoyed breakfast at Citrus & Palm and loved the gourmet menu items like Lemon Ricotta Pancakes and Red Quinoa and Oats. Their kids' menu is superb with items like avocado toast, for kids with diverse palates like my own.
Tavern Bar
If you are looking for a quick meal or something light, the Tavern Bar is ideal. Chef Hancock serves up cauliflower ceviche tostadas and blue fin tuna poke which can be enjoyed with hand-crafted cocktails. Every Saturday, the bar features live music.

Family-Friendly Activities at Miramonte Resort
Lawn Sports
I have vacationed with full itineraries and absolutely nothing scheduled. I prefer somewhere in the middle, where I have time to relax and still explore the resort we are staying at and the surrounding area. Miramonte offers a spacious lawn with outdoor games like Cornhole, Ladder ball, Giant Jenga, Giant Tic Tac Toe, and Bocce Ball for families to enjoy together. I recommend playing in the early morning or late evening when the temperatures are cooler.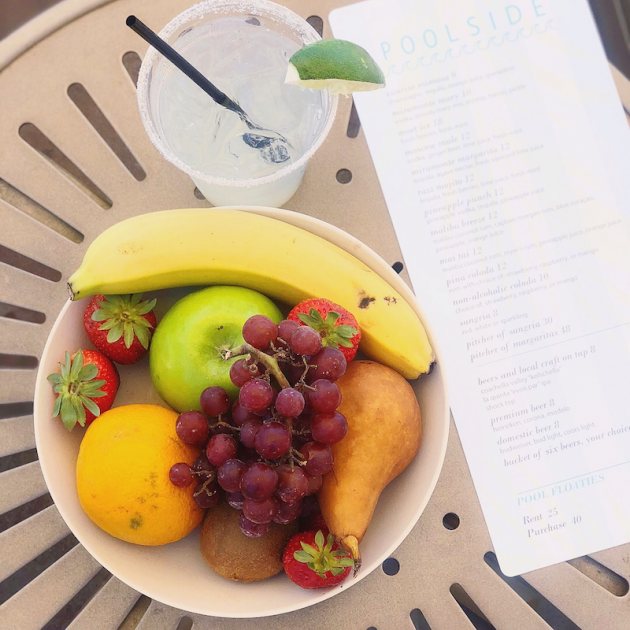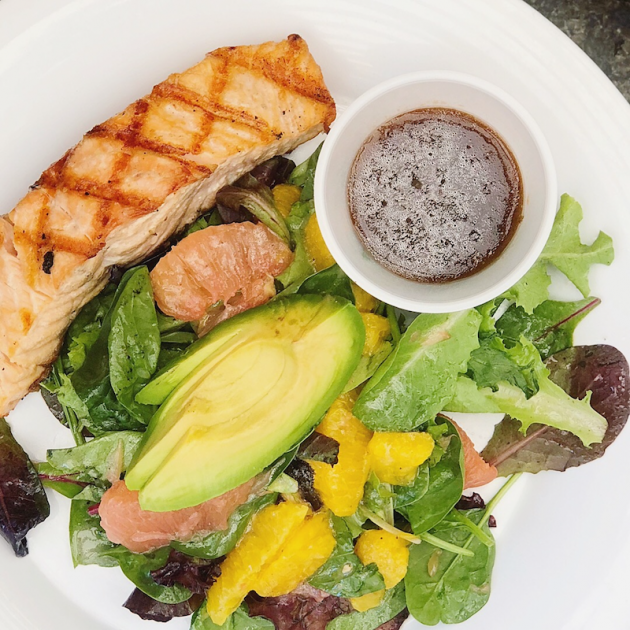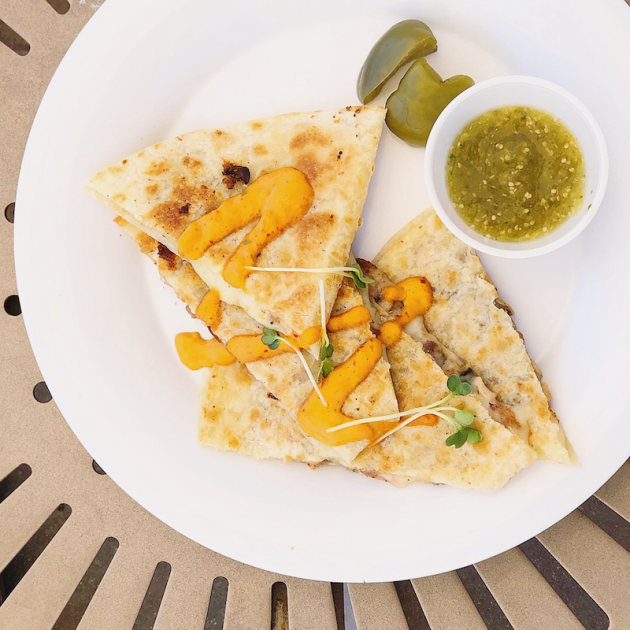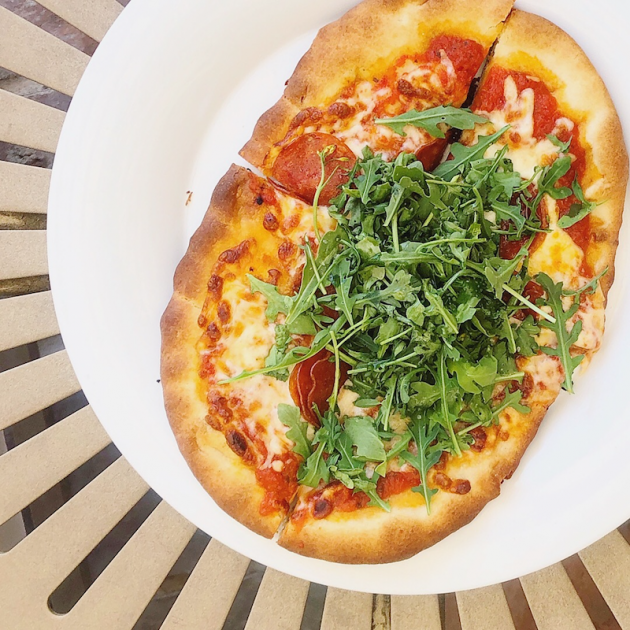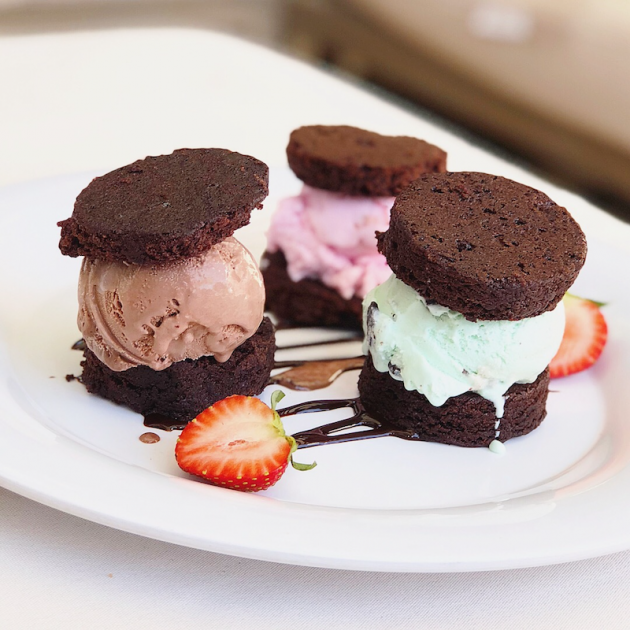 Miramonte Pools and Cabanas
We spent a good majority of our time at the pool during our stay at Miramonte. The pools are open until 11 pm, so enjoy a late night swim since the temperatures are still warm enough in the area.
Each of the three pools offer poolside food and drink service, and cabanas are available for rent. The Miramonte Pool is the largest and offers stunning mountain views and a large heated whirlpool. The Hideaway Pool is quieter and less trafficked and includes sun decks and a heated whirlpool. The Aqua Well Pool is located in the private courtyard of The Well Spa and is a cool water pool set at 82 degrees. The River Bench is also located inside the courtyard and is set at 102 degrees, offering privacy and relaxation. The two pools located at the Well Spa are only available to spa guests, however, a day pass to the spa can be purchased for $30.
The best way to enjoy your time poolside is to rent a cabana. Chairs and umbrellas provide shade, but the cabana includes a refrigerator stocked with drinks, a seasonal fruit tray, a charcuterie plate, and a complimentary pitcher of margaritas or sangria. The daily rental also includes a $50 credit for additional food and beverages.
Cabana Pricing is as follows:
Friday-Sunday | $225/day
Monday-Thursday | $175/day
Cabana Rental Hours | 7am-5pm
Starlight Sip & Swim
Friday-Saturday | $100/night
Includes $50 food and drink credit
Cabana Rental Hours | 7pm – 11pm

Summer Events and Activities at Miramonte
From Happy Hour and live entertainment to Taco Tuesdays and Wine Down Wednesdays, there is something for everyone to do at Miramonte!  Here is a list of their current summer events and activities:
Happy Hour at Citrus & Palm Tavern Monday
Friday 2 – 6 pm
Live Entertainment at Citrus & Palm Tavern
Saturdays 6 – 10 pm through July, Trio NV performing
Fridays 5 – 9 pm starting in August
Starlight Sip & Swim
Every Friday and Saturday 7 – 11 pm
$100 cabana Rentals, new poolside menu and cocktails!
Reserve and receive a $50 food and drink credit with cabana rental!
Tequila and Tacos Tuesdays 4 – 7 pm
Tuesdays 4 – 7 pm
$2 tacos, $5 house margarita, tequila flights available
Wine Down Wednesdays
1/2 price on all bottles of wine
Bubbly and Bites Thursdays 4 – 7 pm
Thursdays 4 – 7 pm
Champagne and berry bar with assorted champagnes
Champagne flights available
Tapas from $5-$7

Indian Wells Family Vacation Itinerary
Looking for family-friendly activities in Palm Springs? I put together a simple list of things to do with kids in Palm Springs.
Start the day with breakfast at Citrus & Palm
Enjoy the 360-degree view from 8516 feet aboard the Palm Springs Aerial Tramway
Stroll through the deserts of the world at the Living Desert Zoo & Botanical Gardens. Plus, you can feed the giraffes!
OR
Make a splash at Wet 'n Wild!
End the day with a night swim during Miramonte's Starlight Sip and Swim!

Miramonte Special Offers
Through the summer, Miramonte is offering an incredible deal on weekend getaways!
Through August 31, 2018, you can purchase one room and get the second room for half-off. Plus kids eat free during the summer!
For additional information or to book this offer, visit MiramonteResort.com/offers.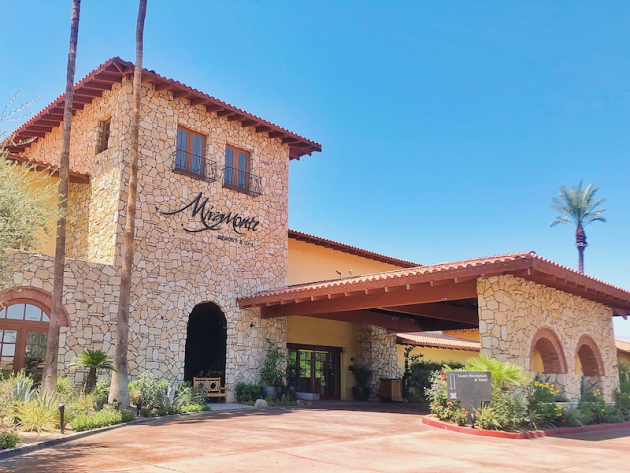 Miramonte Indian Wells Resort & Spa Location
Miramonte is located at:
45000 Indian Wells Lane
Indian Wells, CA 92210