After the transformation my body underwent, I'm left with the reality that my clothes don't and likely won't ever fit me as they once did.  While I've managed to lose a good amount of my weight from this past pregnancy, I still have baby weight from my first (a combined total of 35 pounds to be exact).  So while I'm trying to decide what to do about the current state of my closet, I primarily live in a single pair of jeans. And that is because they're the only ones that fit.
I live in jeans.  I dress them up or down depending on the occasion.  I wear them to Disneyland with my son and evenings out with my husband.  But the finding the right jeans…jeans that fit my body…is difficult.  Low-rise jeans embellish my belly and most are too long (I'm only 4′ 11″).
Last year, my friend and co-editor Andrea, introduced me to Miraclebody, a collection of jeans, tops and control fashion apparel from the makers of Miraclesuit (who just happen to design control swimwear).  The company claims that their apparel (and their swimwear) will help you look 10 pounds lighter in 10 seconds (um…sign me up please!).  Their jeans, in particular, are made with twice the spandex of ordinary jeans (who knew that jeans were made with spandex?) to slim your thighs and lift your derrière. The jeans were designed with a canvas front control panel made from Miratex to flatten and control the tummy.
The question remains…did they make me look thinner?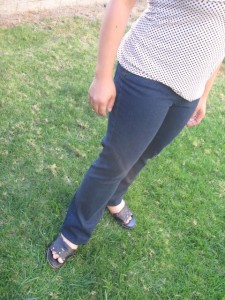 I'm not wearing any shapewear and my belly looks relatively flat!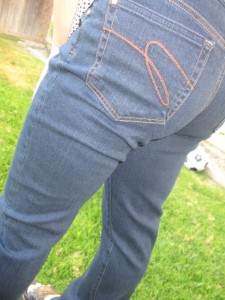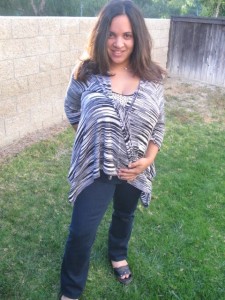 I am wearing their Samantha Boot Cut jeans (ARV $110) and I really like the way they fit.  They're not uncomfortable, as might be expected when a product uses the word "shaping" in it's description.  The only thing I will say is that they're too long (but most of the time I have to alter the length of my jeans), so you might notice a bit of bunching throughout the leg area. They do slim throughout the waist and legs and my baby weight is barely noticeable.
The boot cut style offers a bit of flair to create a balanced look and the jeans sit on the hips to create curves.  They are also made higher in the back to prevent the great reveal while bending over to pick up your kids.  And you see that cute embroidered design on the backside?  It's designed to create the illusion of a slimmer derrière.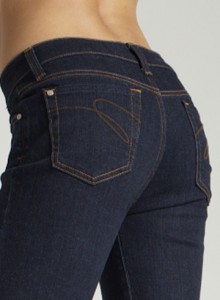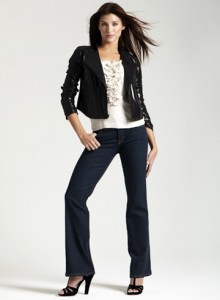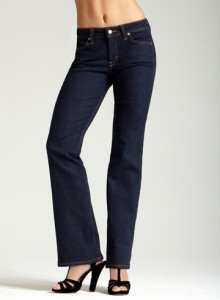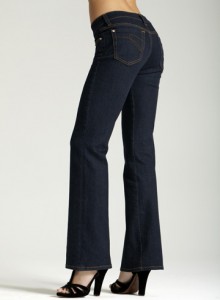 Miraclebody offers jeans in a variety of washes and styles to fit you.  Head on over to find your perfect fit.
No compensation was received for this post.  A pair of jeans was provided by the company for this review.
Latest posts by Caryn Bailey
(see all)