This giveaway is now closed.  Thanks for stopping by.  The winner is Candie L.  Congratulations!
Another morning in the Bailey household, and of course, I'm late. And I need to make breakfast for my son…who's alternating between saying eat, eat and out, out. And did I mention I turned off the TV for the third time and I think it's just a losing battle. So yes, I let my son watch TV while I make breakfast.

I try really hard to watch with him so that we can talk about what's happening. I try to make watching television an interactive activity. I was watching Noggin (which is like preschool on TV so it's totally ok, right?) and I saw a music video by a band called Milkshake,which was so interesting because I had been sent a CD/DVD and comic book to review just a few days prior. Well, watching that video inspired me to open the CD and put it on in the car since we have a ton of time driving back and forth to grandma and grandpa's house in LA. I popped in the CD and thought, this is music that might be played on a kid's radio station like Radio Disney. It's upbeat with catchy lyrics. I wanted to get up and dance…but since I was driving I resorted to just snapping my fingers and bobbing my head…seriously!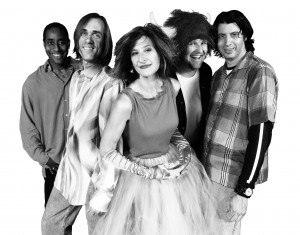 The title of the CD says it all…Play! Isn't that what kids do best? This CD is "a celebration of every kid's desire to just have fun." The songs are about baseball and bowling, pirates and pretending, and having a really good time! Drawing inspiration from Rodgers and Hammerstein and Lennon-McCartney, Milkshake is a band on "a mission…to create great rock music for kids."
The band has recently gained popularity and their songs were added to radio playlists across the country. They have appeared on Noggin, PBS Kids, and Discovery Kids ToddWorld. Children love music…they love to sing and dance and move and groove. Why not get them moving with a little inspiration from Milkshake?
If you want to see Milkshake live in your area, check out the site. Oh…and be sure to check out their Facebook page. Because it's fun…and Facebook is the new MySpace…and…
Win It! One of you will win a copy of Milkshake's latest CD entitled Play, Screen Play, a DVD of favorite videos (and behind the scenes interviews with the band), and a comic book. Head on over to the site and listen to some of their music. Come back here and leave me a comment with your favorite song. Comments will close on March 6, 2009 at 10 PM PST.  One comment per person, please. US residents only. Duplicates and comments not including the above information will be disqualified. Comments are moderated. If you don't see your comment in a reasonable amount of time, send me an email. Bloggers and non-bloggers may enter. If you don't want to leave your email address, please be sure to check back for my announcement on the winner. Please note that winners must respond within 48 hours of being announced/contacted or another winner will be drawn.
Want an extra entry? Do any or all of the following and receive an extra entry for each one.
Be sure to leave me a separate comment for each additional entry.
Follow me on Twitter AND tweet about the contest.
Subscribe to my feed via email or reader.
Blog about this giveaway. It doesn't have to be a separate post. Just include a blurb about it when you blog about other giveaways.
Place my button on your site. If you have difficulty, please let me know.
Click on one of the very cute buttons below and digg, stumble, fav, etc. Just let me know what you did in the comments!
Be sure to check out the Potty Party…going on right now!
Latest posts by Caryn Bailey
(see all)