{Sponsored}
As I continue to get adventurous in the kitchen, I realize that there is one type of cooking I've not delved into much. Last year we bought a grill in an effort to find new ways to create exciting, healthy dishes.  Admittedly, I've been a bit intimidated, but thanks to some inspiration we gleaned last year from Robyn Lindars (aka Grill Grrrl), I started attempting a few meals, mostly during the warm Summer months when I don't want to heat up the house with our range.  Not only are the foods more flavorable off the grill, they are often cooked in a shorter amount of time using less unhealthy ingredients like fats and oils.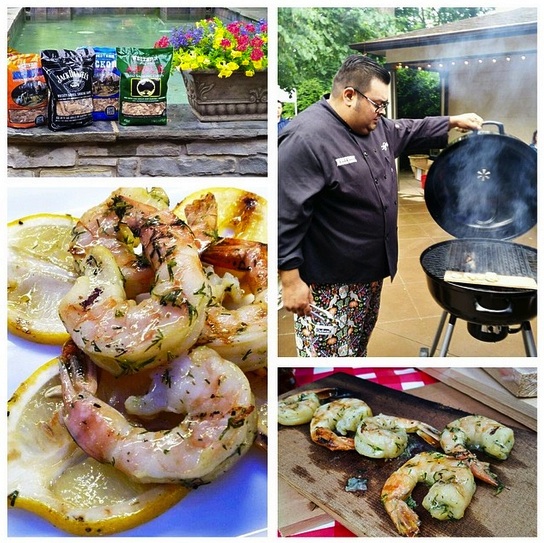 During our visit with Walmart in Bentonville, I was inspired and challenged once again to get my grill on.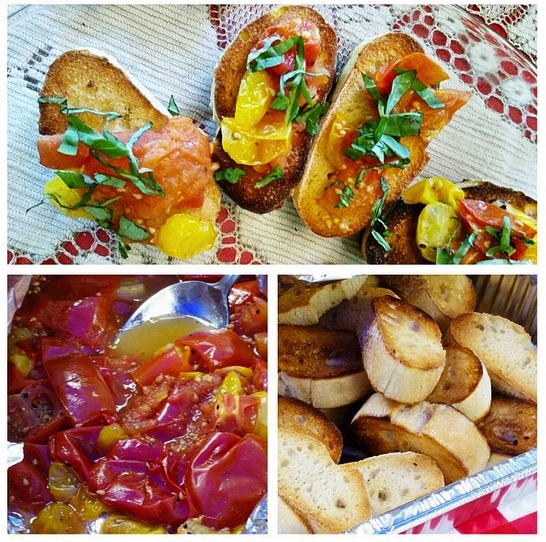 Chef Ernest Servantes and the representatives from Kingsford and Western demonstrated some easy, mouthwatering dishes including Cedar Plank-Grilled Shrimp and Grilled Heirloom Tomato Bruschetta.  Also served up that afternoon was a grilled potato salad and grilled peaches!
Inspired by his grilled peaches, I decided to grill a mango along with some fresh vegetables and fresh organic chicken I picked up at my local Walmart for a fun, flavorful, kid-friendly meal.  This Mango Chicken Skewers Recipe is easy to prepare and put together, particularly if you marinade the chicken the night before (this will also help the chicken absorb all of those delicious flavors!).

Mango Chicken Skewers Recipe
Ingredients
Marinade:

2

Organic

boneless, skinless chicken breasts

1/2

Mango

diced

1

large garlic clove

minced

1

tsp

of fresh ginger

minced

Juice of 1/2 lime

1

Tbs

dark honey

1

Tbs

Champagne Vinegar

Dash of salt

Mango Chicken Skewers:

Cubed mango

Freshly cut/cubed vegetables including red onion

red, green, bell pepper , zucchini
Instructions
Using a stick blender, puree mango with garlic and ginger

Mix in lime juice, honey, vinegar and salt

Marinate chicken breasts 4 hours or overnight

Heat and prepare grill, lining the edges with foil so as not to burn the wooden skewer sticks

Place chicken, mango, and vegetables on skewers, alternating between the meat, fruit, and vegetables

Arrange skewers on the grill and cook thoroughly, approximately 4-5 minutes per side

Serve immediately
My kids LOVED this recipe, and with Labor Day just around the corner, this is a great dish to serve for family gatherings.
This recipe is incredibly kid-friendly and easy to prepare with a very quick cook/grill time.  Skewer recipes are also a great last-minute meal because you could substitute any fruit/vegetable you have in your refrigerator.  Now that I've prepared these several times, I thought I'd share some tips:
Marinate the chicken AND the mangos overnight. This will really allow for the chicken to absorb the flavors in the marinade.
Have all of your vegetables/fruit chopped and ready because these cook relatively quickly
While grilling, err on the side of caution and turn at least twice during cooking so they char but don't burn
If you have leftover vegetables like we did, place them in aluminum foil, drizzle with olive oil/season with salt/pepper, and grill them
Just like any culinary skill, grilling takes practice and some experimentation.  I also found Chef Ernest tips to be valuable.  Here are his best grilling tips:
1. Want to create a nonstick grilling surface while cleaning your grill without harsh chemicals?  Cut an onion in half and rub it over the grill grates after your grill is hot.
2. Wondering if your grill is hot and ready to cook your food?  Hold your hand over the grill for 3 seconds.  If you have to pull your had away, it is ready!
3. Contrary to what you may have heard or read, Chef Ernest advises against soaking cedar planks or wood chips before grilling as you may lose out on the amazing flavor they add to foods. Be sure to keep the grill on "low" so the food absorbs the flavor.
Looking for additional ideas for celebrating Labor Day?  Check out these crafts and recipes from my fellow Walmart Moms:

Latest posts by Caryn Bailey
(see all)