In just one month, we will officially ring in Summer, along with the start of a season filled with beach days, park days, and trips to our favorite amusement parks and water parks.  With all of the water activities we have planned, I have come to realize that wearing a swimsuit is inevitable. Truth be told, there were years where I refused to put on a swimsuit, let alone be photographed in one. Even today, I am my biggest critic, and there are areas I would love to keep working on. But someone once told me that it is more important for me to be swimming and playing with my kids in the water than to be unnecessarily preoccupied with my body. "The days are long but the years are short…" As imperfect as it is, it is still the body that carried and birthed two beautiful babies and today I celebrate that fact!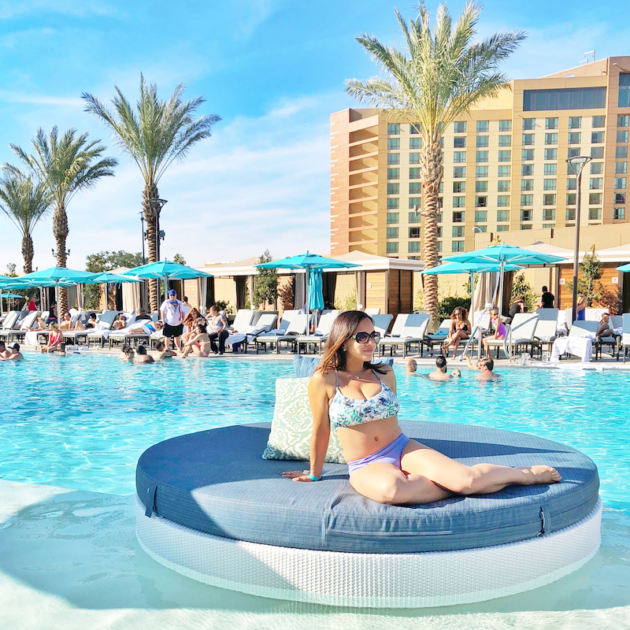 PrAna Swimwear
If you are looking for a swimsuit, prAna has you covered…literally.  I have never enjoyed swimsuit shopping.  Like most women, I'm self-conscious about showing that much of my body to complete strangers. But, I enjoy the beach and the pool and making memories at our favorite water parks with my family, so a stylish, functional swimsuit is essential. The active bathing suits and bikinis by prAna are designed to stay in place during all of your aquatic adventures.  prAna's swimwear is on-trend and designed to accentuate while providing modest coverage.
After undergoing a tummy tuck, I vowed not to hide behind baggy clothes and unflattering swimsuits. But, it was not easy for me to go from wearing a one-piece suit with board shorts to a two-piece bikini. I opted for a modest two-piece suit from prAna which includes the Merrow Top in White Bali paired with the Ramba Bottom in Wildflower Purple. I absolutely LOVE the ability to mix and match the tops and bottoms, particularly because my bra size varies considerably from my panty size.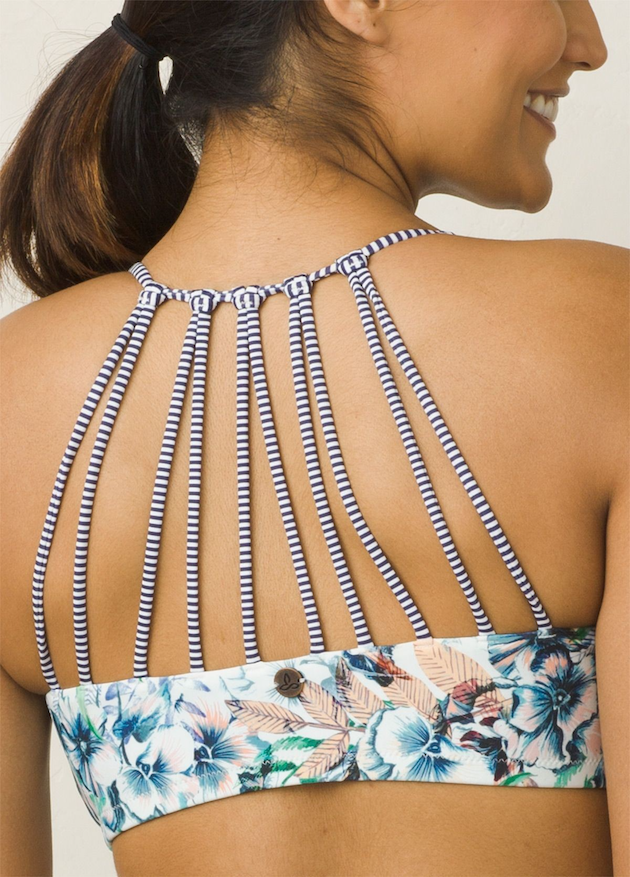 I chose the Merrow Top in White Bali because it is modest, but flattering. I am busty, which means that I cannot wear certain bikini tops. This top, available in 8 prints/colors, features a scoop neck with a wide elastic underbust band and an adjustable neck strap. The top is fully lined with removable cups and offers moderate support and coverage. The scooped neckline and multi-strap detail on the back are stylish and flattering and designed to make a splash this summer.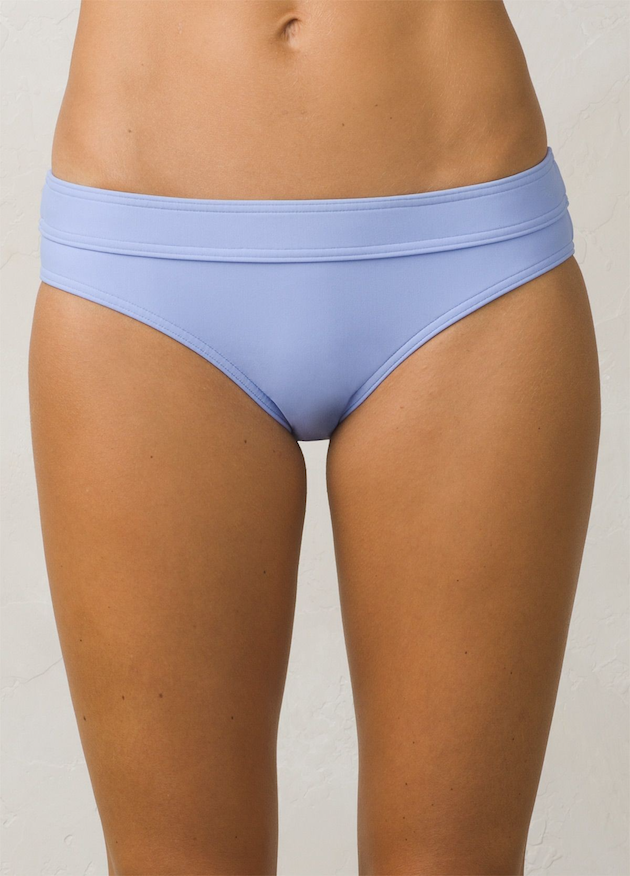 prAna currently offers a variety of swimsuit bottoms to complement their bikini and tankini tops. You can choose from a bikini or hipster bottom, depending on the coverage and style you prefer. I opted for the Ramba Bottom in Wildflower Purple to match the purple accents in the Merrow Top. The bottom sits mid-rise and features a standard leg cut, full seat coverage, and a wide, elasticized waistband. The bottom provides full coverage while still offering a very flattering fit.
For years, I wore the wrong size swimsuit. Saggy bottoms, too much cleavage, muffin top, and inadequate derriere coverage were just some of the challenges I faced. Fortunately, swimsuit design has changed in the last several years. prAna offers high performance fabrics (including 100% organic cotton), a wide ranges of sizes and suits to flatter every body type including mix and match, one-piece, tankinis, and bikinis. Large-busted women can opt for D-cup swimsuit tops.
Additionally, prAna offers swim tights, board shorts, body suits, sun tops, sarongs, and more.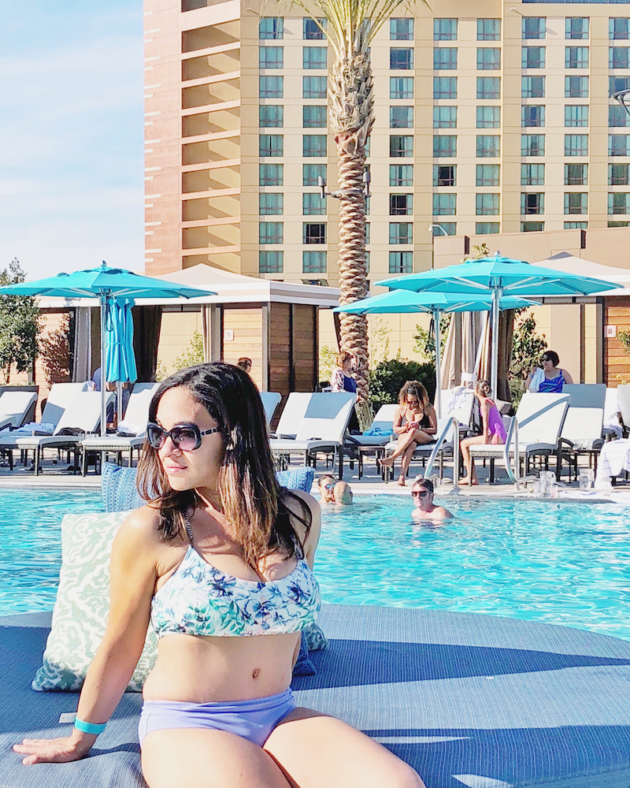 5 Tips for Finding the Perfect Swimsuit
Choose a swimsuit that fits in with your activity level. Opt for a suit that allows the freedom to swim, paddle, and more without getting in the way.
Identify your must-have performance attributes. Once you have identified the swimsuit that best fits your lifestyle, think about performance essentials. Some of the features you might want to consider include UPF ratings, moisture-wicking fabrics, quick-dry fabrics, and fabrics that stretch.
Determine the type of coverage you want. Do you prefer full, moderate, or cheeky seat coverage?  Is your style low, mid, classic, or high-rise swimsuit bottoms? Is a standard fit sufficient or do you prefer a hipster or boyshort fit? Remember that wide waistbands create the most flattering fit.
Consider your preferred swim top shape. If you prefer full coverage, you might opt for a high-neck halter top or a tankini. Opt for a bikini top if you are not overly concerned about coverage.
Invest in a fully adjustable swimsuit. Since every woman varies when it comes to shape and size, an adjustable swimsuit will ensure that the ties and straps are comfortable and offer the most flattering fit. Removable cups can also help customize the fit of your swim top.
prAna Discount
Right now, you can save 15% off your online purchases with this prAna discount code TRCBS18.