Every time we take a trip, my kids ask about the hotel. It's the small things that matter, like whether or not they'll get their "own room", if we'll get a basket of fruit or chocolate upon arrival, how big the pool is or if we'll have a view. My kids are generally easy to please and they've never met a hotel they didn't like. But when we stepped inside the LEGOLAND Hotel in Carlsbad that Spring day with its Disco elevator, separate sleeping quarters, and special LEGO treasure hunt, the bar was set really high.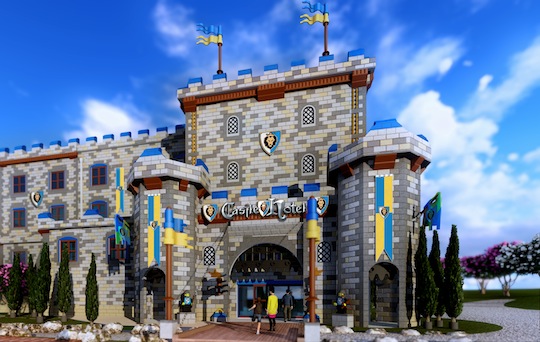 I waited until we arrived at LEGOLAND California Resort to share the news with my kids about the new LEGOLAND Castle Hotel. We watched and imagined what the LEGOLAND Hotel would be like in the months leading up to its opening and my kids are currently doing the same thing. Since LEGOLAND broke ground on the new hotel this winter, guests can take a peek at the construction site through the windows set up.
LEGOLAND Castle Hotel – Brick and Mortal Lego Fun!
Slated to open in the Spring of 2018, the LEGOLAND Castle Hotel will welcome immerse princes and princesses in a castle experience from the moment they enter the hotel. With just one year until the opening, here are 10 Things To Know About the LEGOLAND Castle Hotel.
The LEGOLAND Castle Hotel will feature 250 premium themed rooms, including 20 suites.
Guests entering the grand hall will be met by a LEGO wizard before taking a magical levitating lift (elevator) to one of 3 floors.
The hotel will feature 3 room types including Knight Rooms, Princess Rooms, and Wizard Rooms. The Knight rooms will include dragons and knights as they prepare to go into battle to defend the king's castle and protect the king's treasure. The Princess rooms will include LEGO woodland animals such as butterflies, squirrels, owls, and song birds. The Wizard rooms will help guests discover how magic is used to protect the king's treasure with the use of giggling potions and spells.
Each room type will feature LEGO models specific to its theme.
The lobby of the LEGOLAND Castle Hotel will include a slide for kids.
Each children's sleeping area will feature LEGO building stations.
The courtyard will include interactive play elements.
The pool will include interactive water play features.
Guests will be entertained by LEGOLAND characters.
The royal restaurant will welcome guests for sit-down meals.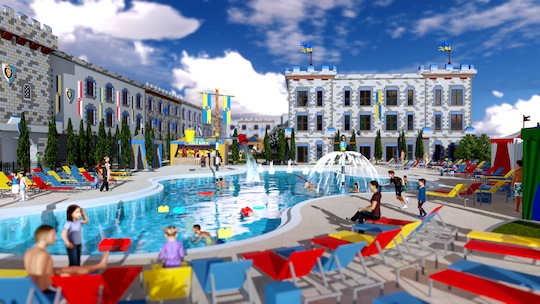 Keep up to date with the latest surrounding the opening of the new LEGOLAND Castle Hotel by following LEGOLAND California on Twitter, Facebook and Instagram.
Images: LEGOLAND California Resort