{Sponsored}
After a half day of cooking and prepping for Thanksgiving, I look forward to a few days out of the kitchen. The reward for a grand, multi-course meal are the leftovers that make for an easy lunch or dinner in the midst of spending time with family or shopping the Black Friday weekend sales.  Traditionally, our family has used the turkey to make sandwiches, but I thought I'd elevate the traditional turkey sandwich into something a bit more gourmet.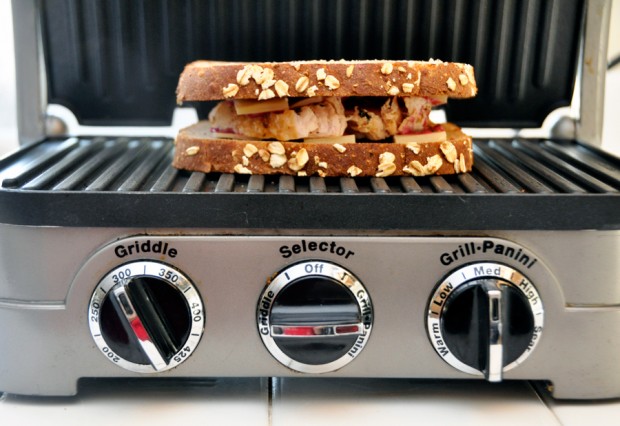 One of my favorite ways to enjoy a sandwich is to press it the way the Italians do! There is something warm and comforting about a toasted sandwich filled with melted cheese and my favorite fillings, so today I'm sharing my recipe for a Leftover Turkey, Gruyere, and Cranberry Aioli Panini.  Pair it with any salad or sides you may have leftover and you have an exciting new meal that you don't have to spend a lot of time or effort on.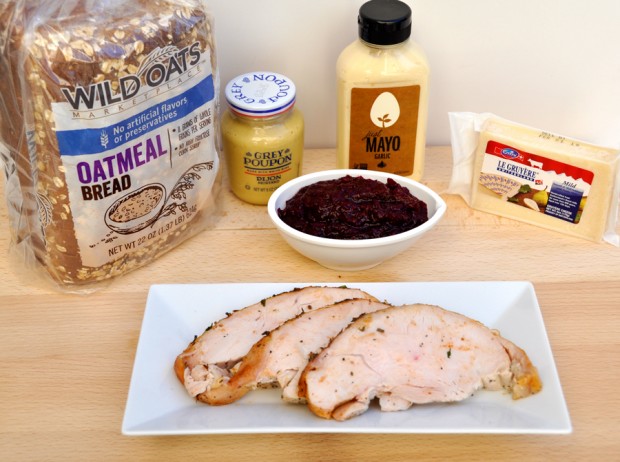 Everything you'll need for this recipe can be found in the grocery section at your local Walmart, but I encourage you to simply use what you have from your Thanksgiving meal and only add the ingredients you really need. I have to mention that two of my latest finds at Walmart include artisan gruyere cheese and Just Mayo, both of which are made from simple, natural ingredients. Plus, if you're looking for sliced bread that doesn't contain artificial ingredients or preservatives, Walmart now carries Wild Oats Marketplace bread!  They have exciting varieties like Oatmeal which I picked up for these Paninis.

Leftover Turkey, Gruyere, and Cranberry Aioli Panini
Ingredients
2

slices

Wild Oats Marketplace Oatmeal Bread

1-2

thick slices of leftover turkey

2

slices

of Gruyere

1-2

teaspoons

of Cranberry Aioli

Cranberry Aioli:

1/4

cup

homemade cranberry sauce

1/4

cup

Just Mayo Garlic

1

tsp

Dijon Mustard

to taste
Instructions
Preheat an electric panini maker (I set mine to medium)

Brush one side of each slice of bread with softened butter

Lay the slices with the buttered side down and layer one slice with Gruyere, cranberry aioli and turkey

Top the sandwich with the other slice of bread

Cook the sandwich on the preheated panini maker approximately 3-5minutes or until cheese has melted and the bread is golden brown

Cut in half and serve immediately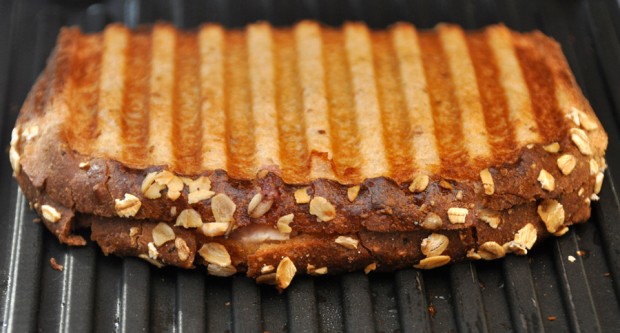 This sandwich is absolutely delightful and you and the guests who enjoy it will never know that it's made with your Thanksgiving leftovers.  The combination of sweet and savory flavors works well with the turkey and the melted gruyere cheese is divine. If you've yet to invest in a Panini Maker, this weekend might be the perfect time to grab one at your local Walmart (they start as low as $23 for a press from Hamilton Beach).  It's amazing how toasting a sandwich can transform it and this is my favorite way to enjoy artisan bread and fillings.
For more creative ways to use your Thanksgiving Leftovers, check out these recipes from my fellow Walmart Moms:
5 Ways to Use Leftover Collard Greens
Rellenos de Papa con Tocineta y Queso 

Latest posts by Caryn Bailey
(see all)