This giveaway is now closed. Thanks for stopping by. The winner is Randall C. Congrats!
I started reading to my son when he was an infant. I honestly don't remember how many weeks old he was, but I do remember that I waited until the pain of the c section and the haze of sleeplessness lifted. "Read and start early." That is the advice I was given. When wiser, seasoned parents gave me this advice, I dared not stray from it. However, I remember questioning myself numerous times as I sat reading to my infant. Had I really gone over the deep end? Was my infant really getting anything out of my reading to him? He just turned two and not only is his speech highly developed (particularly for a boy), he loves to sit with me while I read to him. One of the things we love to do is take turns filling in words to the books we read over and over again. I realize that right now he's reciting these words from memory. But one day…he'll actually be able to read them.
Last Christmas, LeapFrog's Tag Reading System was one of the THE hottest toys on the market. I remember buying one for my best friend's little girls. I wanted to buy a system for my son but he was (and still is) too young for it. So…I was super excited when I learned the company was coming out with a version for younger tots called the Tag Junior. Designed for children aged 2 to 4, the reading system literally "brings stories to life." My son loves books. I attribute that to the countless hours we've spent reading together.

When this came, we wasted no time previewing it. I was as excited as he was, particularly because I had a glimpse of the Tag system we purchased for my best friend's little girls. The "frog," as my son calls it, is perfectly sized and shaped for a toddler's hands. He figured out how to turn it on and off in minutes. The premise behind the technology is that the Tag reader has a small infrared camera that "reads" words and pictures printed on the special dot-patterned pages of the Tag Junior board books. All my son has to do is "stamp" it on the pages of the book and he hears text read out loud, sound effects, and songs.
The system came with one book (If I Were) and the company also sent us Curious George: Color Fun (which is my son's favorite). It's super easy to set up and simply requires downloading each book's audio (the system is PC and Mac-compatible). The device can hold up to 5 audio books at a time. Apparently we can set the "frog" up to greet my son by name, but we haven't attempted to figure that out yet!
There are 8 books in the Tag Junior series and each one teaches toddlers something different (i.e. colors, senses, alphabet, counting, etc.). It's not often I rave about a product so highly. But we were very impressed. I particularly like the fact that my son can explore on his own or we can do this as a shared activity together. Each book has numerous activities…more so than you think and my son doesn't get "bored" with it. I like that the system incorporates familiar characters like Pooh, Dora, and Curious George (we've already purchased 2 more books). I really hope LeapFrog continues to come out with new books because I can see my little boy playing and discovering books for a very long time.
The Tag Junior retails for $34.99 and you can purchase additional books for $10.99. Amazon.com
always has great deals and I highly recommend checking the site out if you're interested in purchasing the system.
Win It! One of you will win a Tag Reader with books and one of you will win a Tag Junior with books. Just leave a comment with which you'd like if you won and a book you'd like from the site. Comments will close on September 1, 2009 at 10 PM PST. One comment per person, please (unless you do the extra credit). US residents only. Duplicates and comments not including the above information will be disqualified. Comments are moderated. If you don't see your comment in a reasonable amount of time, send me an email. Bloggers and non-bloggers may enter. If you don't want to leave your email address, please be sure to check back for my announcement on the winner. Please note that winners must respond within 48 hours of being announced/contacted or another winner will be drawn.
Want an extra entry? Do any or all of the following and receive an extra entry for each one.
Be sure to leave me a separate comment for each additional entry.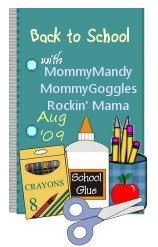 Add the "Back To School" banner to your sidebar and leave me a comment.
Follow me on Twitter AND tweet about the contest. Be sure to use the hashtag #back2school
Enter Tanya and Amanda's giveaways
Subscribe to my feed via email or reader.
Blog about this giveaway. It doesn't have to be a separate post. Just include a blurb about it when you blog about other giveaways.
Click on one of the very cute buttons below and digg, stumble, fav, etc. Just let me know what you did in the comments!