Every year around this time, I see an influx of King Cakes on display at my local grocery store. Their vibrant colored sugars always compel a second glance, but I've never actually purchased or tasted one. From a quick survey, I know that this is the type of dish I prefer to make. The store-bought varieties scream processed ingredients and empty calories. So when a group of friends challenged me to make a King Cake for our Mardi Gras brunch celebration, I happily obliged!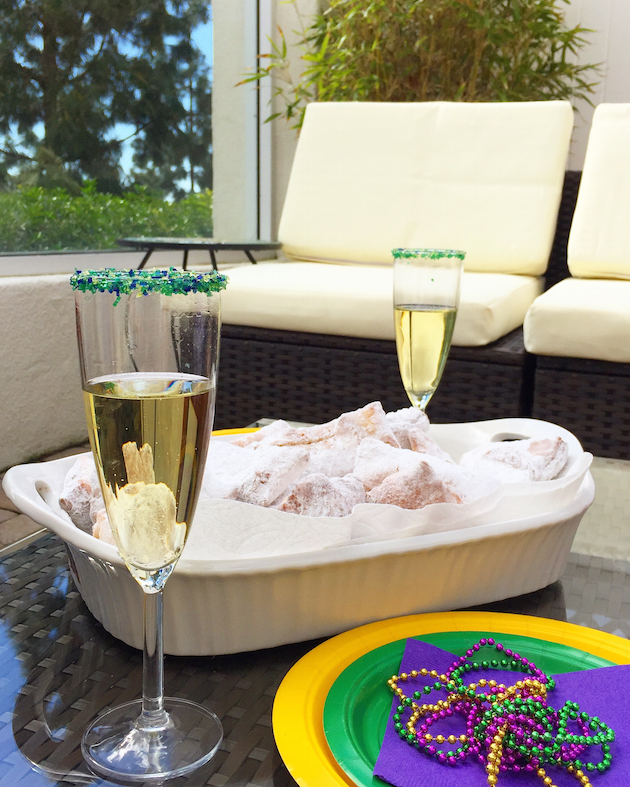 King Cake – The King of Mardi Gras
Mardi Gras (also known as Fat Tuesday), describes the Carnival-style celebrations that begin on or after Three Kings Day (Epiphany) and conclude the day before Ash Wednesday (the first day of Lent). On Fat Tuesday (the day before the beginning of Lent), it is common practice for people to celebrate with all of the rich and indulgent foods that they will soon be giving up for the season leading up to Easter. After perusing a few recipes for King Cake, I know why it's the perfect Mardi Gras dish!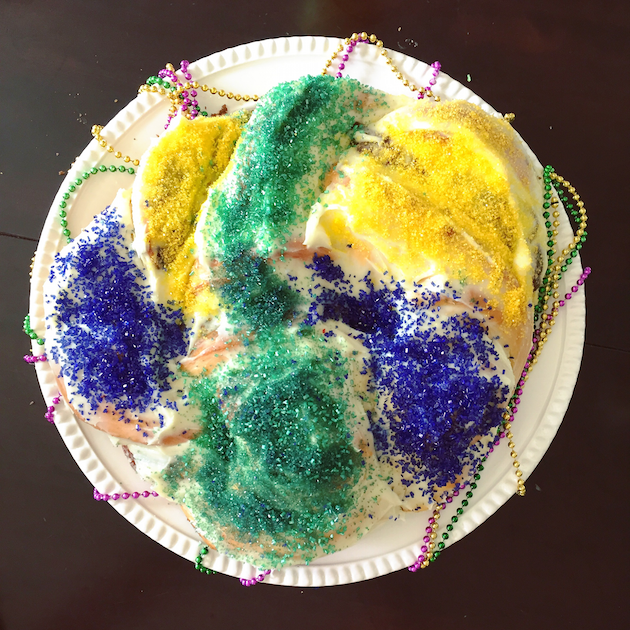 There are a number of king cake variations, with the original just a dry French bread like dough that concealed a bean and was topped with sugar. Today, King Cakes can be made from sweet brioche dough or puff pastry and are often filled and topped with colored sugar. There are various interpretations of the hidden trinket. As long as you don't choke on it, it is assumed to symbolize luck and prosperity.
For our Mardi Gras celebration, I wanted a King Cake that was quick and easy to prepare, tasted good, and looked the part complete with gold, purple and green colored sugars. I found a recipe from Betty Crocker that I adapted and the result was quite impressive. I personally think this King Cake tastes more like a giant cinnamon roll, so I topped it with my personal homemade cream cheese frosting. In two days this GIANT King Cake was gone.
Mardi Gras King Cake
Ingredients
3 1/2 cups all-purpose flour + 1/4 cup all-purpose flour
1 package (2 1/4 teaspoons) Rapid Rise yeast
1 cup milk
1/4 cup sugar
1 teaspoon salt
2 eggs
6 tablespoons unsalted butter, softened, cut into 12 pieces
Cinnamon Filling
2/3 cup packed light brown sugar
1 1/2 teaspoons ground cinnamon
4 tablespoons unsalted butter, softened
Cream Cheese Icing
3/4 cup powdered sugar
8 ounces cream cheese
1 teaspoon vanilla extract
Decoration
Dark green, purple, and gold sugars
Directions
1. Mix 2 1/2 cups flour and yeast in mixing bowl of stand mixer. Using the paddle attachment, mix on low for 30 seconds.
2. Heat milk, sugar, and salt in a small saucepan over medium heat until sugar is dissolved and milk is between 120°F to 130°F.
3. With mixer on low, pour in liquids and mix until incorporated. Add eggs one at a time. Continue mixing until a shaggy dough forms. Clean off paddle and switch to dough hook. Mix in the remaining 1 cup flour a little at a time, adding more or less flour as needed to make a soft dough. Add the softened butter, a piece at a time, kneading until each piece of butter is absorbed.
4. Knead for eight minutes on low. The dough should completely clear the sides of the bowl. If it is too sticky, add additional flour 1 tablespoon at a time, mixing in thoroughly before determining if more flour is needed (I added an extra 1/4 cup). If the dough seems too dry, spritz with water from a spray bottle a couple of times, mixing in thoroughly before determining if more water is needed. Every 2 minutes, stop the machine, scrape the dough off the hook, and then continue kneading.
5. Turn the dough out onto a lightly floured surface and knead a few times by hand to be sure it is smooth and elastic. Form the dough into a ball. Place dough into a greased bowl. Turn once so greased surface is on top. Cover bowl with plastic wrap and refrigerate for 1 hour.
6. While the dough is chilling, make cinnamon filling. In small bowl, combine the brown sugar and ground cinnamon. Combine butter with cinnamon mixture and mix well.
7. Roll the chilled dough into a 10 x 20 inch rectangle. Spread the filling on half of the long side of the dough. Fold the dough in half covering the filling. Pat dough down firmly so the dough will stick together. Cut dough into three long strips. Press the tops of the strips together and braid the strips. Press the ends together at the bottom. Gently stretch the braid so that it measures 20 inches again. Shape it into a circle/oval and press the edges together.
8. Transfer the ring to a parchment lined or greased baking sheet. Cover the dough with plastic wrap and let it rise until doubled, about 1 hour. While the dough is rising, preheat the oven to 350º. Bake the cake until it is golden brown, 20 – 25 minutes (do not over bake). Remove from oven and let cool 10 minutes on baking sheet and then place it on a cooling rack to cool completely before icing.
9. In a small bowl, mix powdered sugar, cream cheese and vanilla until smooth.
10. Spoon icing over top of the cake. Immediately sprinkle on colored sugar, alternating between the three colors.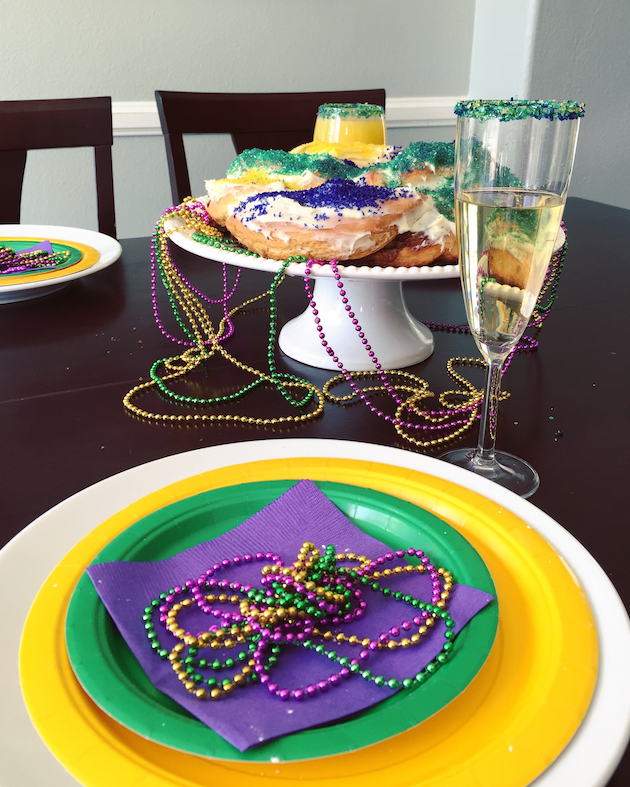 What is your favorite Mardi Gras recipe? I'd love to share them in the comments section below.
Recipe adapted from Betty Crocker