I stay at home with my son 5 days a week and I only wish I could afford to take him to museums, the zoo, and other "fun" places.  It's interesting because I had a conversation with my pediatrician about this very topic. He assured me that as long as we were spending time together playing, etc. he would develop appropriately…even if I didn't take him to those "fun" places all the time.  We are very, very fortunate to live in a safe, family-friendly community filled with well-kept parks, a community center, walking trails/paths, and more.  So the park is the best "free" activity that we can do together and it's within walking distance of our home.  I wish that for every family…a safe playspace for their children that they don't need a car to get to.  More than that, I believe that playspaces should be clean and well-kept so children have a safe place to play.
From Mom Central:

KaBOOM!, a non-profit organization dedicated to finding and creating play spaces within walking distance for every child, has embarked on a nationwide mission to help communities build playspaces.  KaBOOM! believes that play has a purpose and unstructured play in particular helps make children happier, fitter, smarter, more socially adept and creative.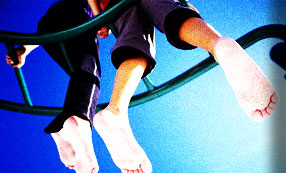 Mom Central has teamed up with KaBOOM! to help map online 100,00 playspaces in 100 days.  A playspace can be a playground, field, skate park, roller hockey rink, lake, dog park, community center, basketball court or ice rink.  The place allow children to engage in unstructured play for free (or a nominal fee).  A playspace listing on the site consists of an address or cross street and a description (a photo and a rating). You can either fill out the form on the site or upload a picture via twitpic.  What a great resource this is going to be for finding playspaces for children when visiting other cities on vacation.
I would recommend that eveyone check out the site and join in this incredible cause.  For every playspace entered into the site's database, Mom Central will donate $1 to Jumpstart, a non-profit organization that brings at-risk preschool children and caring adults together to improve literacy.