No compensation was received for this post.
If you've followed our summer adventures, you've likely seen the importance I've placed on getting my children outside to run, jump, explore, and play together as a family.  With technology competing heavily for my kids' attention, I've had to get very creative about our summer activities, despite the seemingly endless possibilities Orange County affords us.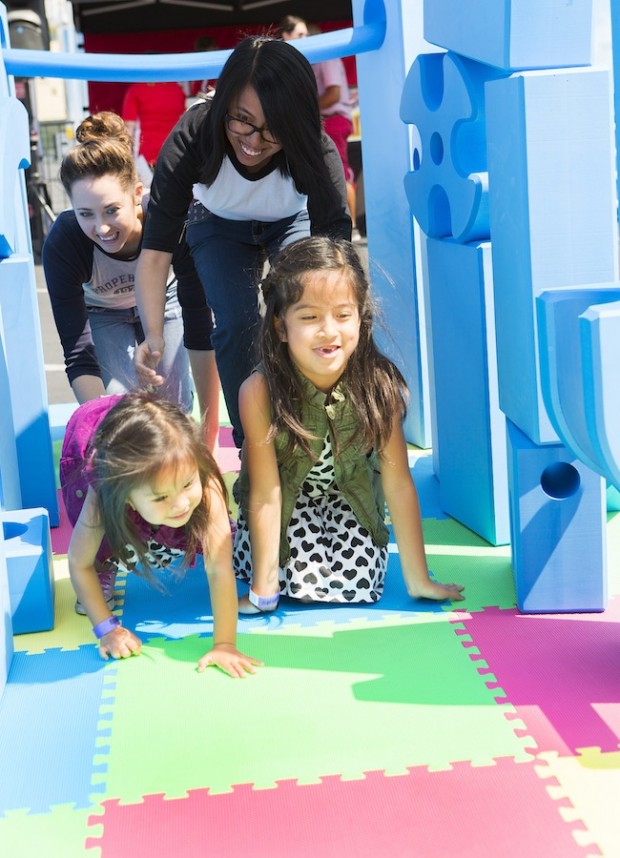 The importance of play amongst children is well-researched and I love that organizations like KaBOOM! have made it their mission to ensure that children (particularly those who are disadvantaged) have access to the type of balanced, active play that is so important to their physical, emotional, and intellectual development.  Since 1996, this incredible non-profit organization has partnered to build, improve, and open more than 15,000 playgrounds across the country.
Recently, KaBOOM! announced its partnership with Disney Parks to launch their Play Together Tour in 6 cities across the country.  The tour begins in Anaheim this weekend, August 16th and 17th, 2014 and is free to the public.  From there, KaBOOM! and Disney Parks will head to Sacramento, San Francisco, Chicago, Atlanta, and Kissimmee to inspire families to play together.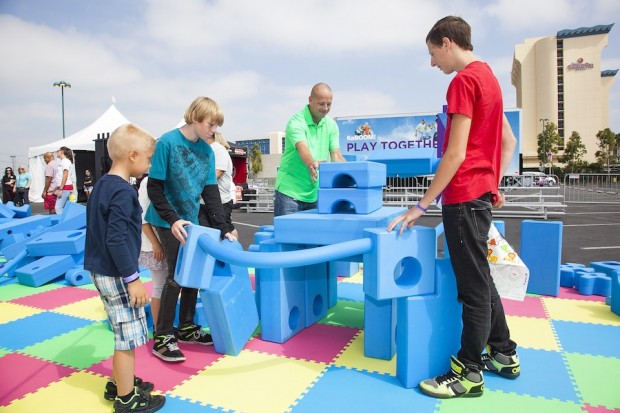 Here is what you can expect from this weekend's Play Together Tour in Anaheim:
What: Events include a playful obstacle course designed by Disney Imagineers.  Families can design their team flags and make their way through games and team-building stations to build tunnels, solve puzzles, and play together. Once completed, be sure to have kids explore the imagination play zone and learn more about family volunteering opportunities.
When: Saturday and Sunday August 16th and 17th, 2014 from 10 am to 4 pm.
Where: Center Street Promenade, Anaheim, California (address?)
Cost: Free
Registration: Simply visit KaBOOM.org/PlayTogether to register in advance.
Play Together Tour Stops
Sacramento – location TBC Wednesday, August 20, 2014
San Francisco – Marina Middle School Saturday/Sunday, August 23-24, 2014
Chicago, Lincoln Park, Grove 2 Saturday/Sunday, August 30-31, 2014
Atlanta, Old 4th Ward Skate Park Saturday/Sunday, September 6-7, 2014
Kissimmee, Mill Run Park Saturday/Sunday, September 13-14, 2014
Earlier this year, Walt Disney Parks & Resorts shared research demonstrating that positive parent-child interaction helps children thrive.  Meaningful time spent together has a powerful influence on a child's success in school and future involvement in their community. Because Disney has been creating places for families to connect and spend time together for nearly 60 years, this partnership with KaBOOM! is a natural fit and aligns with the non-profit's mission to create and actuate great places for children to play, inspire, empower, and lead play advocates, and educate/raise awareness about the importance of play in a child's life.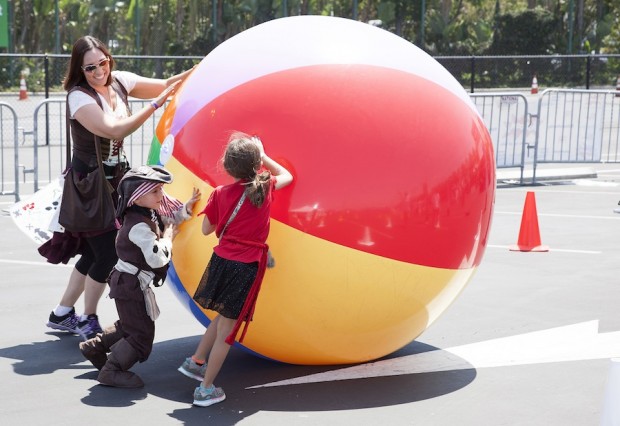 This Saturday, I'll be heading to Anaheim with my kids to spend time together playing!  Won't you join us?
For more information, visit KaBOOM.org or follow the conversation on Facebook and Twitter using the hashtag #PlayMatters and #PlayfulFamily
Images:  Walt Disney Parks & Resorts/KaBOOM!
Latest posts by Caryn Bailey
(see all)