*Extra Extra*
Please be sure to come back and visit this post as it will be updated daily!
In less than six weeks (um…anyone counting?), my husband, son, and I will meet our baby girl.  I CAN'T WAIT!  Today, someone asked me if I was in the "Get the baby out" stage!" of my pregnancy.  I'm almost to that point.  Ask me again in 2 weeks!  : )  
It's finally here…my first online baby shower.  I feel really special to have some amazing friends put on this incredible event!  Thank you Amanda, Kailani, Shannon, and Tanya for taking so much time to make this incredibly special.  And a HUGE thank you to the most amazingly generous sponsors.  This is just one (of many) posts where I get to tell you about some of THE most fabulous maternity and baby companies around.  Because this is our second (despite the fact that she's a girl and we have a little boy at home), we really didn't need much.  I am not one to require that everything be pink and I am definitely using things we have from my son (like his co-sleeper, swing, car seat, and bouncer).  I simply don't see a need to purchase these items new when they're in such excellent shape.  But I digressed.  
For the ENTIRE month of December (or until this baby is born…hehe) I will be providing you with individual, detailed reviews of each and every company that made this shower so special.  But today…today I kick off the shower with a. giveaways and b. a brief overview of these incredible companies.  Please be sure to stop by all month long (I promise it will be worth it).  So, without further ado….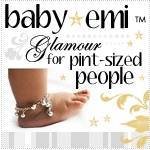 Baby Emi Jewelry:  For as long as I could remember, I wanted a little girl.  I wanted a daughter so that I could have the kind of relationship with her that I have with my mother.  Of course, there is something about little girls that compels us to dress them in tutus, put bows in their hair, and put jewelry on them.  The Sterling Silver Jingle Bells Anklet (Baby) we received is adorable, quaint, and encourages babies to move their legs.  I can't wait for our baby girl to wear this (pics to come!).  

Baby Banz:  All babies and tots need protection from the sun's harmful rays.  It's best to start protecting them early so they get accustomed to wearing hats and sunglasses. Their wrap-around sunglasses offer 100% UV protective lenses.  They're also stylish and moderately priced.  Be sure to check out their entire line of sunglasses, hats, and UV protective clothing.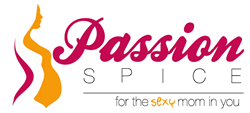 PassionSpice:  Ok ladies…no pictures here (hehe!).  But in all honesty, I just wrote a post about beauty during pregnancy.  Pregnancy is one of those awkward times in a woman's life where she may not feel great about her changing body.  If you've ever seen the maternity and nursing lingerie at other stores, then you know it's somewhat archaic in appearance.  Just because we're moms, doesn't mean we have to give up our femininity.  I plan on losing this baby weight when she's born and getting back into shape!  PassionSpice offers tasteful, gorgeous (seriously!) lingerie for the pregnant and nursing woman.

Happy Panda:  I recently told you about Pamela's incredibly stunning diaper cakes. Not only does she exert her creativity into making incredibly gorgeous (and might I add useful) diaper cakes that can be used as centerpieces or baby shower decor, she also has an entire site dedicated to outfitting the "bigger baby."  And most of her items have that adorable little panda on them…her trademark!

WeilBaby:  When my son was a baby, there were only two (at least from what I knew at the time) companies offering BPA-free baby bottles.  It's been almost 2 1/2 years and I'm so proud of all of the companies who have either stepped up to ensure their products are BPA-Free.  To be honest, I'm not sure which bottle our daughter is going to take.  But I'll definitely be trying the bottles from WeilBaby.  They feature an AirWave venting system proven to reduce colic.  Plus, they have a one-piece vent that makes it easy to clean (even in the middle of the night!).  Stay tuned for my full review since I must wait until she's here to give you the full 411!
It wouldn't be a baby shower without games.  So…here is the first game.  Share a picture (it could be on your own blog or a link to a photo site such as Flickr) of your best baby bump!  Easy right?  Then leave a comment with the link (to your blog post or image) AND your top three prize choices.  
Prizes for Game #1:
Cambodian Sterling Silver Jingle Bells Anklet for Baby Girl by Baby Emi Jewelry
One pair of glasses from Baby Banz
$25 Gift Certificate to PassionSpice
For more fabulous maternity and baby shower gift ideas, please visit the baby shower site. 
Entries for this giveaway will close on December 15, 2009 at 10 PM PST.  Please note that entries for all baby shower giveaways are different than my normal entry methods.  One comment per person, please (unless you do the extra credit). US residents only. Duplicates and comments not including the above information will be disqualified. Comments are moderated. If you don't see your comment in a reasonable amount of time, send me an email. Bloggers and non-bloggers may enter. If you don't want to leave your email address, please be sure to check back for my announcement on the winner. Please note that winners must respond within 48 hours of being announced/contacted or another winner will be drawn.
Want an extra entry? Do any or all of the following and receive an extra entry for each one.
Be sure to leave me a separate comment for each additional entry.
Add the "Baby Shower" button to your sidebar and leave me a comment (be sure it's up for the duration of the baby shower!)
Follow me on Twitter AND tweet about the contest. Be sure to use the hashtag #rockinbabyshower
Subscribe to my feed via email or reader.
Blog about this giveaway. It doesn't have to be a separate post. Just include a blurb about it when you blog about other giveaways.
Click on one of the very cute buttons below and digg, stumble, fav, etc. Just let me know what you did in the comments!
Disclosure: I did not receive compensation for this review. I did receive a product, courtesy of the company in order to facilitate my review.