My daughter was just a few weeks into her second grade year when I received a call from her principal. It is the call no parent wants to receive and one that I was not prepared for. My daughter was being bullied, along with a few other students in her class. The bullying quickly escalated to the point where our local authorities were involved. Despite the severity of the situation, our school was excellent in how they handled it. In response to the increase in incidents like this one, our school launched a Kindness Club along with a new motto where students show responsibility, own their choices, act with integrity, and are responsible. October is National Bullying Prevention Month, and in partnership with Google and Forward Influence Network, we are sharing some tips and conversation starters surrounding Internet Safety For Kids.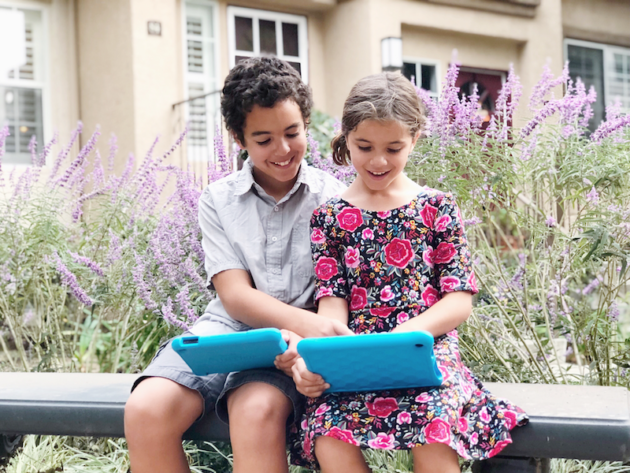 Statistics on Bullying
Despite the incidence of bullying, students still underreport incidences. According to Google's Be Internet Awesome /S e genial en Internet campaign, we know that 28% of students have personally experienced bullying. 71% of students have witnessed bullying directly. And yet, only 20-30% of students notify adults about the bullying they have experienced or witnessed. As a parent, I fall into the 50% of those who have a genuine concern about my children being bullied, both in person at school and during extra-curricular activities, and online.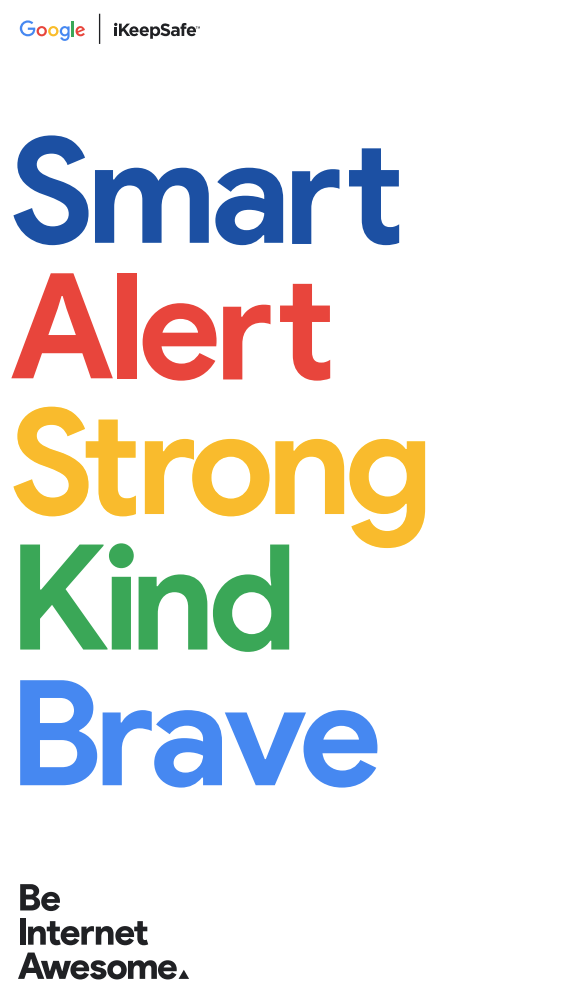 Google Be Internet Awesome
Both of my kids have played Interland in their classrooms, so they were very familiar with the game and Google's Be Internet Awesome initiative to help kids be kind online. This free online program (available in English and Spanish) teaches children the basics of digital citizenship and safety so that they can explore the internet confidently without fear. What I love about this program is that the principals are easily translated from the online world to the real world. Curriculum can be used at home or in the classroom and includes the following five areas of internet awesomeness addressed:
SMART:

Where we learn to share with care

ALERT:

 

Where we learn not to fall for fake

STRONG:

 

Where we learn how to secure our digital stuff

KIND:

 

Where we learn that it's cool to be kind

BRAVE: 

Where we learn that, when in doubt, we talk it out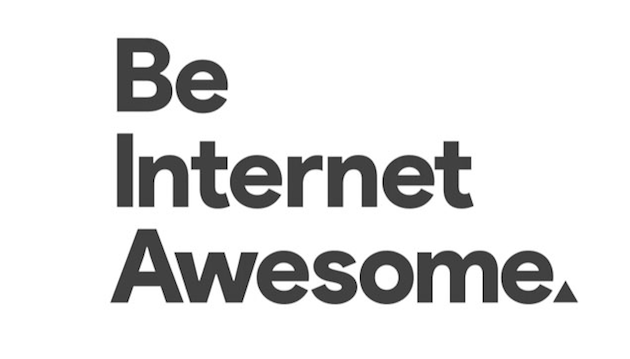 Very soon, Google will release a family guide. But you can use the principles from their teacher curriculum to teach kids the following important digital safety tips:
Learn how to identify situations of harassment or bullying online.
Learn what it means to be a bystander versus an upstander
Learn how to respond to bullying with options that are safe and appropriate for each individual student
Learn how to respond to bullying and what to do when experiencing harassment
Learn how to respond to negativity in constructive, civil ways
Make wise decisions on how and what to communicate, or whether to communicate at all
Learn to identify situations when its better to communicate face-go-face with a peer versus texting right away

Interland
One of the best ways to teach and reinforce online safety skills is practice. Interland is Google's free, browser-based game that makes learning these skills interactive and fun. Developed in partnership with educators, researchers, and online-safety experts at iKeepSafe, kids play games built around the five foundational online safety lessons. For example, in Secure Your Secrets, kids learn how to make a secure password. These include the following:
Share With Care
Don't Fall for Fake
Secure Your Secrets
It's Cool To Be Kind
When In Doubt, Talk It Out

Internet Safety for Kids – Conversation Starters
The internet is a valuable resource for our family. We can FaceTime with family across the country, talk to friends while playing Fortnite, or Google helpful information for school projects and assignments. As a parent, I am also highly aware of the risks. Everything from hacking of passwords and account information to those posing as peers with bad intent can quickly turn the internet into a negative experience. When communicating with peers online, the golden rule is key and I am constantly reinforcing the message of having my kids treat others as they would want to be treated.
Discuss appropriate online behavior
The conversation surrounding online behavior is open and consistent. My kids' devices are in our family room, so they understand that all of their interactions are capable of being seen by other members of our family. This helps to keep everyone accountable for their online actions. We talk about what positivity looks like, both on and offline. One important tip I plan to implement from Google's Be Internet Awesome program is to identify potential (or actual) situations where a face-to-face conversation would take precedence over a knee-jerk text or online message.

Discuss How to Identify Bullying
Our family discussions began with the basics of bullying. I helped my kids understand that behind every computer screen is a real person with real feelings. It is easy to forget this simple, yet important fact when interacting with others online. Bullying, by definition, is unwanted, aggressive behavior among students that involves real or perceived power imbalance. The behavior is repeated or has the potential to be repeated over time, and can have serious, lasting effects (StopBullying.org). Cyberbullying is bullying that takes place over digital devices and includes sending, posting, or sharing harmful, false, or mean content about another person. It can also involve sharing personal or private information about someone which results in embarrassment or humiliation (StopBullying.org).
Bullying almost always involves the following:
The Aggressor: The person/s doing the bullying
The Target: The person being bullied
The Bystander: The person/s witnessing the bullying behavior
The Upstander: The person/s who witness the bullying behavior and attempt to positively intervene
Discuss How to Respond to Bullying
If bullying is identified, our family has discussed the potential options for responding. They include:
Not responding
Blocking the person doing the bullying
Reporting the person doing the bullying to a parent, teacher, sibling, or a trusted adult. Online websites and apps have tools to report comments, posts, and photos that are deemed harassment.

Bystanders v. Upstanders
In nearly every bullying situation, there is the potential that one or more bystanders have witnessed the harassing behaviors. A bystander can become an upstander, when he/she stands up for kindness and positivity, as opposed to not saying or doing anything. Here are some ways to be an upstander for kindness:
Call out the mean behavior (not the person), saying it is not cool.

Say something nice about the person being bullied in a post or comment.

Get friends to compliment the person being bullied online.

Offline, invite the person to hang out with you on the playground or sit with you at lunch. If you don't feel comfortable helping out publicly, that's fine.

Reporting the bullying behavior. Tell a parent, teacher, or school counselor.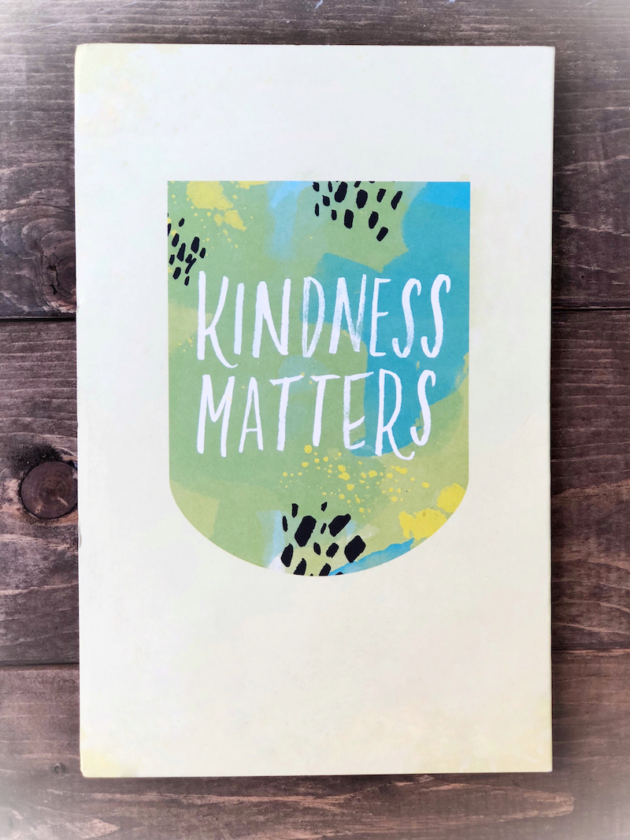 A simple act of kindness can go a long way. Visit Be Internet Awesome for more information about their program and to play the interactive browser-based game Interland.
Latest posts by Caryn Bailey
(see all)