Giveaway sponsored by Intel.
One of the things I love about the start of a new year is the opportunity to "reset." Whether it's setting new fitness and health goals, organizing my kids' toys and clothing, or challenging myself to learn  new tech and photography skills, January seems like the perfect time to make those resolutions.  This is also the time I evaluate my "techy" items and decide if I need an upgrade.
Last year, I had an opportunity to spend some time at the Intel Experience Store in Los Angeles.  Designed to showcase the brand's innovation, the store offer locals a unique opportunity to get hands-on with the latest devices.  Every day, passerby's can stop by the store for free coffee and snacks, tech tutorials, live entertainment, and hands-on learning experiences from Tech Xperts.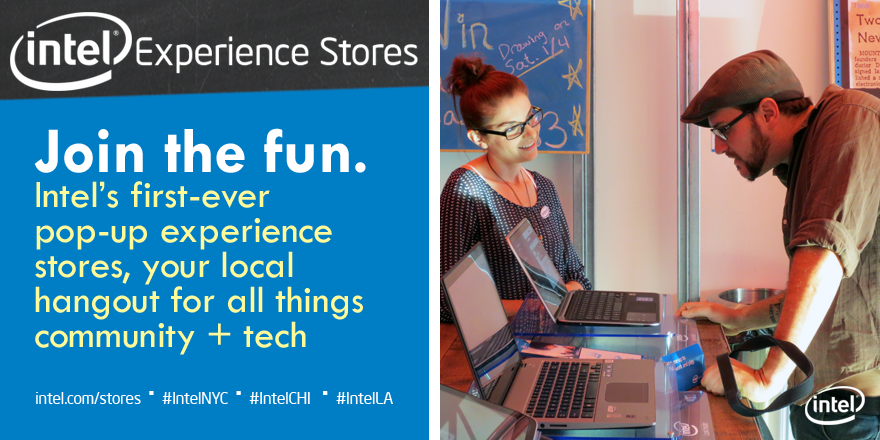 During my time at the LA pop-up store, I had an opportunity to test out the latest 2 in 1 devices.  These days, it isn't uncommon for a household to have a laptop, tablet, and smartphone. But which of devices are actually used regularly?  In our household, our kids primarily use the tablet, while my husband and I do most of our work on our laptops.  Intel's 2 in 1 devices are revolutionizing the industry because they merge the portability of a tablet and the functionality of a laptop into one device. If you haven't had an opportunity to get hands-on with one of Intel's new 2 in 1 devices, you can visit your local Intel Experience Store to test one out.  And, if you're considering making a purchase, don't miss out on Intel 24-hour loaner program. Anyone who borrows a device (without any obligation to purchase) between now and January 25th, 2014 will be entered to win an Intel 2 in 1 powered device or tablet. Be sure to visit your local store (Chicago, New York, and Los Angeles) for information on this exciting giveaway.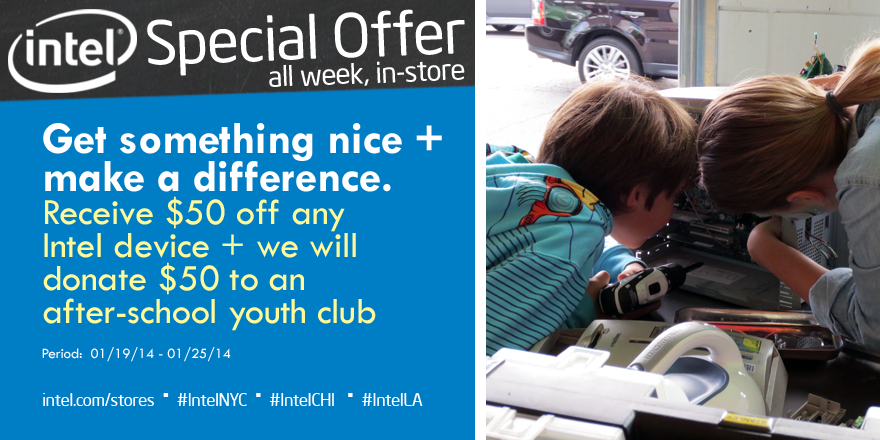 Not only does Intel stand out for its innovation, the company also endeavors to give back to local communities through the 3 pop-up stores that debuted last Fall.  Intel is currently working with neighboring businesses and organizations to reinvest in the future of the surrounding communities. In Chicago and New York, Intel offers a technology recycling program where locals can bring in their old electronics for proper recycling.  Intel makes a cash or technology donation to local schools in the area as part of this recycling program. Through January 25th, visitors to their local Intel Experience Store can also take advantage of a special offer where they will receive $50 off any device and Intel will donate $50 to an after-school youth club as part of this promotion.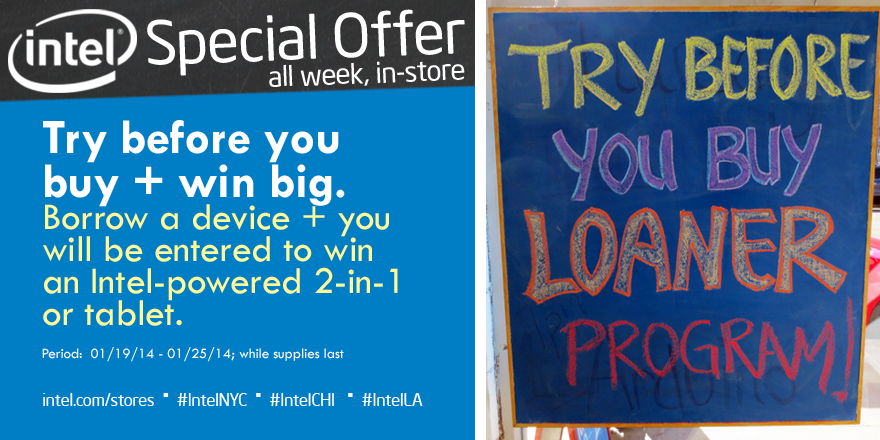 If you didn't get everything you wanted this past holiday season, there is still time to take advantage of Intel's incredible offers at their pop-up stores.  Through Intel's partnership with Best Buy, visitors to their local Experience Store can purchase a device in-store.
And if you're local, be sure to visit the LA Intel Experience Store through January 31st, 2014. The store will also have an exciting finale from 4-7 pm and as soon as details have been revealed, I'll share them here.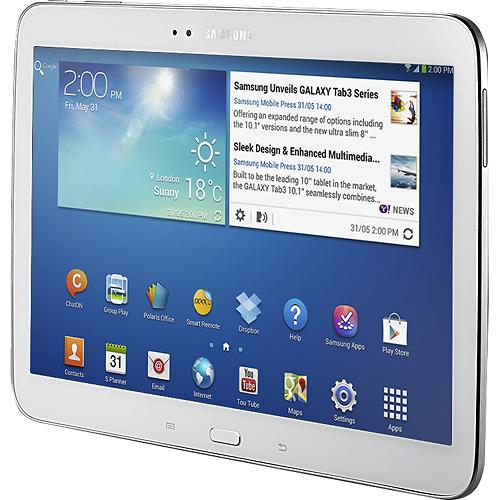 Win It! One of you will win a 16gb Samsung Galaxy Tab 3 (MSRP: $399.99) and TEN of you will win $50 Intel Coupon Codes to use online at BestBuy.com/IntelExperience (expires 1/31/14).  To enter, simply complete the Rafflecopter form AND leave a comment with the name of the Intel-powered device you'd like most after visiting BestBuy.com/IntelExperience. Comments will close on January 27th, 2014 at 11:59 PM PST.
US Residents only. Duplicates and comments not including the above information will be disqualified. Comments are moderated. If you don't see your comment in a reasonable amount of time, send me an email. Bloggers and non-bloggers may enter. If you don't want to leave your email address, please be sure to check back for my announcement on the winner. Please note that winners must respond within 48 hours of being announced/contacted or another winner will be drawn.
Images: Intel
Latest posts by Caryn Bailey
(see all)