This giveaway is now closed. Thanks for stopping by. The winner is Adrienne. Congrats!
Did you know that identity theft is one of America's fastest growing crimes? Last year, Javelin Strategy and Research estimates that identity theft affected 10 million Americans last year, an increase of 22% from the previous year. The crime can take many forms including thieves renting an apartment, obtaining a credit card, or establishing a telephone account in your name. Tax season is a time when identity thieves are looking to take advantages of those of us who do not safeguard our personal information. Unfortunately, if you don't review your credit report and credit card statements (I know I'm not always diligent about this), you may not be aware that someone has stolen your identity until a debt collector contacts you.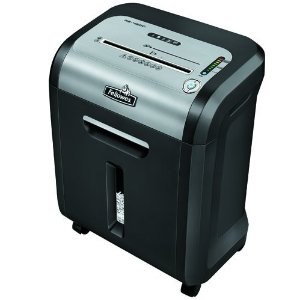 This year we filed online and the IRS believes that online tax filing will increase 20% in 2010. However, those documents that you use to file your taxes contain information that identity thieves are after. That is why we make it a point to shred anything personal that we no longer need, and store important documents in a fire-proof lock box. Last year around this time, I reviewed a Fellowes' shredder. Fellowes' Microshred MS-450Ci shredders "provide unmatched protection, shredding paper documents virtually into dust – nearly 3,000 particles per page, compared to nearly 399 particles per page from a Cross-Cut shredder." Here is a bit more information from the site:
The shredder features Fellowes' 100 percent Jam Proof technology, which includes a sensor that measures the thickness of a paper stack and stops a paper jam before it occurs. The machines also have a patented SafeSense® technology, which disables the shredders when it senses hands or large pets are too close to the paper opening, and Silent Shred™ technology, which features a quiet motor that diminishes common shredder noise concerns.
You can check out my review from last year of their Fellowes PS-79Ci 100% Jam Proof Cross-Cut Shredder for a demonstration of how effective they are at shredding.
Fellowes' Microshred MS-450Ci shredders retail on Amazon for approximately $229.
Here is some information on safe filing this tax season (via Fellowes'):
Filing Taxes Online
Choose a tax filing service you are familiar with. The IRS provides a list of approved companies

.

Make sure personal computers are protected with updated firewall and secure software systems, which contain antivirus and anti-spyware programs.
If you are storing important tax-related documents on your computer, change your passwords frequently between December and April.
Ensure that every Web site you are using during tax filing is encrypted to protect personal information when transmitted.
Shred any backup documents once you've filed your taxes online.
Filing Taxes by Mail
Regularly check the mailbox for W-2 forms and other documents containing sensitive information that arrive by mail. If you don't receive these documents by Feb. 15, contact the IRS for assistance at (800) 829-1040 as missing forms may be an indication that an identity thief went through your mail.
Send completed tax returns from a locked mailbox or the post office. If mailing from home, do not put the mailbox flag up. This only alerts identity thieves that there may be an outgoing check in the mail.
Make sure tax forms, backup documents and enclosed checks are not visible from the outside. Try wrapping your forms in an extra sheet of paper to disguise the contents of the envelope.
Keep tax paperwork and other documents in a safe and accessible place, such as a fireproof box in your home.
Win It! One of you will win a Fellowes' Microshred MS-450Ci shredder. Simply leave me a comment with a feature from this shredder that you like (info can be found on their website). Comments will close on April 19, 2010 at 11:59 PM PST. One comment per person, please (unless you do the extra credit). US residents only. Duplicates and comments not including the above information will be disqualified. Comments are moderated. If you don't see your comment in a reasonable amount of time, send me an email. Bloggers and non-bloggers may enter. If you don't want to leave your email address, please be sure to check back for my announcement on the winner. Please note that winners must respond within 48 hours of being announced/contacted or another winner will be drawn.Want an extra entry? Do any or all of the following and receive an extra entry for each one.
Be sure to leave me a separate comment for each additional entry.
Follow me on Twitter AND tweet about the contest.
Subscribe to my feed via email or reader.
Blog about this giveaway. It doesn't have to be a separate post. Just include a blurb about it when you blog about other giveaways.
Click on one of the very cute buttons below and digg, stumble, fav, etc. Just let me know what you did in the comments!
I did not receive compensation for this post.